"I am waiting for 2019 when modi loses 2019 elections. Trust me, we Muslims will make the life of Hindus Hell! We Muslims will make Hindus our slaves! Trust me, after Modi loses Muslims will rule India!" is the text of a tweet by a Twitter handle called @Muhammadzee69. The biography of this Twitter account claimed that the person is a teacher in Dhirubhai Ambani International school. The abusive, bigoted, nature of the tweet and the alleged association of this person with Dhirubhai's school become an object of outrage on social media.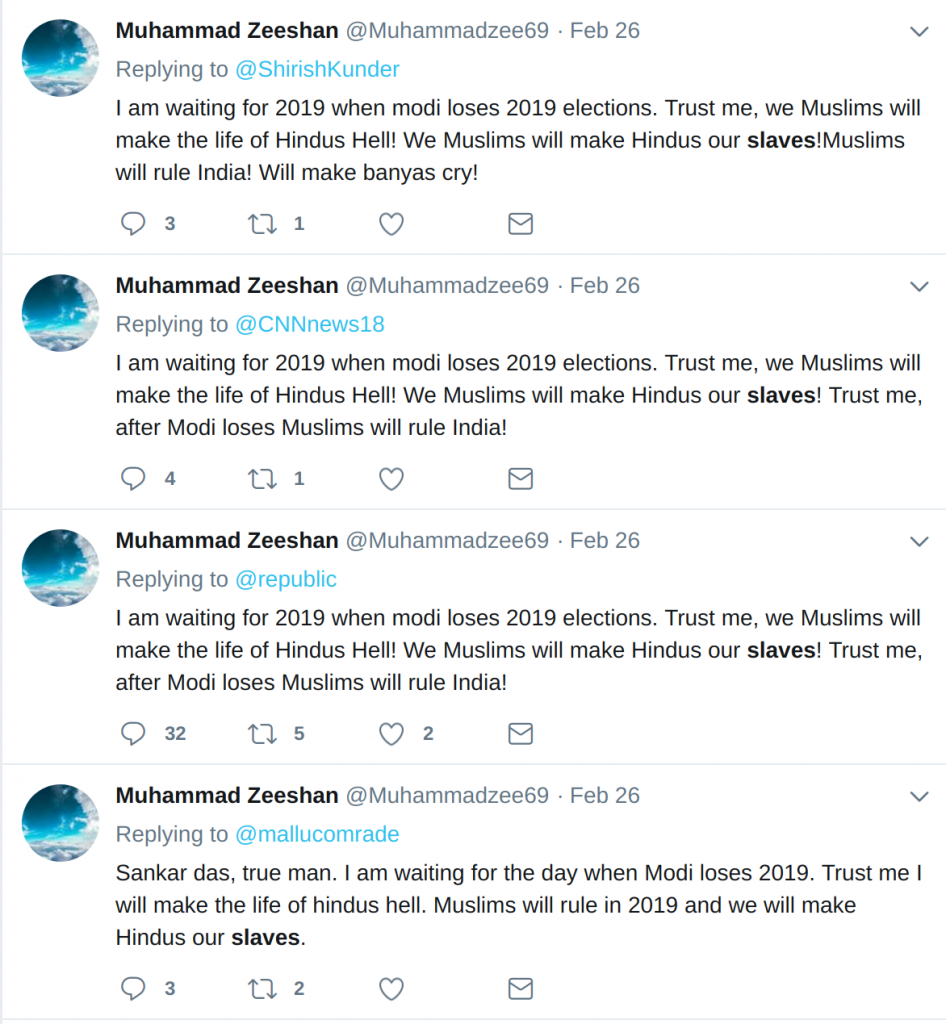 Shefali Vaidya, who is followed by PM Modi on Twitter, put out a tweet while tagging Mumbai police. This got retweeted over 1200 times.
This man claims to be a teacher at the Dhirubhai Ambani International School, and he is threatening to make 'baniyas cry' and is openly stating that 'Muslims will make Hindus slaves'. Is @MumbaiPolice taking note of this? Why is the school hiring such terrorists? https://t.co/FHdb0WsmLg

— Shefali Vaidya (@ShefVaidya) February 26, 2018
Some of the other tweets on this issue which got wide circulation were by Twitter accounts namely @SaffireGem and @goyalsanjeev which got retweeted over 900 and 600 times respectively.
The secular peaceful teachers employed at Dhirubhai Ambani International School…

Friends tweet this so much that Neeta and Mukesh Ambani sit up and take notice… @ThinkersPad @TigerRajaSingh @malviyamit @sambitswaraj pic.twitter.com/eoz7IqATDu

— Nilesh Jain (@SaffireGem) February 26, 2018
The kind of teachers, Dhirubhai Ambani International School, employs👇

Hope someone tells @reliancegroup boss how his father's name is being ruined by lousy teachers like this😌@ril_foundation pic.twitter.com/BsPkx3xJtD

— #Intolerant भारतीय (@goyalsanjeev) February 26, 2018
Madhu Kishwar, who has a penchant for succumbing to fakery, also tweeted about this and then deleted it later. Screenshots of her tweet made it to various right-wing Facebook pages and Whatsapp groups and were shared widely.
Fake News site Postcard News also published a screenshot of the tweet on their Facebook page.
Abhimanyu Basu, the Deputy Head at Dhirubhai Ambani International School, Mumbai, clarified on Twitter that no person with the name Muhammad Zeeshan was associated with the school in any position or capacity whatsoever.
Request everyone to please check facts here. There is NO ONE under the name of @Muhammadzee69 who is associated with Dhirubhai Ambani International School in a teaching or a non-teaching role.

— Abhimanyu Basu (@abhimanyubasu) February 26, 2018
Further, Alt News also came across a tweet by a Jammu & Kashmir based journalist whose picture had been appropriated by the said account a few days ago. Stealing others' pictures has been a trend that has been noticed repeatedly with fake accounts.
Beware. Some one has used my picture as his dp and he is making abusive comments. @Muhammadzee69 is his twitter handle @Twitter plz block his account. pic.twitter.com/QJSDPYQlUQ

— Rifat Abdullah (@rifatabdullahh) November 26, 2017
Alt News also looked up some of the old tweets from this account, the contents of which were in stark contradiction to the views presented by this said person in his 'anti-Hindu' tweets. There were tweets which were either abusive toward the minority community or endorsement of right wing politics and politicians.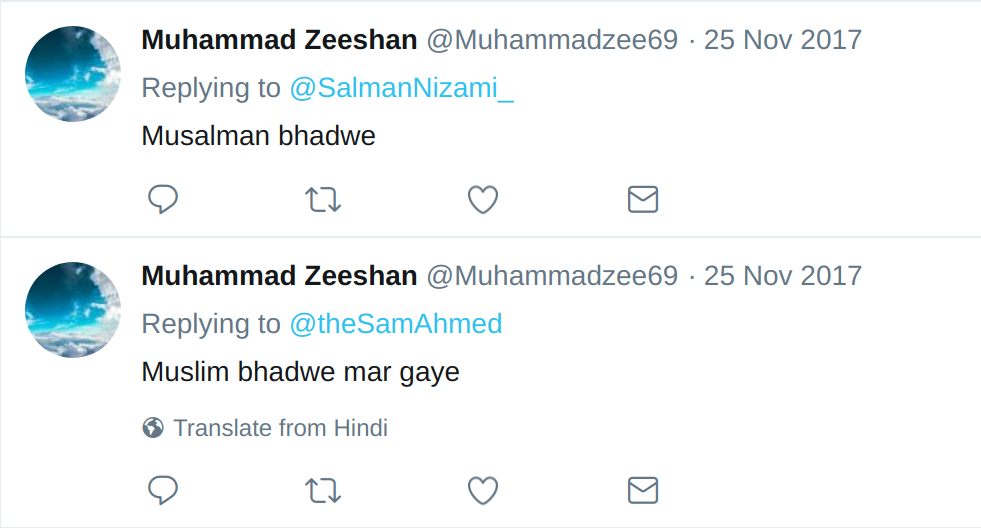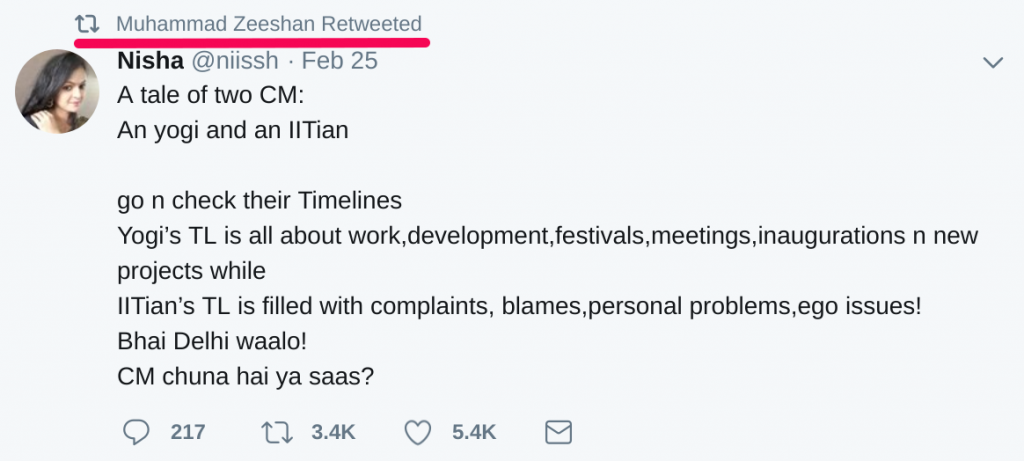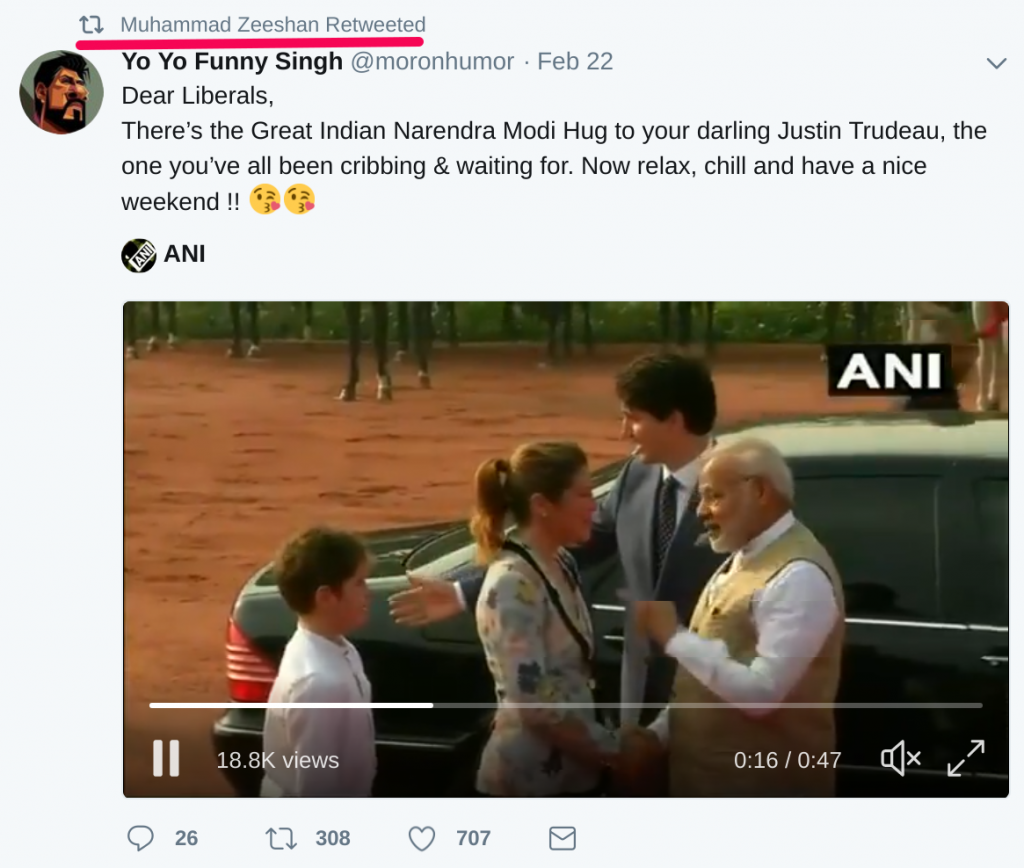 The erratic nature of this account's tweets dates back to the time when this account was first created in October 2017. The first three tweets from this account were similar to the tweets that have now created much outrage.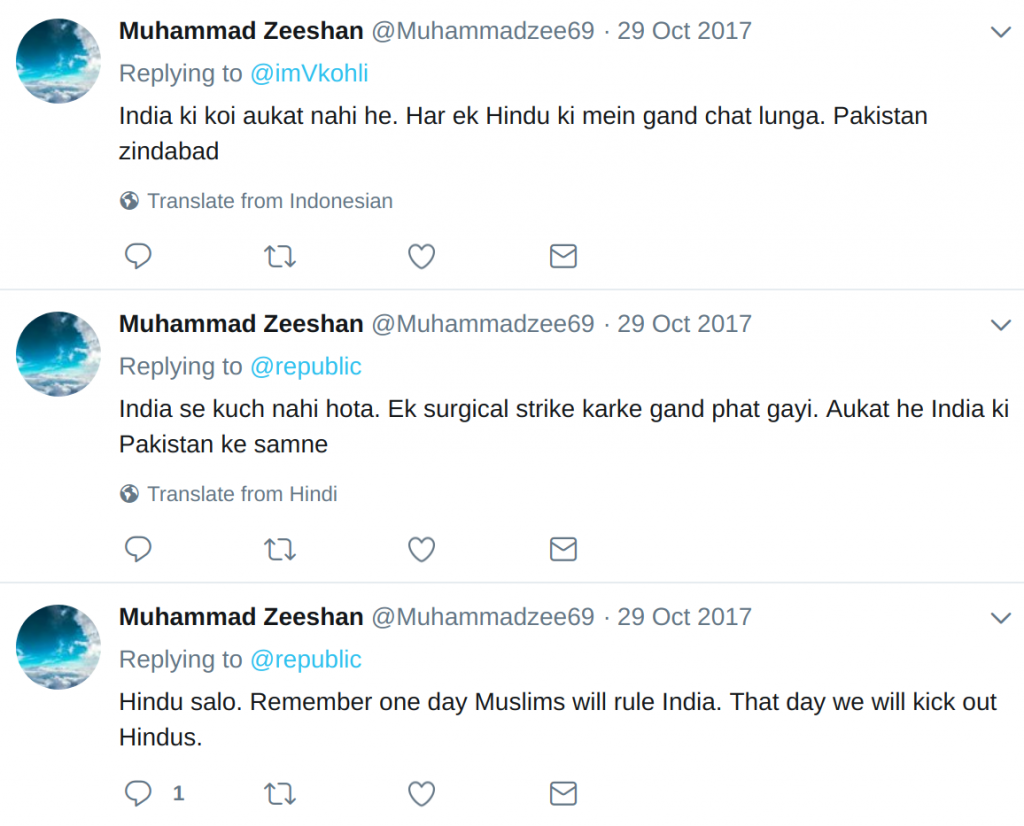 A clear case of a fake account pushing out tweets that gain currency with the right-wing ecosystem, but clearly not the first. Sample these.
A Muslim who appreciates the greatness of Prime Minister Narendra Modi, roots for Yogi Adityanath and is critical of the Muslim community. Gini Khan, who lives in Canberra was the toast of the right-wing social media ecosystem for her glamour and her thoroughly agreeable views.
In the aftermath of the terror attack on pilgrims at Amarnath in July 2017, a Twitter account @ShaneMalwa with the name Dr. Abdul Vashisht sent out several hateful tweets against Hindus. Alt News had found that the account was fake.
Zubina Ahmad, who claimed to hail from a defence background was a favourite with right-wing social media users. Zubina's father had served in the army and her brother in the air force. Her views on most issues were stridently 'nationalist'. This account has now been suspended
Such accounts capitalise on the tendency of social media users to outrage first and verify later, if at all. They also try to reinforce popular narratives, such as endorsement of politicians, political parties and policies. Social media users who are unaware that these accounts are fake fall prey to subtle and not so subtle propaganda. Such accounts keep spawning time and again to target the gullible and further an agenda.
Donate to Alt News!
Independent journalism that speaks truth to power and is free of corporate and political control is possible only when people start contributing towards the same. Please consider donating towards this endeavour to fight fake news and misinformation.