A few weeks back, a video surfaced on social media, which showed a knife-wielding man stabbing people, including toddlers and an elderly man, in a playground in Annecy, France. The man was identified as Abdelmasih Hanoun (31), a Christian Syrian refugee. In the video, Abdelmasih Hanoun is reportedly heard yelling "In the name of Jesus Christ!" while he carries out the act. BBC reported that the suspect himself mentioned that he is a Syrian Christian. The suspect was later arrested by French police for attempted murder, and the prosecution said that his actions did not seem to be linked to terrorism. But a section of media and social media users have claimed that the man is actually a Muslim whose real name is Selwan Majd.
Robert Spencer, director of Jihad Watch, an American far-Right anti-Muslim conspiracy blog, tweeted an image of the suspect with the caption, "An Atrocity in Annecy" and added the link to an article of the same title on June 12. The report mostly revolves around the assumption that there is a possibility that the alleged attacker is originally Muslim and the media is deliberately portraying him as a Christian. (Archive)
On June 13, Jihad Watch published another article titled: "France: 'Christian' who stabbed children on playground turns out to be a Muslim named Selwan Majd" which was basically an English translation of a report from a French website called Resistance Républicaine, a far-Right site known for sharing Islamophobic content. Robert Spencer tweeted the link to the article. The tweet has received over 4 million views and has been retweeted over 24,000 times. (Archive)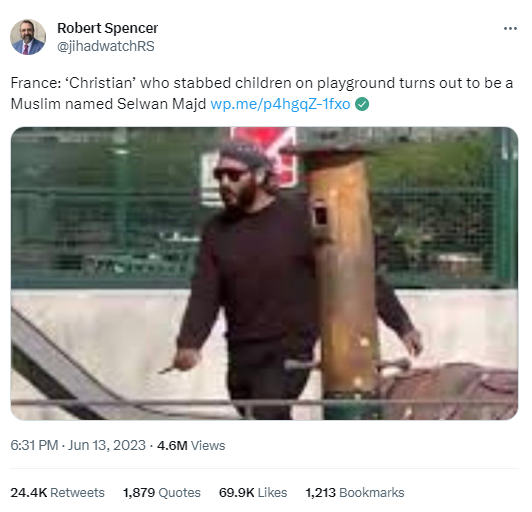 The report says, "From the beginning we said that it cannot be a Christian… and that it has the signs of being done by a Muslim…" It also mentions that Abdelmasih Hanoun is actually Selwan Majd and he travelled to Turkey with false papers that would show him as a Christian and got married in Sweden with a false Christian name. The report, however, does not cite any source for the information.
This slideshow requires JavaScript.
Indian Twitter handles such as @JIX5A, @MeghUpdates, @RituRathaur, @AmitLeliSlayer also shared the link/screenshot to Jihad Watch's report. Some other prominent international Twitter handles also shared the same including Britain First, a far-right British political party, @AzzatAlsaalem, @EvaVlaar, @ElijahSchaffer.
This slideshow requires JavaScript.
Elish Yako, the national general secretary of an NGO called Association d'Entraide aux Minorités d'Orient, shared a series of tweets in this regard claiming that the alleged Annecy stabber was indeed a Muslim. — According to its website, the NGO provides aid to eastern minorities, mostly to Christians. (Archive 1, 2, 3)
To support his claim, Yako mentions that they could not retrieve the man's baptism or celibacy certificate from Syria and that in his marriage certificate, he had left the boxes for the date and place of birth and identity of his parents empty.
This slideshow requires JavaScript.
Fact Check
The Resistance Républicaine report mentioned that Abdelmasih H. met and married his now ex-spouse in Sweden under a false Christian name and that he was not granted Swedish citizenship because the country's officials doubted him. To check this claim we ran a relevant keyword search that led us to several news reports with details of the matter.
As per a news report by Le Monde, a French daily afternoon newspaper, according to the information provided by the suspect's mother, he was born in Syria in 1991 and served in the Syrian army. In 2011, he left the country when the civil war broke out and moved to Turkey where he met his future wife who was also a Syrian. The couple moved to Sweden together in 2013, got married and had a child, who is presently three-year-old. Later, the couple got divorced when Abdelmasih H. couldn't get Swedish citizenship. He later moved to France and applied for citizenship there for the first time in November 2022.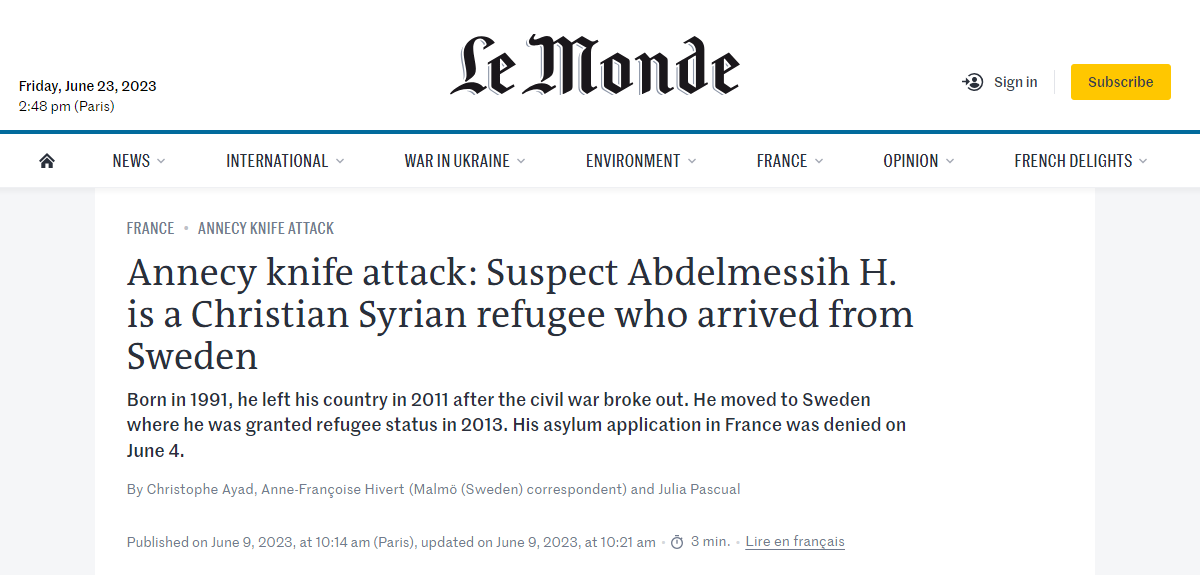 In another report, Le Monde mentioned that Abdelmasih's former wife herself obtained Swedish nationality in June 2021, six years after being granted a permanent residence permit. In November 2013, Abdelmasih H. received a permanent residence permit in Sweden. His first application for nationality was submitted in October 2017 and quickly rejected as one needs to have lived in Sweden for at least five years to be naturalized. He tried again in August 2018 but did not receive any response. He appealed again in 2021. Finally, on February 11, 2022, the Swedish Migration Agency rejected his application.
Le Monde accessed the ruling by the Swedish Migration Agency where the Swedish authorities justified their refusal on the basis that Abdelmasih mentioned in his application that he had served in the Syrian Military in 2011 and 2012. After a 2004 government decision, any applicant for naturalization "who has been active in, or had a decisive influence on, an organization whose activities are believed to have included systematic, widespread and flagrant abuses such as torture, murder and extrajudicial executions cannot be granted Swedish citizenship unless a specified period of time has elapsed". This period has been set at 25 years. Several Human Rights organisations find the Syrian army guilty of committing war crimes and of human rights violations.
This slideshow requires JavaScript.
Therefore, the claim that the Swedish authorities doubted that he pretended to be a Christian and hence rejected his citizenship application or that he first met his now ex-spouse in Sweden is false. The couple met in Turkey and moved to Sweden together.
We further came across a report by a French fact-checking organisation called Liberation which also refuted the claim that the assailant was a Muslim whose real name was Selwan Majd. In their article, Resistance Républicaine also mentions that their claim will soon also be confirmed by relatives of Father Boulad in Alexandria. The fact-check report highlighted that the mentioned priest passed away recently and was known for his Islamophobia.
We also found a tweet from BFM TV, a French news channel, from June 8. When they reached out to Abdelmasih's ex-wife, she told the interviewer that she had met her ex-husband in Turkey and that he was a Christian. She also said that he was from the city of Al Hasakah in Syria. When asked if Abdelmasih H. was ever such a violent person, she said that he was never like that and that he was a good father to their child.
💬 "C'était un bon père"

➡ L'ex-femme de l'assaillant d'Annecy témoigne sur BFMTV pic.twitter.com/EGNxULq7fw

— BFMTV (@BFMTV) June 8, 2023
As per our findings so far there is no evidence that would suggest that the Annecy stabbing suspect is a Muslim person called Selwan Majd. The suspect who was arrested by the French officials is Abdelmasih Hanoun who is a Syrian Christian.
In the past as well, Jihad Watch had shared misleading reports targeting the Muslim community. One of Robert Spencer's tweets, in which he shared a misleading report relating a crime of attempted murder to 'Jihad' or terrorism, received a comment from Twitter owner Elon Musk. Musk's one-character comment (just an exclamation mark) was enough to give the misleading tweet a boost in terms of its reach. The tweet has received 3.2 million views and has been retweeted over 10,000 times. At present, it comes with a 'community note' that contradicts Spencer's claim. (Archive)
Donate to Alt News!
Independent journalism that speaks truth to power and is free of corporate and political control is possible only when people start contributing towards the same. Please consider donating towards this endeavour to fight fake news and misinformation.