January, 2019 turned out to be business as usual for purveyors of misinformation, who used all sorts of tactics to manipulate the views of social media users.
Targeting of political leaders
1. Fake news of Sonia Gandhi richer than Queen Elizabeth
Several leaders and members of the BJP tweeted a 2013 report, according to which former Congress president Sonia Gandhi was the fourth richest woman in the world. This included BJP spokesperson Ashwini Upadhyay. The basis of the claim was a report by Times of India which was attributed to Huffington Post.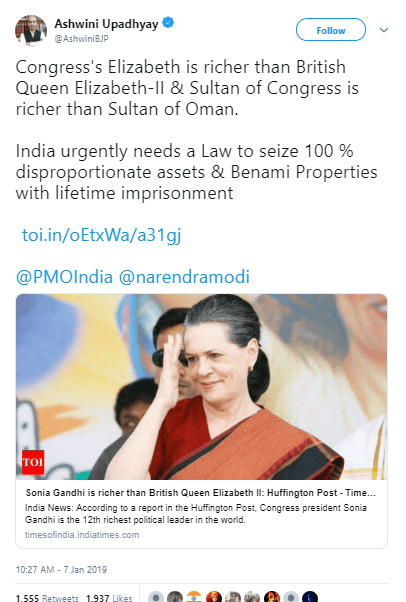 Alt News found that this information about Sonia Gandhi had first appeared in 2013 in an article by the Huffington Post. Ms. Gandhi's name was later removed from the article as the source of the information was "called into question". It turned out that this was a classic instance of misreporting by Huffington Post, as the source of the information was dubious at best. According to the latest figures (2014), Sonia Gandhi's net worth is at over Rs.9.28 crore.
2. False claim about Gulf News publishing article on Rahul Gandhi calling him 'pappu'
"विदेश में जाकर अपने देश की इज्जत नीलाम करने वालों को इसी प्रकार इज्जत मिलती है जैसी अबू_धाबी के दैनिक अखबार @gulf_news ने RahulGandhi को पप्पू की फोटो छापकर दी है। (The one who brought disrespect to the country at international forums now gets 'respected' in this manner. Gulf News, a daily from Abu Dabhi, has published Rahul Gandhi's image as 'Pappu'. -translated)"
An image of a caricature supposedly published by Gulf News with the aforementioned text was circulated on social media. It claimed that the Congress President had been ridiculed by a top news organisation when he went on a visit to the UAE. Among those who shared it included Mahesh Vikram Hegde, founder of Postcard News, and Gaurav Pradhan. Both Pradhan and Hegde are followed by PM Modi on Twitter.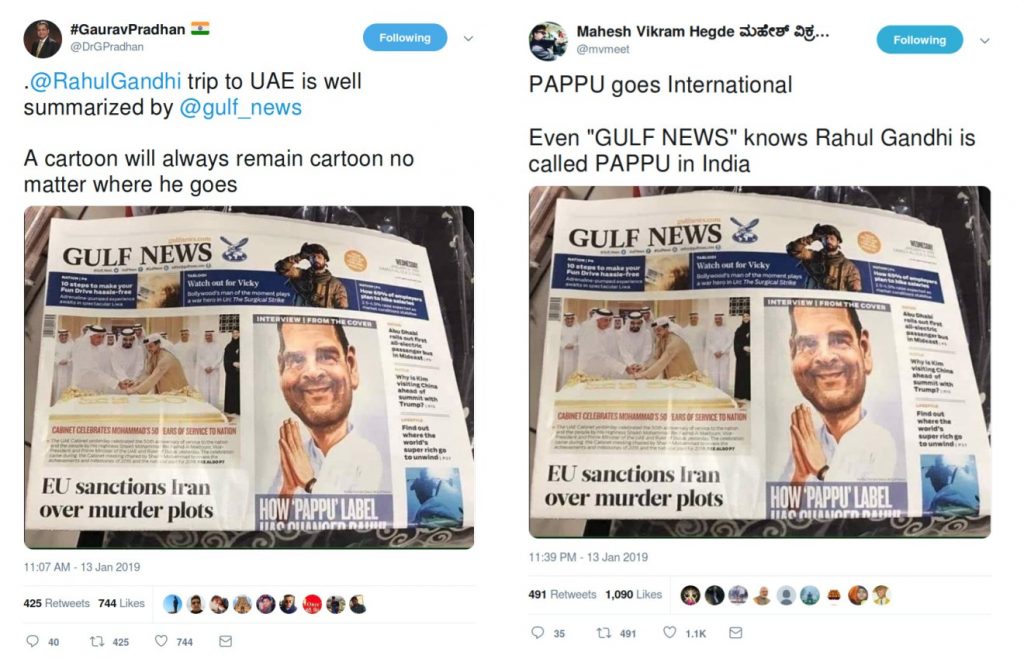 The narrative that Gulf News was mocking Rahul Gandhi with a caricature and calling him 'Pappu' was false. The caption affixed with the caricature read, "HOW PAPPU LABEL HAS CHANGED RAHUL". The caricature was in fact signed by Rahul Gandhi himself, and was published along with an exclusive interview given to the newspaper.
3. Old video of Kejriwal slowed down to create illusion of drunkenness
A video of Delhi Chief Minister and Aam Aadmi Party (AAP) supremo Arvind Kejriwal was shared widely on multiple social media platforms. The video shows Kejriwal seated in a car and speaking to the camera. His speech appears to be slurred. The accompanying claim was that Kejriwal is drunk. The duration of the video is around one minute. The video was shared widely across multiple social media platforms, and WhatsApp.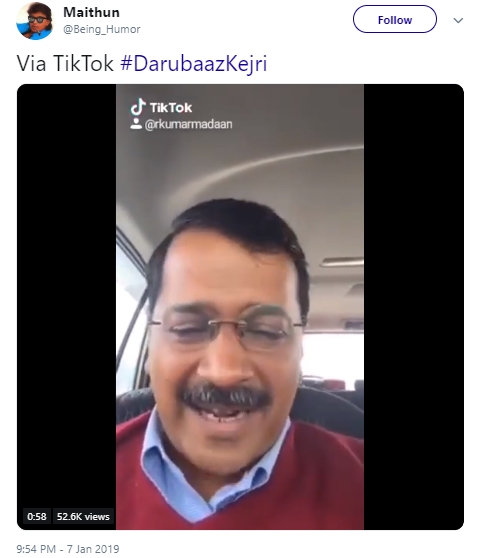 The original video was posted by Arvind Kejriwal himself on his official Facebook page. Kejriwal had posted the live video on January 29, 2017 when he was campaigning for his party in Punjab ahead of the assembly election which took place that year. This video had been deliberately slowed down in order to make it seem as if Kejriwal was speaking in an inebriated condition.
4. Old video of Priyanka Gandhi shared with false claim of her being intoxicated
"शाम होते ही #शराब के नशे में चूर हो जाने वाली से #कांग्रेस को उम्मीद हो सकती है मगर देश को नहीं है (Congress can have their hopes on those who get drunk every evening but the country cannot. -translated)"A video of Priyanka Gandhi speaking angrily with people at what seems like a public gathering had gone viral on social media. The text circulated along with the video suggested that she can't be trusted as a politician since she is an alcoholic.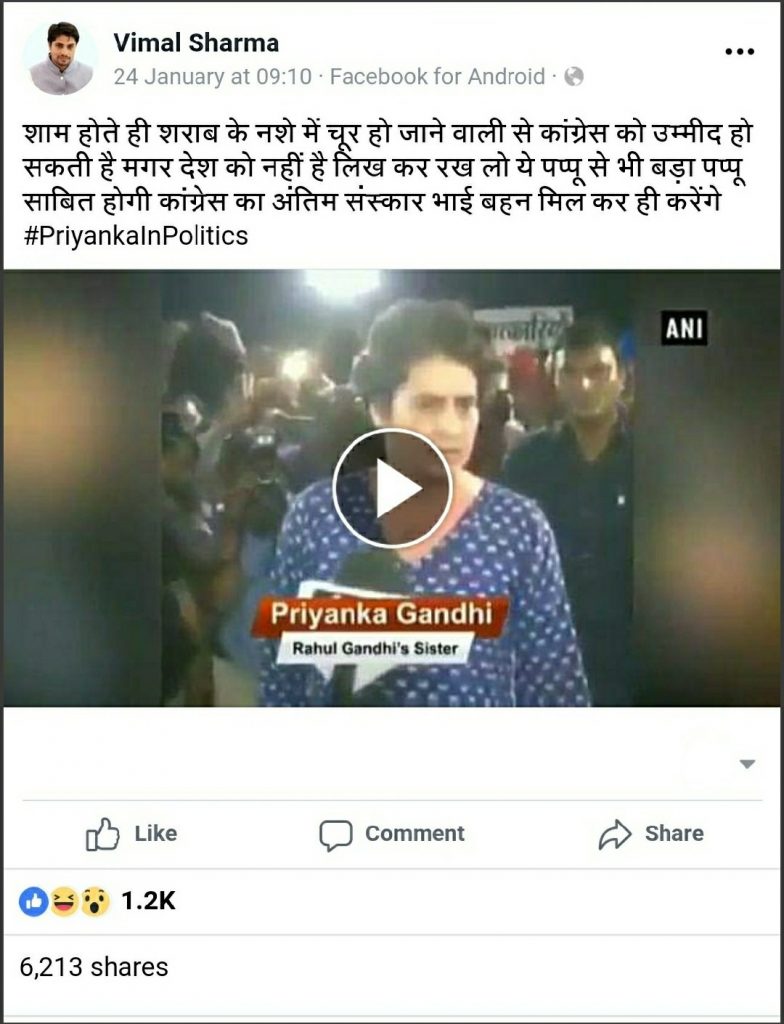 Alt News found the same video tweeted by ANI on April 12, 2018. It was captioned, "Priyanka Gandhi gets angry at the candlelight march, says 'Nobody will push each other. You should know the reason for which you are here. If you cannot behave go home. Now, all of you will silently walk till there". Priyanka Gandhi was at the midnight candlelight march led by the Congress President Rahul Gandhi to protest the Kathua and Unnao rape cases. According to a India Today report, she lost her cool when the crowd did not let her pass and her children were also pushed around at the march.
5. Fake news: Alok Verma called PM Modi "most corrupt Prime Minister
On January 11, former CBI director Alok Verma resigned from service a day after a high-powered committee led by Prime Minister Narendra Modi decided to remove him from his post and transfer him to the post of DG, Fire Services. A day after this, a claim about the former CBI chief calling PM Modi, the most corrupt Prime Minister in his resignation letter went viral on social media.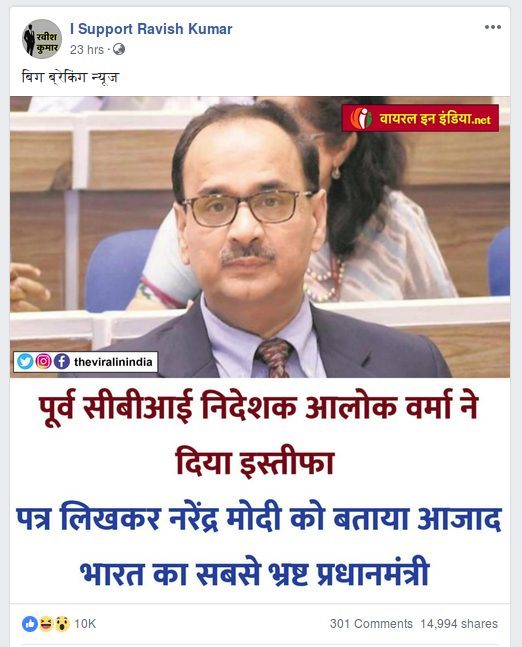 The above post was by Viral in India, which is known to regularly post fake content on social media. The truth of the matter is that Verma in his resignation letter to the DoPT had made NO reference to the Prime Minister.
6. Fake: Viral poster claims Rahul Gandhi's DNA doesn't match Rajiv Gandhi's
A poster about a supposed DNA expert's claim that Rahul Gandhi is not the son of Rajiv Gandhi was posted on social media. It has been shared by several individuals on Facebook, Twitter and WhatsApp. The claim was circulated in the form of a newspaper clipping.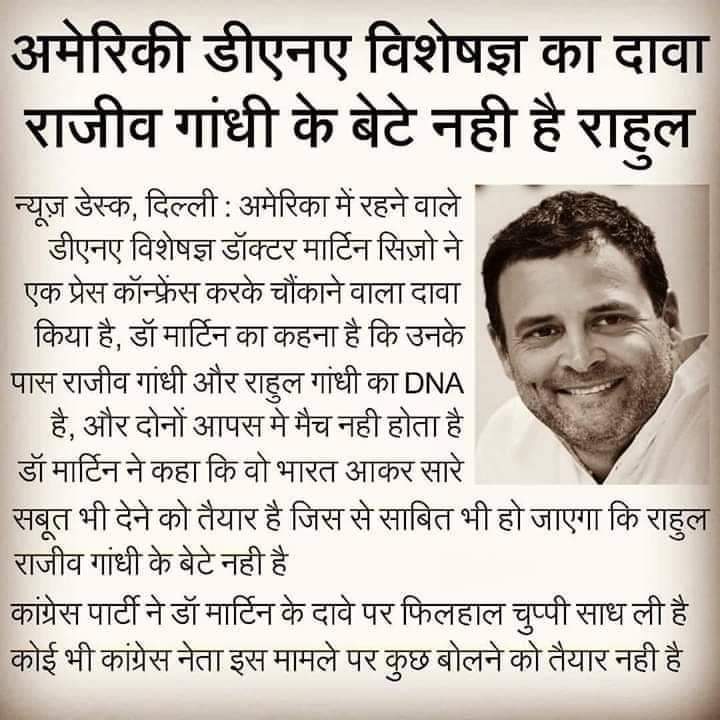 Alt News did a Google search with key words given in the poster and found that no such media report exists on the internet. Another search about DNA expert named Martin Sizo also yields no search results. We also couldn't find a news report on such a press conference held by a DNA expert in any publication.
7. Doctored video of Arvind Kejriwal on Pakistan
On January 19, Opposition leaders of 20 political parties came together for Mamata Banerjee's 'United India' rally . At the rally, Arvind Kejriwal severely criticised the BJP and called upon people to defeat them at any cost.
Shortly thereafter, a 19-second clip of Arvind Kejriwal was circulated on social media. In the clip, Kejriwal can be heard saying, "मैं जितना सोचता हु उतना मेरा शरीर कांप उठता है। अगर ये दोनो दोबारा 2019 में आ गये, अगर मोदी और अमित शाह 2019 में आ गये तो दोस्तो ये पाकिस्तान नही बचेगा, ये पाकिस्तान को बर्बाद कर देंगे। ( It sends shivers down my spine to think that if these two come back to power in 2019, if Modi and Amit Shah are re-elected in 2019, then friends, Pakistan won't survive. They will ruin Pakistan. -translated)
Finally Arvind Mawali spoke the truth 🤬😡😂#WA pic.twitter.com/4BCJMFctVz

— Hardik (@Humor_Silly) January 19, 2019
Alt News found that the 19-second clip circulating on social media was doctored. The original and extended version of the video was tweeted by several media outlets. The video shared on social media was digitally manipulated, and the words "this country" were replaced with "Pakistan", in order to show Kejriwal as a Pakistan sympathiser.
Communal divide on social media
1. False claim of school children in Kerala boycotting Vande Mataram
A photograph of chidren holding green coloured flags in their hands started was circulated on social media on Republic Day. It was claimed that Muslim school children in Kerala boycotted Vande Mataram and hoisted Islamic flags. The photograph was shared widely on Twitter and Facebook. BJP Spokesperson Vaibhav Aggarwal had queried Alt News regarding the veracity of the image.
@AltNews @free_thinker Can You try & check this and come back on truth please ?I know this is a needle in the hay stack pic.twitter.com/2CupfuU7Uf

— #VAIBHAVAggarwal #BJP (@thevaibhavag) January 28, 2019
Interestingly, Alt News found that the same pictures had been circulated in the past as well, around the time of Independence Day. The narrative was the same- Muslim school children in Kerala had hoisted Islamic flags while refusing to sing the national song. The green coloured flags are of the Indian Union Muslim League, a Kerala-based political party. The photos are of a IUML rally which took place in May 2013 in Malappuram, Kerala.
2. Old image of Jain monk shared with false claim
On January 11, a Twitter user tweeted a photograph of an emaciated man claiming that a Jain monk is fasting unto death to stop cow slaughter in India. It was retweeted by many including, former Infosys CFO Mohandas Pai. The photo had been shared with the same claim back in 2015 as well.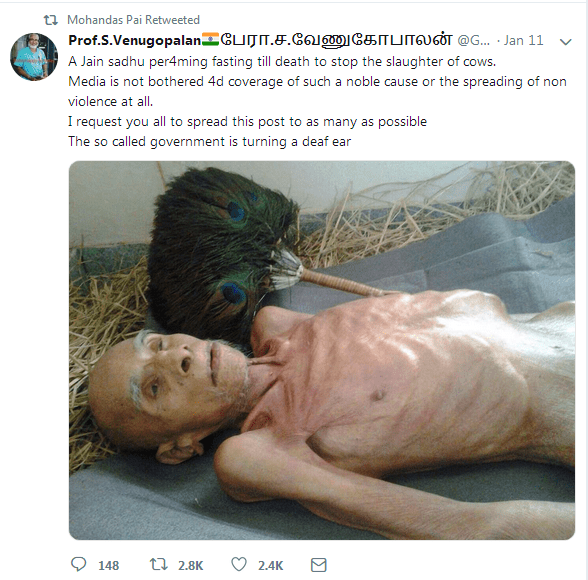 Alt News fact-checked this claim and found it to be false. The photograph is representative of the Jain ritual of Santhara, in which the individual fasts unto death. The practice of Santhara is limited to Jain monks and nuns.
3. Video of martyr's family mourning death shared with false, malicious communal angle
A video was circulated on social media along with the claim that the woman seen wailing, along with others was mourning the death of a Hindu woman who was raped in Rajasthan after the Congress party came to power. The message claimed that the police was not taking action as the perpetrators belonged to the Muslim community and that the incident occurred in a Muslim majority area.
आ गई कांग्रेस सरकार हो गया बलात्कार शुरू
ए विडीयो राजस्थान का हे एक हिन्दू लडकी को मारा ओर घर मे लेजाकर बलात्कार किया वहा कि पूलीस भी कूछ नही कर रही क्यू कि ये जो लड़के हे जो मुस्लिम है वहा मुस्लिम आबादी जादा हे आज इसके साथ हूवा हे कल आप के साथ भी होगा इसकी मदत करो हाथ जोडता हू इस जगह अपनी बहन बहन समझकर इसको इतना फेलाओ कि मीडीया और बेटी बचावो नारा देनेवाले तक पहुचा दो इंसानियत के वासते जितनेभी ग्रुप है उसमे छोड़ते रहो रुकना नही चाहिए

Posted by ठा. आकाश सिंह चौहान on Wednesday, January 2, 2019
Alt News fact-checked the video and found that the people seen in the video were mourning the martyrdom of late constable Hansraj Gurjar of the BSF. Gurjar was killed in firing along the International Border in the Chamliyal post area of Samba district in Jammu and Kashmir. A soldier's death was communalised for political gains.
Misreporting by media
1. India TV broadcasts fake image of PM Modi sweeping floor
On January 23, India TV ran a show – 'Unheard stories of PM Narendra Modi' – where the channel broadcasted an over 20-minute special on Prime Minister Narendra Modi's life, starting with his childhood days. At 4:10 minutes India TV flashed an image where the PM could be seen sweeping the floor.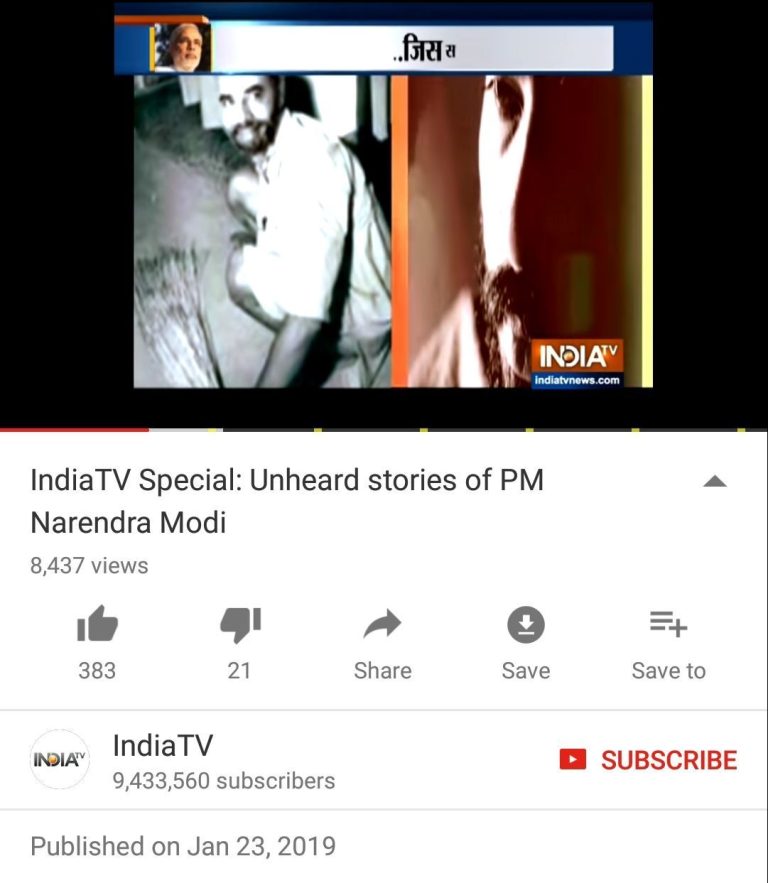 One of the photographs used by India TV to showcase the prime minister's struggles was a morphed image. The image where PM Modi can be seen sweeping the floor was viral on the internet since the run-up to the 2014 Lok Sabha elections. However, an RTI petition filed in 2016 had revealed that the photograph was fake.
2. MyNation spreads fake news about "Rahul Gandhi stumped by a 14-year-old girl" in Dubai
"Rahul Gandhi dumbfounded in Dubai by little girl's questions" read the headline of a story on the 'My Nation' portal. The article claimed that during Rahul Gandhi's recent visit to Dubai, a 14-year old girl had asked him two questions that stumped him. According to the article, the questions embarrassed the Congress President who "dismissed it with a smile" and the live telecast was cut by Congress.
The write-up says that the first question she asked "was on how Rahul Gandhi, who speaks about how caste distinction is rampant, embraced Hinduism while applying ashes on his forehead in Gujarat and wore the kufis (traditional cap that Muslims wear) while visiting Kashmir.", whereas the second question asked to the Congress president was, "Congress prides itself for having ruled India for several decades. The welfare and development that were not achieved then, will be done now?"The article by My Nation has no accompanying video to back its claim.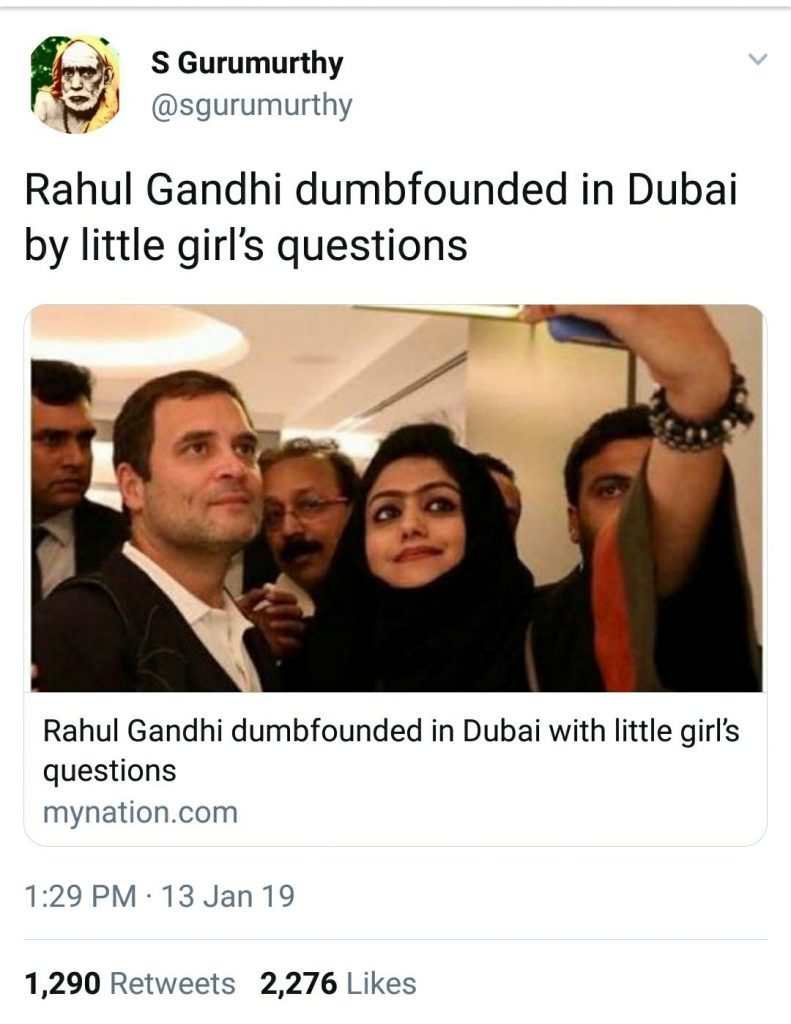 Alt News found that the claim had originated from a Tamil website and was picked up by My Nation, followed by Postcard News and Rightlog. A picture of a young girl was circulated in all the articles and in social media posts. Using reverse image search, Alt News found that the picture of the girl was taken from a 3 year old Youtube video. According to the description, this video was shot at St. Joseph's High School in Vikhroli, a suburb of Mumbai.
Moreover, Alt News confirmed through multiple channels that MyNation's article was concocted. No such interaction with a 14-year old had taken place as claimed in the article, and no such questions had been asked to Rahul Gandhi.
3. The Telegraph misreports Smriti Irani's comment on Rahul Gandhi
"Smriti questions Rahul 'manhood'", read the headline of an article published by The Telegraph on January 5, 2019. The article claimed that Union Minister Smriti Irani appeared to question Rahul Gandhi's 'purushartha' ('manhood') while comparing it with that of BJP President Amit Shah. In the article, Smriti Irani is quoted saying, "The BJP president earned his post through his manhood, Rahul got his thanks to his mother's blessings".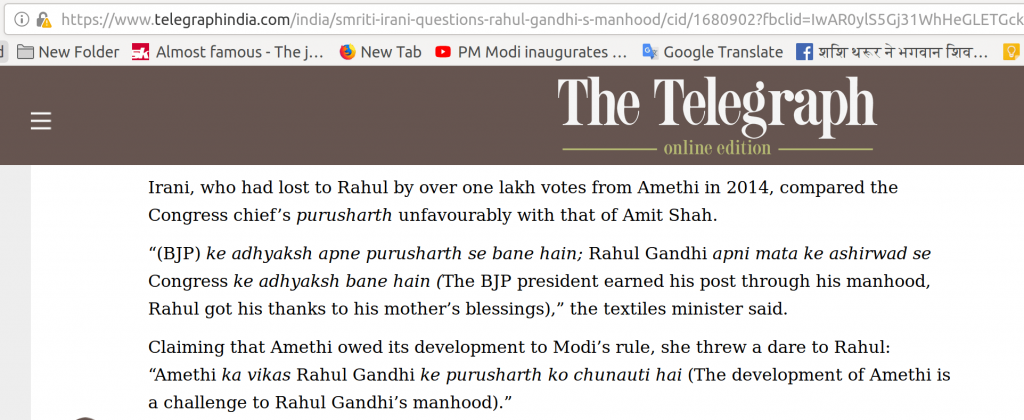 The statement ascribed to the textile minister said,"बीजेपी के अध्यक्ष अपने पुरुषार्थ से बने है। राहुल गाँधी अपनी माता के आशीर्वाद से कांग्रेस के अध्यक्ष बने है।". The Telegraph translated the word 'purushurtha' to manhood,while the appropriate translation should have been, "The BJP President earned his post through his industriousness/hard work, Rahul got his thanks to his mother's blessings."
Image building on social media
1. Highway in Turkey passed off as Mumbai-Goa national highway built by Modi government
ये स्वीडन , स्विजरलैंड या यूरोप का नहीं बल्कि भारत का चित्र है मुंबई-गोवा राष्ट्रीय महामार्ग NH66 कशेडी घाट मेरा देश बदल रहा है , ….!
राष्ट्र नायक मोदीजी को धन्यवाद (This is not Sweden, Switzerland or Europe but India. Mumbai-Goa National Highway NH66 Kashedi Ghat. Mera Desh Badal Raha Hai- Thank you to nation builder Modi ji- translated).
A photograph of a magnificent looking road was shared on social media with the claim that it is the outcome of the developmental efforts of the Modi government.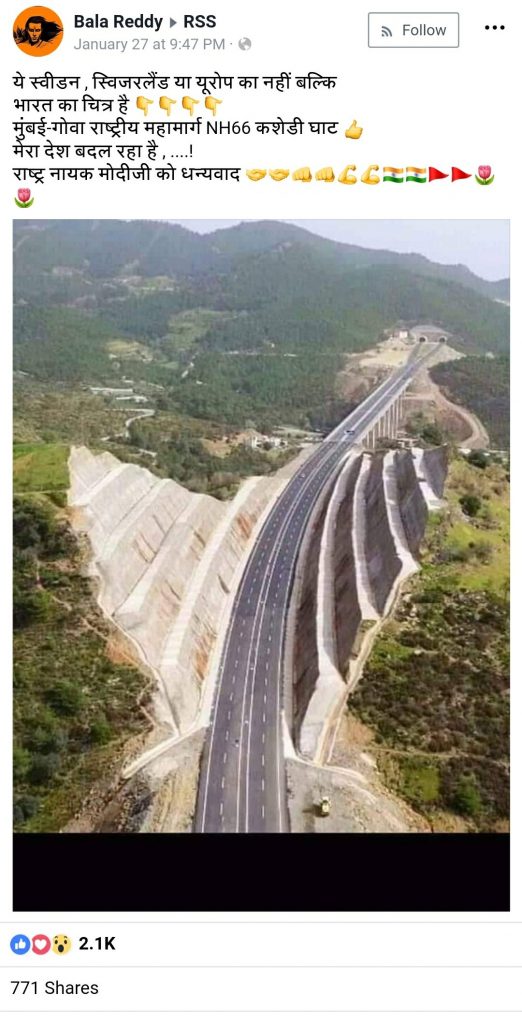 A reverse search of the image showed that it is of a highway in Turkey. The Mersin-Antalya highway was passed off a stretch of National Highway 66 between Mumbai and Goa.
2. #10YearsChallenge: BJP Karnataka tweets three sets of images, get all three wrong
On January 17, BJP Karnataka tweeted a collage of images drawing comparison between 2009 and 2019 to depict the positive changes in India brought about by the Modi-led government at the Centre. Latching on to the 10yearschallenge trend viral on social media, in an attempt to bolster its image as a development-oriented regime, the party tweeted the photographs with the hashtag #10YEARCALLENGE , misspelling Challenge as 'Callenge'.
#10YearCallenge Modi style ! 😎 pic.twitter.com/2z0Qqnqc9c

— BJP Karnataka (@BJP4Karnataka) January 17, 2019
Alt News found that some of these images were misleading. For instance, one image was taken from a documentary shot in 2014, while another photo was taken from an article which reported on the limitations of government schemes and developmental initiatives.
3. BJP uses misleading images to showcase Western Peripheral Expressway
The official Twitter handle of the Bharatiya Janata Party tweeted two purported images of the Western Peripheral Expressway. The image on the left intended to depict a barren land, while the photograph on the right attempted to showcase how it was converted into a fully operational expressway. BJP tweeted the images with the hashtag #5YearChallege and captioned it as – "Western Peripheral Expressway providing world-class infrastructure became operational in a time-bound deadline."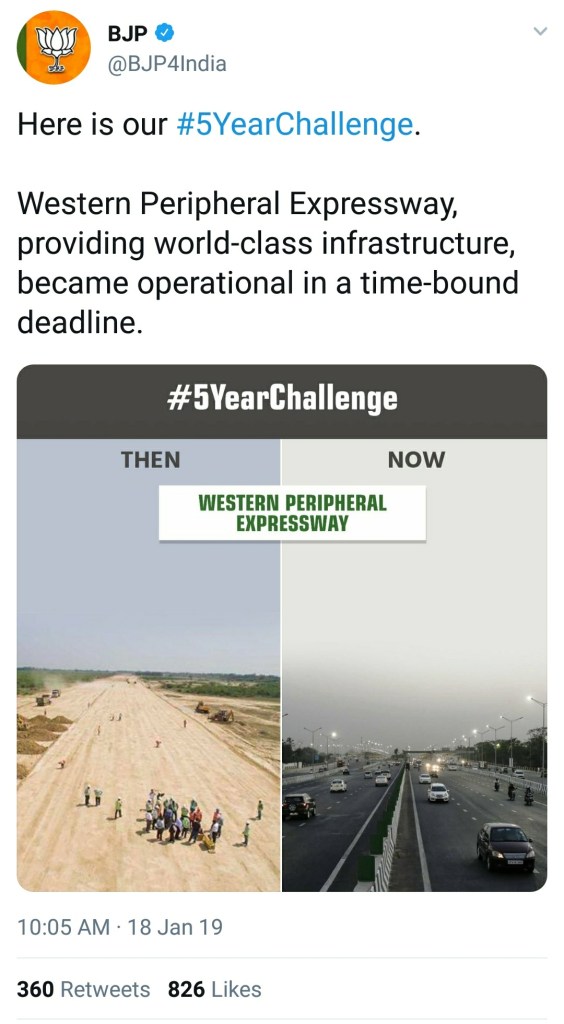 Alt News found that the photograph on the left is of the Agra-Lucknow expressway, and was clicked in 2015. The photo on the right was of the Delhi-Meerut expressway.
4. Digital creations passed off as Rahul Gandhi posters splashed across Dubai
Congress President Rahul Gandhi was on a two-day visit to the United Arab Emirates (UAE) in the beginning of January. During and ahead of his visit, Congress leaders and supporters on social media went overboard in their projection of his supposed popularity, tweeting and sharing photographs which showed Rahul Gandhi's face plastered across billboards, and on the back of buses in Dubai.
Dubai is all set to listen the beloved leader @RahulGandhi. He will be talking to Indian Diaspora and Students on his two day visit. #RahulGandhiInUAE #RGinUAE pic.twitter.com/OJA9a8xrlY

— Khursheed Ahmed 🇮🇳 (@KhursheedAhmedA) January 11, 2019
These photos were manipulated. The photograph of Gandhi's poster on the back windshield of a bus was photoshopped. The photos of him on billboards were created using an image software application.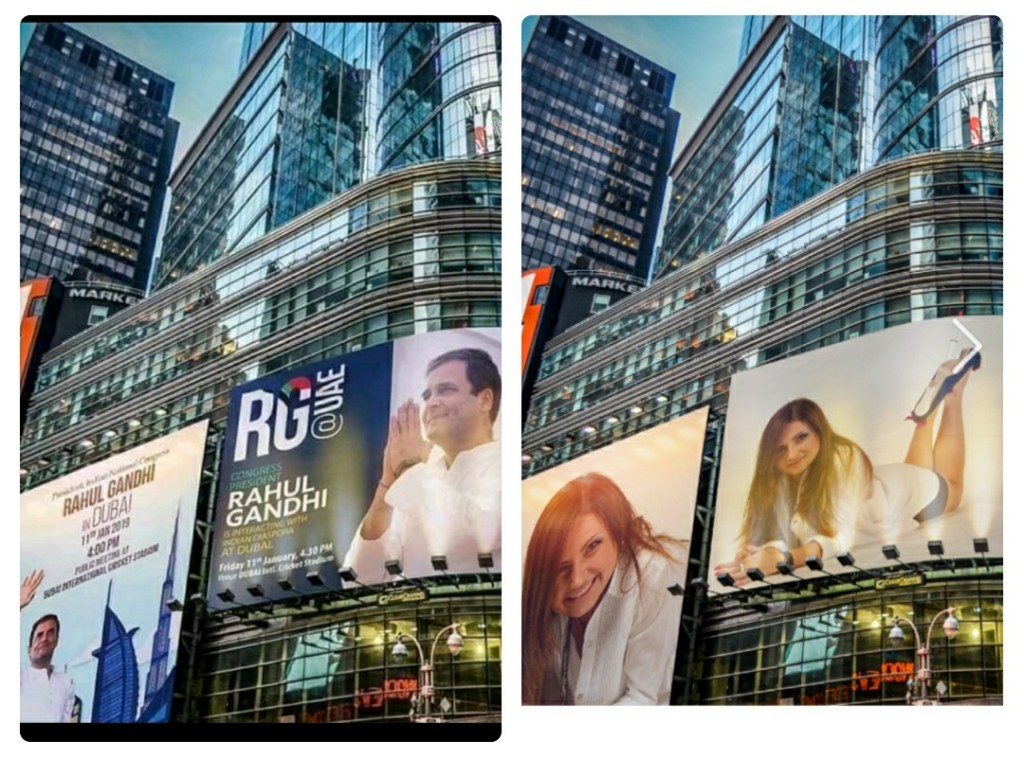 Miscellaneous
There were a few other significant instances of misinformation/disinformation apart from the above.
1. Paresh Rawal tweets false statistics to show Modi govt better at combating terror in J&K
"In four and a half years of Modi's government, 61 civilians died, 200 jawans were martyred and 1701 terrorists were liquidated, and in 10 years of Manmohan Singh's rule, 1788 civilians lost their lives, 1177 jawans were martyred and only 241 terrorists were killed. Now the nation should answer who is the real protector of this nation that India can trust" (translation). This set of statistics was shared by actor turned BJP MP Paresh Rawal on Twitter with the words "Point to be noted !!!" It was shared on social media in the form of a newspaper clipping.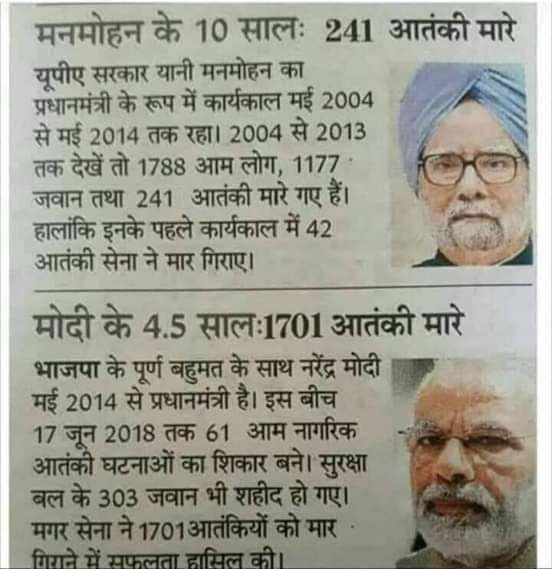 A fact-check of these numbers revealed that they are way off the mark. Also, the above image is manipulated- the numbers have been changed in order to show Modi government in better light than its predecessor.
2. False claim by Yogi Adityanath: "No riots during my tenure"
"मार्च में मेरे शासनकाल के दो वर्ष पूरे होंगे। मेरे अब तक के शासन में, कोई दंगा नहीं हुआ है। (In March, two years of my term will be completed. In my tenure so far, there have been no riots -translated)" tweeted Uttar Pradesh Chief Minister Yogi Adityanath on Jan 3, 2019. He claimed that during his tenure, there have been no riots.
मार्च में मेरे शासनकाल के दो वर्ष पूरे होंगे। मेरे अब तक के शासन में, कोई दंगा नहीं हुआ है।

— Yogi Adityanath (@myogiadityanath) January 3, 2019
While Adityanath claimed that there have been no riots during his tenure, the Home Ministry's report suggests otherwise. According to a reply given by Hansraj Gangaram Ahir, Union Minister of State for Home Affairs in Lok Sabha on February 6, 2018, there were 822 incidents of communal violence in India in 2017 out of which 195 had occurred only in Uttar Pradesh. In a total of 195 incidents of communal violence, 44 people died and 542 people were injured.
3. Amit Shah falsely claims 'Vande mataram' & 'Bharat Mata ki Jai' slogans not raised at TMC rally
At his rally in West Bengal's Malda, BJP president Amit Shah claimed that no slogans of 'Vande Mataram' and 'Bharat Mata ki Jai' were raised during the Opposition's Mahagathbandhan rally. "जिस गठबंधन की रैली में भारत माता की जय का जयकारा ना लगता हो, वन्दे मातरम् के नारे नहीं लगते हो, वो देश का क्या भला करेंगे? श्री अमित शाह (An alliance where Bharat Mata ki Jai and Vande Mataram slogans were not raised, how can it do good for the country? Shri Amit Shah)," tweeted the Bharatiya Janata Party from its official handle.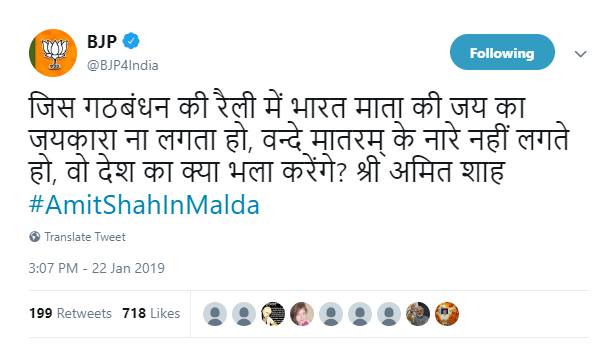 The United India Rally, where opposition parties came together to rally for a change in central government, took place on January 19 at Kolkata's Brigade Parade Ground. The over 5-hour video of the event contradicted Amit Shah's statements. At around 3:04:35 in the full video, West Bengal chief minister Mamata Banerjee can be heard chanting 'Vande Mataram', which is preceded with the chants of 'Jai Hind'.
4. Clipped video of Rahul Gandhi shared by Twitter handle Know The Nation
On January 6, Twitter handle Know The Nation (@knowthenation) tweeted a video of Rahul Gandhi addressing the Lok Sabha on the Rafale Deal. In the 9-second clip, the Congress President can be heard saying – "I have no proof so far, but I am very clear that the Prime Minister is directly involved." This gave the impression that Gandhi was accusing PM Modi of corruption without any evidence. The video was viewed over a million times, and can be accessed here.
"I have no proof so far, but I am very clear that the Prime Minister is directly involved"#RafaleDeal pic.twitter.com/54AUXcG7sz

— Know The Nation (@knowthenation) January 6, 2019
Know The Nation had tweeted 9 seconds of a much longer video and placed Rahul Gandhi's statement out of context. If one listens to his entire speech, Gandhi does not say, "I have no proof so far, but I am very clear that the Prime Minister is directly involved." In fact, his statement was directed at Defense Minister Nirmala Sitharaman. He says that he does not have any proof so far of her involvement, but the Prime Minister is directly involved in the scam. Alt News' story on Know The Nation can be read here.
Donate to Alt News!
Independent journalism that speaks truth to power and is free of corporate and political control is possible only when people start contributing towards the same. Please consider donating towards this endeavour to fight fake news and misinformation.