An image of an apparently ancient sculpture is viral with the claim that it was made in India 1,400 years ago during the time of a Pallava King. The sculpture is of a person seated in front of a computer attached to an electrical wire. Users marvelled at India's advancement in technology at a time when modern electricity hadn't even been invented. (Archive)
कि तब धरती पर आधुनिक बिजली भी नहीं थी,||
~ धरती पर आधुनिक तकनीकी यंत्र भी नहीं थे,||
~ जबकि प्रमाण हमारे मंदिरों की दीवारों पर है लेकिन हम मन्दिर जाते हीं नहीं हैं ,||🤔#सनातन_धर्म_सर्वश्रेष्ठ_है

— 🚩राष्ट्रवादी भारतीय🚩 (@RVDhindustani) January 30, 2023
The viral claims date back to August 2022. (Archive)
1400 साल पहले पल्लव राजा नरसिंह द्वारा निर्मित लालगिरी मंदिर में एक कम्प्यूटर तथा कीबोर्ड के साथ बिजली का तार और ये सब पत्थर की दीवार पर बनाई गई हैं, यह कैसे हो सकता है..?

तब ये आधुनिक बिजली भी नहीं थी, ये आधुनिक तकनीकी यंत्र भी नहीं थे, उन्होंने इसकी कल्पना किस तरह की होगी..?🤔 pic.twitter.com/EFOZSqbpqN

— Veere Vishal (@VeereVishal) August 8, 2022
The image is also viral on Facebook.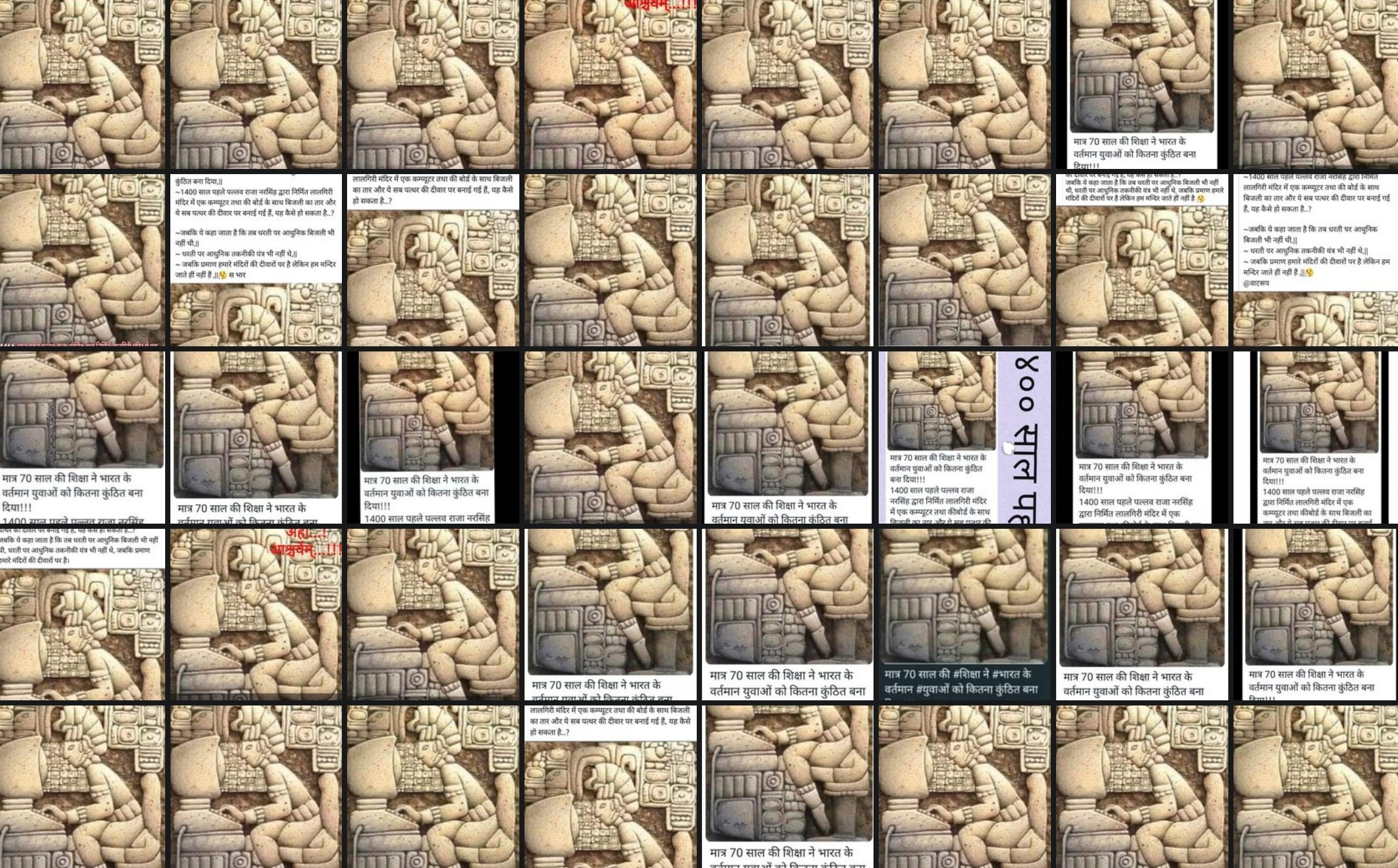 Alt News has received multiple requests on its WhatsApp helpline (76000 11160) and its app to verify the authenticity of the claim.
This slideshow requires JavaScript.
Fact Check
Upon a reverse image search of the image, we were led to Mexican artist Raúl Cruz's ArtStation profile wherein this image has been listed as one of his original artworks. The artwork, titled Memory of the Future, was posted four years ago.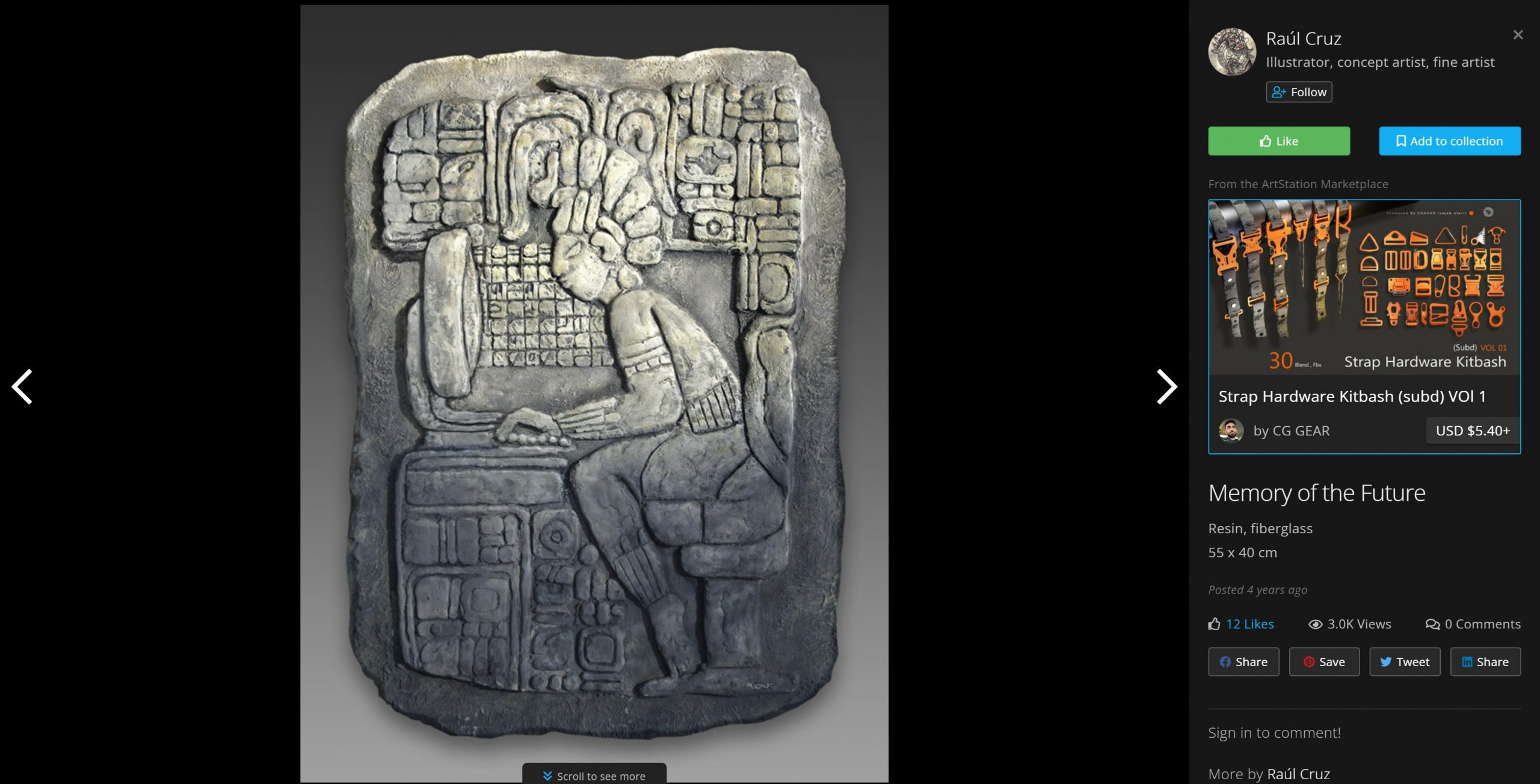 Artist Raúl Cruz is described as a freelance illustrator/fine artist on his About page on ArtStation. According to the page, Cruz's work falls under the genre of Fantastic Art. Futurist aesthetics and science fiction combined with Mesoamerican art directly influenced his work, mixing the past and the present with unpredictable futures. This trait is clear in the artwork that is viral.
We also found this artwork on his Instagram page, posted in September 2018. The image is captioned "Memoria del futuro, acrylic on fiberglass, 2015″.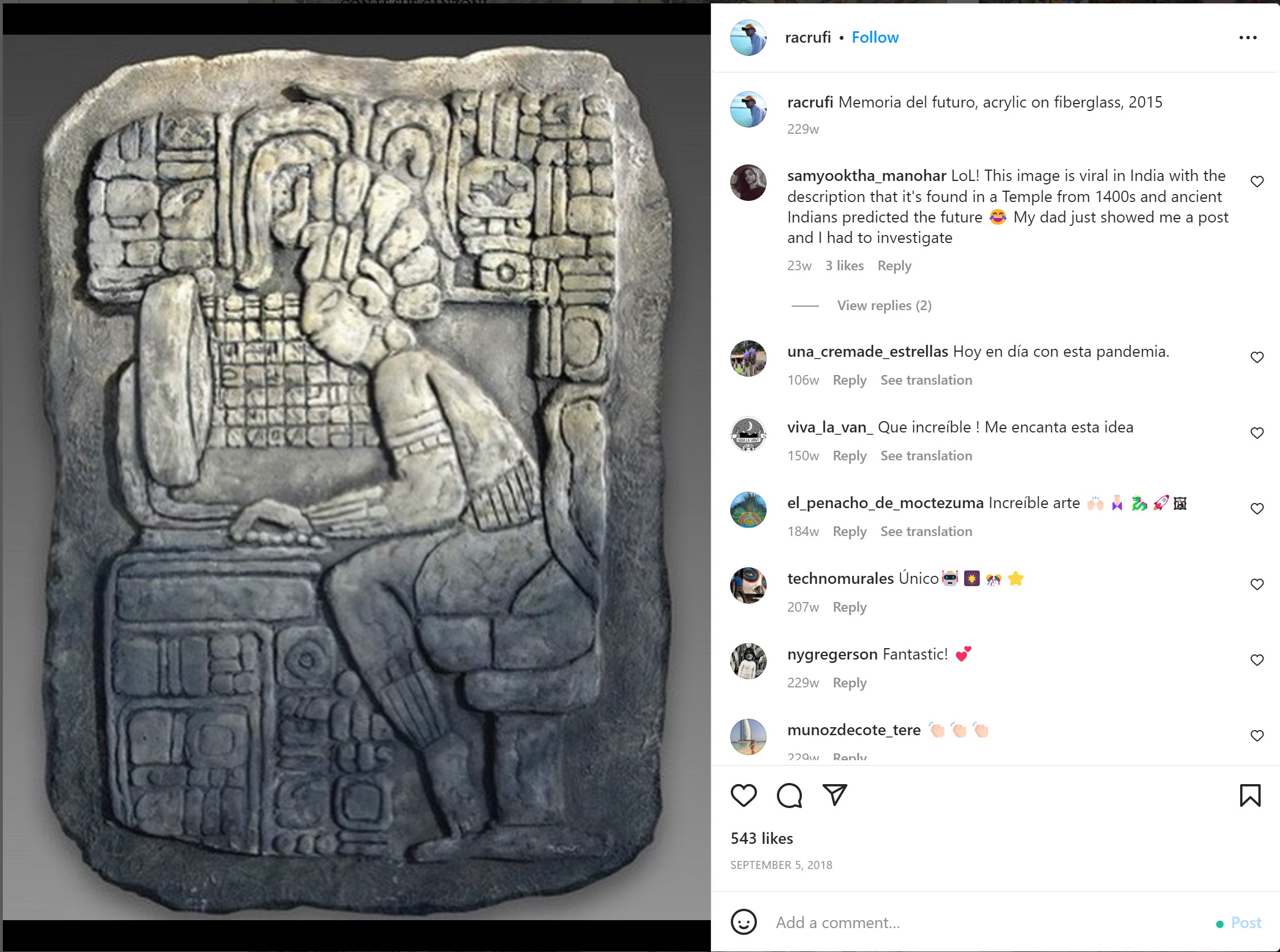 Furthermore, we found that this artwork had been used as cover art in a book named 'Cosmos Latinos: An Anthology of Science Fiction from Latin America and Spain'. Cruz has been credited for the cover design, according to the Internet Speculative Fiction Database.
This slideshow requires JavaScript.
Hence, an image of a seemingly ancient engraving of a man seated in front of a computer is viral with the claim that the sculpture was made 1400 years ago in India during the time of a Pallava King. In reality, the artwork was created by artist Raúl Cruz. He uploaded the image on Instagram in 2018.
Donate to Alt News!
Independent journalism that speaks truth to power and is free of corporate and political control is possible only when people start contributing towards the same. Please consider donating towards this endeavour to fight fake news and misinformation.