Puneet Sharma, who is followed by PM Modi on Twitter, posted a video of one person being tied up and stabbed repeatedly. In this video that he posted at 3:47 PM on 3rd March 2017, Puneet claimed that the video is that of a RSS member getting killed in Kerala. Considering that he has over 31.8k followers on Twitter, the video got massively retweeted. He wrote "केरल में हो रहे @RSSorg एवं @BJP4India कार्यकर्ताओ पर अत्याचार की वीडियो देखने के बाद जिस हिन्दू का खून न खोले, खून नही वो पानी है।" (After watching this video of torture on RSS Karyakarta in Kerala, those Hindu whose blood doesn't boil, their blood is not blood but water). The link to the video is at the bottom of the post.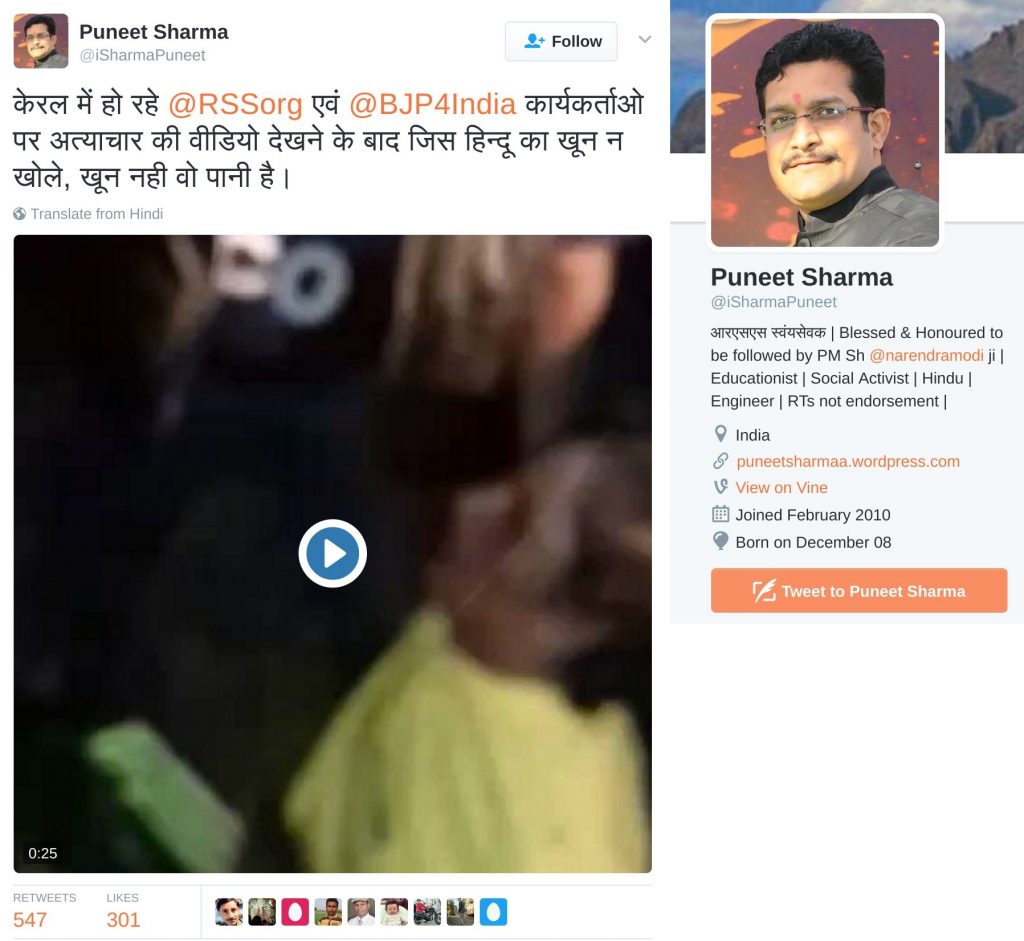 Puneet Sharma's twitter video was embedded in a blog post by a site called 'hindutva.info' with a title "VIDEO : केरल में RSS और BJP के कार्यकर्ताओं पर हो रहे अत्याचार का खौफनाक मंजर!" (A horrifying instance of the torture on RSS/BJP workers in Kerala). This post, in turn, has been shared close to 10k times on different social media networks.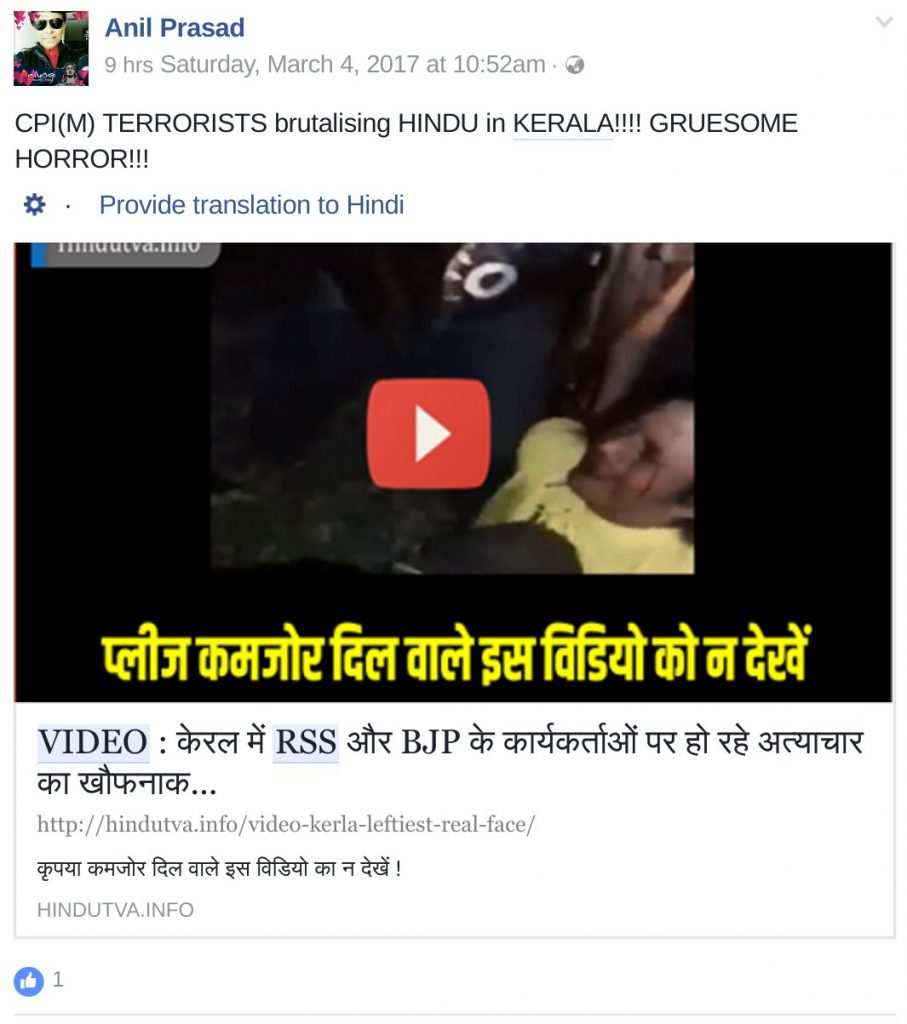 The video was uploaded multiple times on various social media platforms including Facebook, Twitter and WhatsApp with thousands and thousands of shares. Others in the Hindutva brigade gave it a further spin and claimed that it is Muslims murdering RSS/BJP members in Kerala and there's a need to give up casteism to fight this evil. For eg, the following Facebook account called "Kattar Hindu" wrote:
जागो हिन्दुओ जागो
आखिर कब तक जातिवाद करते रहोगे देख लो कैरला मे कैसे हिन्दु लोगो को मौत के घाट उतार रहे है मुसलमान
अगर अब भी आप सभी जातिवाद छोड़कर एक नही हुए तो कल आपको भी ऐसे ही मौत के घाट उतारेगें मुसलमान हिन्दुस्तान में हिंदुऔ को RSS और BJP कार्यकर्ताओं को यह विडियो में देखलो जरा अब तो संभल जाऔ जात पात छोड़कर सभी हिंदू ऐक हो जाओ नही तो ईसी तरह से मरने के लिए तैयार हौ जाऔ ।
#जय_श्री_राम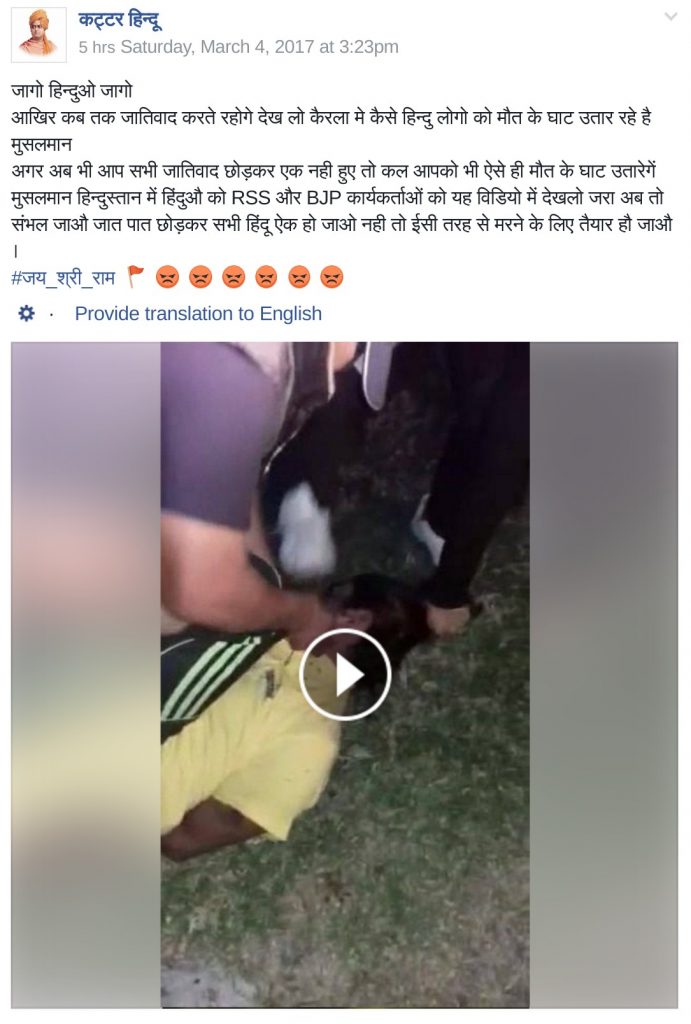 So, what's the truth? The truth is that this video first went viral on Mexican social media around January 15-17th, 2017.

According to a website called Crime Junkie, the video if of one Antonia being stabbed to death and was uploaded from an unidentified location in Mexico.
In a video that's gone viral on Mexican social media, an alleged gang member identified only as Antonio is brutally stabbed to death.
According to reports, the victim admitted to carrying out various crimes on behalf of a gang known as "El Cholo".Included footage shows an unidentified man repeatedly stabbing the victim to death.This video went viral on January 15, 2017, out of an unidentified location in Mexico.
Further, there are posts on Facebook around the same date which also make the same claim.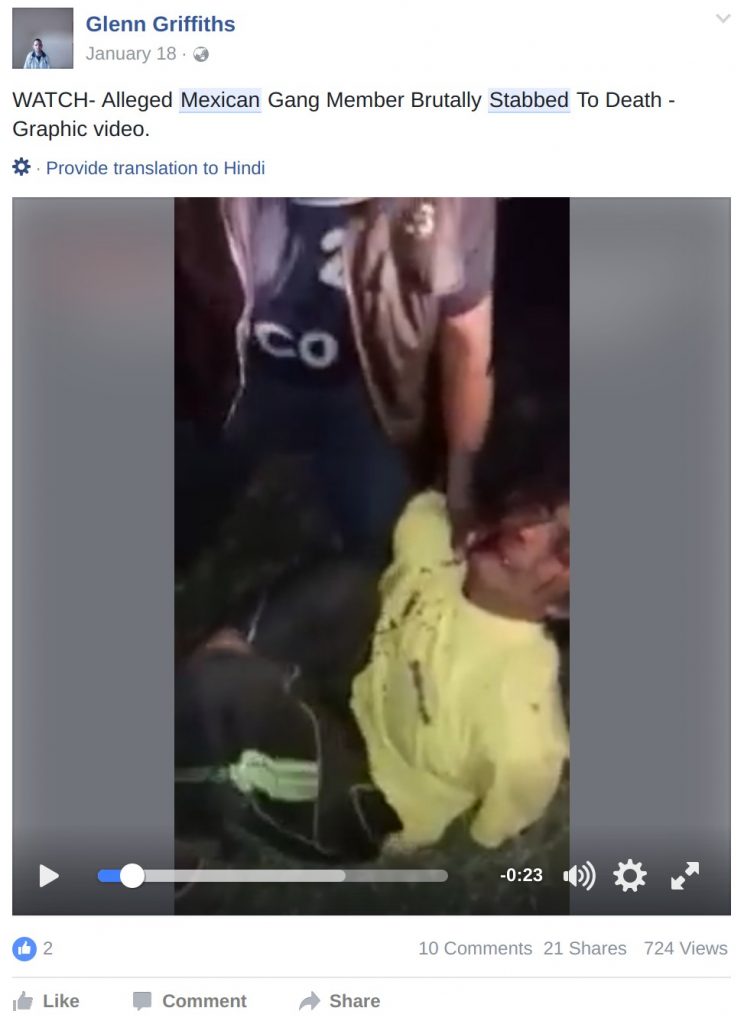 The video was also posted on youtube around the same data.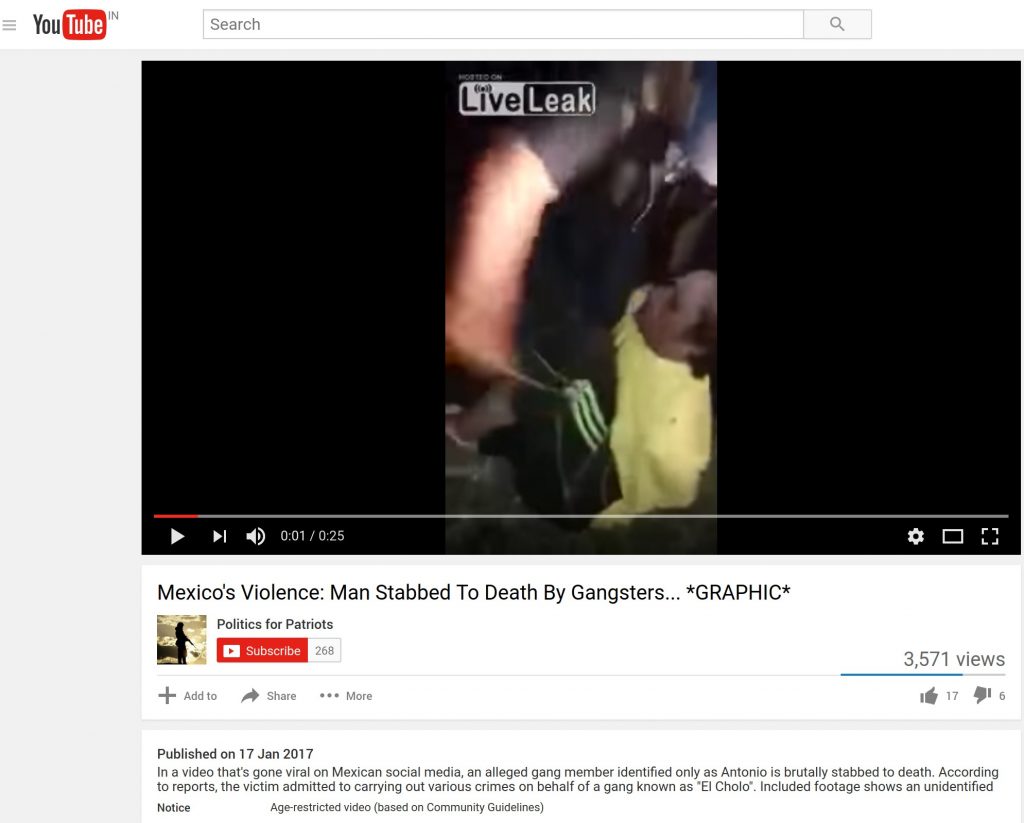 So, after the right-wing made viral a fake video of Gurmehar Kaur, now they have taken a video from Mexico and are claiming it to be an RSS member being murdered in Kerala. Good going!
Link to the original video – https://www.youtube.com/watch?v=jZYvdlAGxCA
Donate to Alt News!
Independent journalism that speaks truth to power and is free of corporate and political control is possible only when people start contributing towards the same. Please consider donating towards this endeavour to fight fake news and misinformation.