A graphic demanding a ban on '5G testing', claiming that it has led to the second wave of the coronavirus in India, is circulating on WhatsApp.
"The epidemic, that has come for the second time which everyone is terming as Corona, is the disease due to the testing of 5G tower and not coronavirus. The radiation emitted out of the tower mixes with the air and makes it poisonous and that's why people are facing difficulty in breathing and are dying. That is why we need to demand to stop testing of 5G tower and then all will be alright," says the warning.
(Translated from Hindi: "ये जो महामारी दूसरी बार आई है जिसे सब कोरोना का नाम दे रहे है ये बिमारी कोरोना नही 5g टावर की टेस्टिंग की वजह से है टावर से जो रैडिकशन निकलता है वो हवा में मिलकर हवा को ज़हरीला बना रही है इसलिए लोगों को सांस लेने में दिक्कत हो रही है। और लोग मर रहे हैं। इसीलिए 5g टावर की टेस्टिंग को बंद करने की मांग करिए फिर देखिए सब सही हो जाएगा।")
The graphic further expounds on another theory and claims that radiation from 5G towers is affecting humans in a similar way how 4G radiation affected birds and sparrows and became the cause of their death.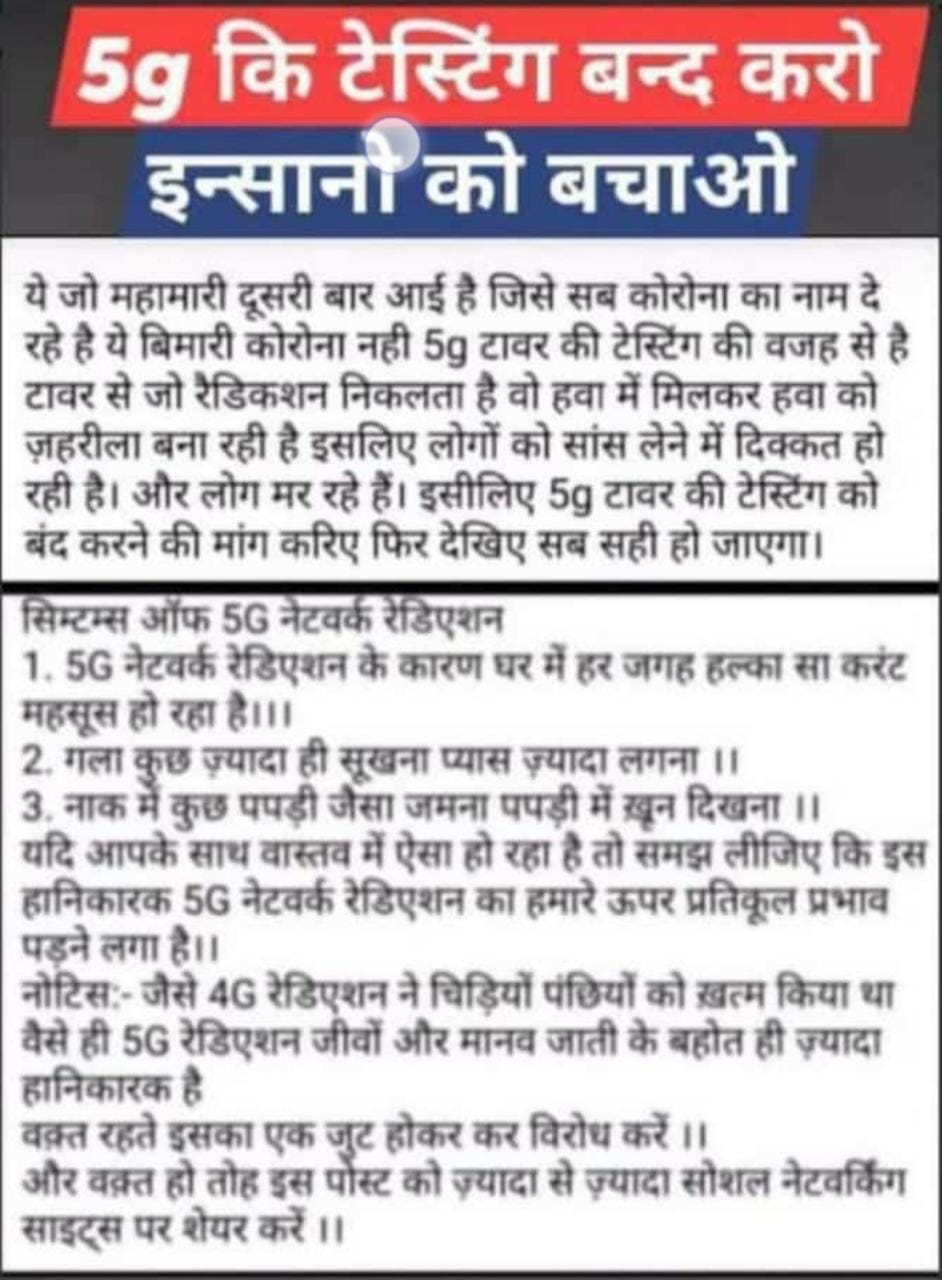 Alt News has received several requests on its official WhatsApp number (+917600011160) to fact-check this graphic.
This slideshow requires JavaScript.
An audio clip of a conversation between two men is also circulating on messaging platforms. In the conversation, one of the men reiterates the same narrative and can be heard claiming that 5G testing is the cause of numerous deaths in states like Uttar Pradesh, Bihar and Maharastra. He further claims that due to the elections in West Bengal, they did not initiate the testing from the state but instead opted to start from Mumbai, Maharastra.
The audio is massively widespread on WhatsApp. The screenshot below shows the numerous verification requests on Alt News helpline number (+91 76000 11160).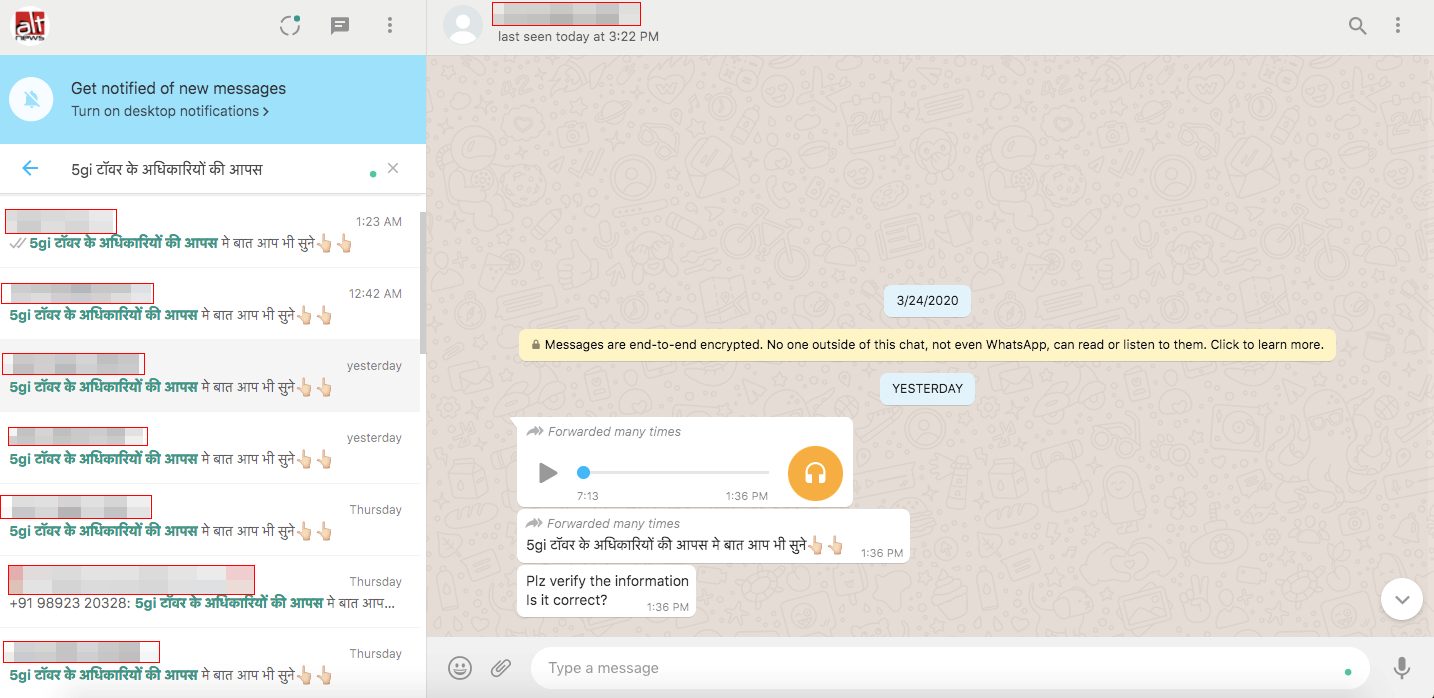 Fact-check
In the course of this article, we will discuss the following
5G testing in India
Is 5G radiation causing the second wave of coronavirus?
Did 4G radiation kill birds and sparrows?
5G testing in India
The infographic states that 5G testing in India is the cause of heightened radiation which has led to the second wave of the coronavirus pandemic. But 5G testing is still at a nascent stage in India. According to a report in The Economic Times published in March 2021, Bharti Airtel was one of the few telecommunication companies that started the development of 5G network technology in India through their own research and development in collaboration with local and US and Japanese firms using OpenRAN technology. Several other companies like Reliance Jio, Bharti Airtel, Vodafone Idea, state-run Bharat Sanchar Nigam Limited's application for 5G trials awaited clearance in March 2021.
Moreover, it is noteworthy that countries like South Korea and Hong Kong with fully functional 5G have fewer coronavirus cases than India. According to the COVID tracking website Worldometers, the countries recorded 511 and 8 news cases respectively. Thus, there is no evidence to link the rising number of coronavirus cases and 5G networks.
5G radiation did not cause the second wave of COVID
The claim that 5G network and not the coronavirus is making people fall sick has been circulating since March 2020. In February last year, the World Health Organisation (WHO) clarifying on potential health risk from 5G said, "To date, and after much research performed, no adverse health effect has been causally linked with exposure to wireless technologies. Health-related conclusions are drawn from studies performed across the entire radio spectrum but, so far, only a few studies have been carried out at the frequencies to be used by 5G."
It is important to note that the USA's Center for Disease Control and Prevention (CDC), says that COVID is thought to have spread from person to person mainly due to close contact (within about 6 feet). "Infections occur mainly through exposure to respiratory droplets when a person is in close contact with someone who has COVID-19," says the CDC. Moreover, the virus can also sometimes spread by airborne transmission. It can spread by exposure to the virus in small droplets and particles that can linger in the air from minutes to hours.
On the other hand, mobile phones send and receive radiofrequency electromagnetic fields. Reuters reported that 5G uses beam-forming technology that allows radiofrequency electromagnetic fields to go directly where needed.
Explaining the effects of radiofrequency, WHO wrote, "Tissue heating is the main mechanism of interaction between radiofrequency fields and the human body. Radiofrequency exposure levels from current technologies result in negligible temperature rise in the human body. As the frequency increases, there is less penetration into the body tissues and absorption of the energy becomes more confined to the surface of the body (skin and eye). Provided that the overall exposure remains below international guidelines, no consequences for public health are anticipated."
Speaking to Reuters, Professor Emeritus of Radiology and Medical Physics Marvin C. Ziskin said, "The weight of scientific evidence indicates that 5G emissions are not cumulative. That is, multiple exposures of innocuous exposures do not add to produce any adverse biological effect. I would add that there have been no health agency warnings about possible health risks of RF energy including millimetre waves at exposure levels that an average consumer would experience from communications technology. This is consistent with assessments of the issue by standards-setting groups such as IEEE and ICNIRP." He emphasised that there is no basis to expect that 5G would cause adverse health issues provided exposure limits are respected.
Death of birds and sparrow was not due to 4G radiation
In January 2021, Alt News found that the claim that birds are dying due to 5G trials is not backed by evidence. An article in the BBC explained, "The radio waves involved in 5G and other mobile phone technology sit on the low-frequency end of the electromagnetic spectrum. Less powerful than visible light, they are not strong enough to damage cells – unlike radiation at the higher frequency end of the spectrum which includes the sun's rays and medical x-rays." You can read our detailed fact-check here.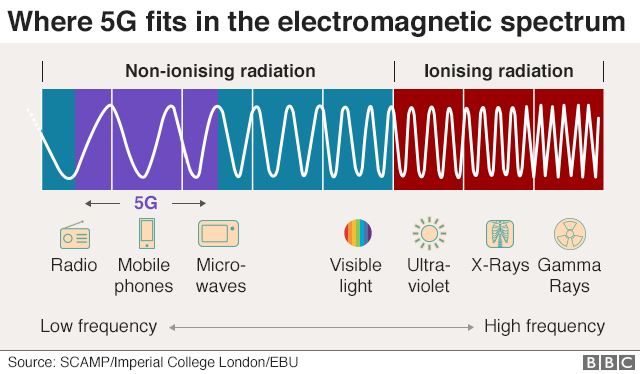 Press Information Bureau's fact-checking wing also rubbished the message that 5G radiation has caused the second wave of COVID-19 in India.
दावा: जिस महामारी को #कोरोना का नाम दिया जा रहा है वह कोरोना नहीं बल्कि 5g टावर की टेस्टिंग के दुष्परिणाम हैं। #PIBFactCheck: यह दावा #फ़र्ज़ी है। विश्वव्याप्त महामारी #कोविड19 के संदर्भ में ऐसी गलत सूचनाएँ साझा न करें व सही जानकारी हेतु प्रमाणित सूत्रों पर ही विश्वास करें। pic.twitter.com/khAQvpq00C

— PIB Fact Check (@PIBFactCheck) April 27, 2021
Donate to Alt News!
Independent journalism that speaks truth to power and is free of corporate and political control is possible only when people start contributing towards the same. Please consider donating towards this endeavour to fight fake news and misinformation.