The National Centre of Meteorology (NCM) of the Kingdom Of Saudi Arabia predicted heavy snowfall in the country's northern regions and heavy rainfall in the Makkah-Medina region on January 1, 2023. In this context, social Media users have shared a video of Al-masjid Al-haram, the great mosque of Mecca, claiming there was heavy snowfall in Mecca for the very first time.
A user named 'Shahavaj Anjum' tweeted the video with the caption 'For the first time in history it snowed in Mecca Sharif on 1,1,2023 Subhan Allah'.
इतिहास में पहली बार 1,1,2023 को मक्का शरीफ में बर्फ की बारिश हुई सुबहान अल्लाह#SubhanAllah pic.twitter.com/ljYCvRtORM

— Shahavaj Anjum's (@ShahavajAnjum) January 2, 2023
Another Twitter handle, '@IslamYarZadran2', shared the same video with the claim that it was snowing in Mecca. The video had over 68,000 views at the time of the writing of this article. (Archive link)
د لومړي ځل لپاره نن په مکه کې واوره وریږي🌨 pic.twitter.com/Nb11hNFgK0

— Islam Yar Zadran (@IslamYarZadran2) January 1, 2023
On Facebook, a user named Majeed Wesa shared this video with the same claim; it has over 7,000 views. (Archived link)
وایې نن د 2023 کال په تاريخ کې لمړی ځل دي چي په مکه مکرمه کي واوره اوریږی

Posted by Mustafa Haidary on Sunday, 1 January 2023
The video is viral on Twitter and Facebook with thousands of people viewing and re-sharing it with the very same claim.

Alt News also received requests on its Whatsapp helpline number (7600011160) to check the veracity of the video.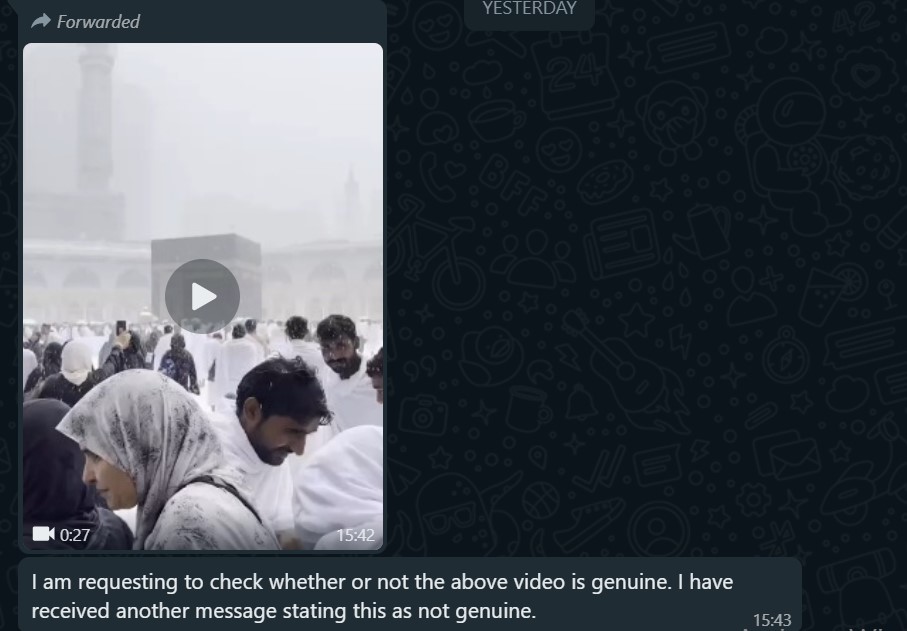 Fact Check
A simple keyword search on Google with "Snowfall in Mecca" took us to an article in the online portal of Khaleej Times which clarified this video was fake and digitally altered.
Digging further, we found the official spokesperson of the National Centre of Meteorology (NCM) tweeting the video and saying that it was false and edited with additional effects.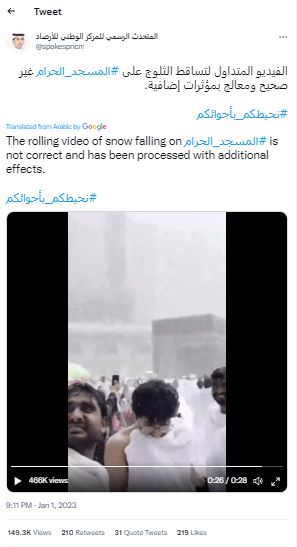 A weather forecast platform Arabian Weather SA also tweeted the video saying that the video was 'technically modified using filters'.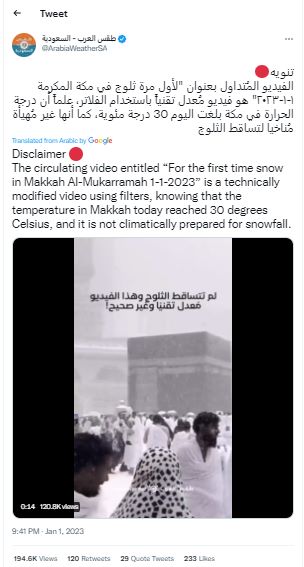 We also checked the weather forecast of Mecca for January 1st 2023 on Accuweather. As shown in the website, the highest temperature on the day was 29 Degrees and the lowest was 17 Degrees. These temperatures are not suitable for snowfall.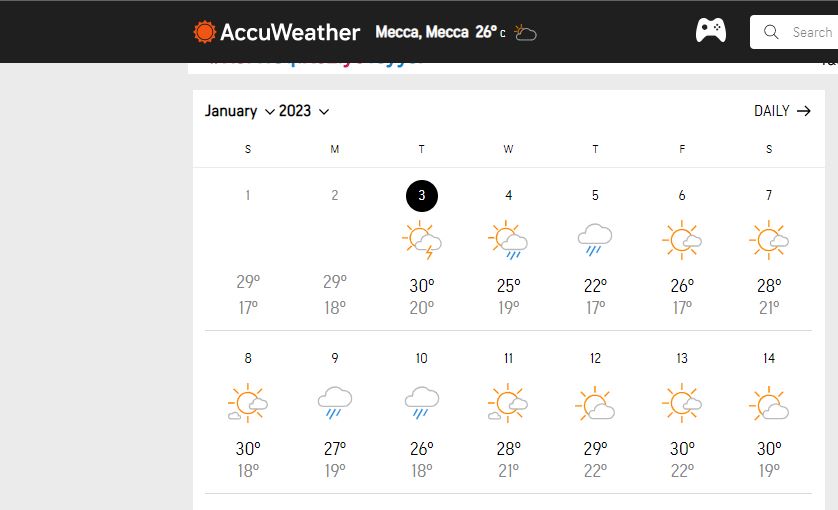 Hence, the video that is circulating on social media with the claim of snowfall in Mecca, Saudi Arabia, is actually a digitally altered video as the weather reports show no record of snow in the region.
Vansh Shah is an intern with Alt News.
Donate to Alt News!
Independent journalism that speaks truth to power and is free of corporate and political control is possible only when people start contributing towards the same. Please consider donating towards this endeavour to fight fake news and misinformation.