On September 13, Twitter user Anshul Saxena, who claims to be a 'news junkie', 'observer and analyst' tweeting 'informative facts and opinions', shared a tweet containing a table of data on Waqf properties in India, and wrote: "6.1 lakh Waqf properties across India reported till January 2020. And, many properties have been illegally encroached across India by Waqf board. Here are details till January 2020."
Saxena later deleted the tweet. An archive of the tweet can be viewed here.

Waqf or Wakf, according to the Ninth report of the Joint Parliamentary Committee on Wakf presented to the Rajya Sabha on October 23, 2008, is "a religious endowment in Islam, which could either be a building or plot of land that can be devoted for the Muslim religious or charitable purposes or for the welfare of the poor and the needy belonging to he Muslim community."
Saxena interpreted the data under the head 'encroachment' in the extreme right column in the table as properties encroached upon by Waqf boards. His tweet was retweeted and quote-tweeted over 6,200 times and received over 12,000 likes before it was taken down.
Tweeting the infographic, Ashwini Upadhyay (@AshwiniUpadhyay), wrote: 2020में वक्फ बोर्ड 6.1 लाख संपत्तियों का मालिक था और लगभग 2 लाख संपत्तियों पर अवैध कब्जा भी कर रखा है (Translation: Waqf Board was the owner of 6.1 lakh properties in 2020 and has also illegally occupied about 2 lakh properties)
He tagged Vice-President of India Jagdeep Dhankhar, Prime Minister Narendra Modi, Union home minister Amit Shah, Union ministers Kiren Rijiju, Smriti Irani, and BJP leaders Yogi Adityanath, Himanta Biswa Sharma, J P Nadda and B L Santosh, in the tweet. (Archived link: https://archive.is/f8mUq)
Another user named Alagesh Chelliah made the same claim while sharing the table.
6.1 lakh Waqf properties across India reported till January 2020. Many properties have been illegally encroached across India by Waqf board. Here are details till January 2020. Note: Time to Nationalise Waqf Board properties. Agressive in religious is in land encroachment too pic.twitter.com/0Xasm7I0LL

— Alagesh Chelliah (@AlageshChelliah) September 13, 2022
Many other users followed suit. Examples can be seen here, here and here.
Alt News received a request via email to fact-check the veracity of the claims.
Fact Check
On doing a reverse image search of the table shared by Saxena, Alt News found an article published on February 8, 2020, in the Times of India, which contained the same table. The report, headlined, '6.1 lakh Waqf properties across India, most in UP, West Bengal, Karnataka', says, "data accessed from the ministry of minority affairs shows that nearly 3% of the 6.1 lakh properties have been encroached upon as of December 2019."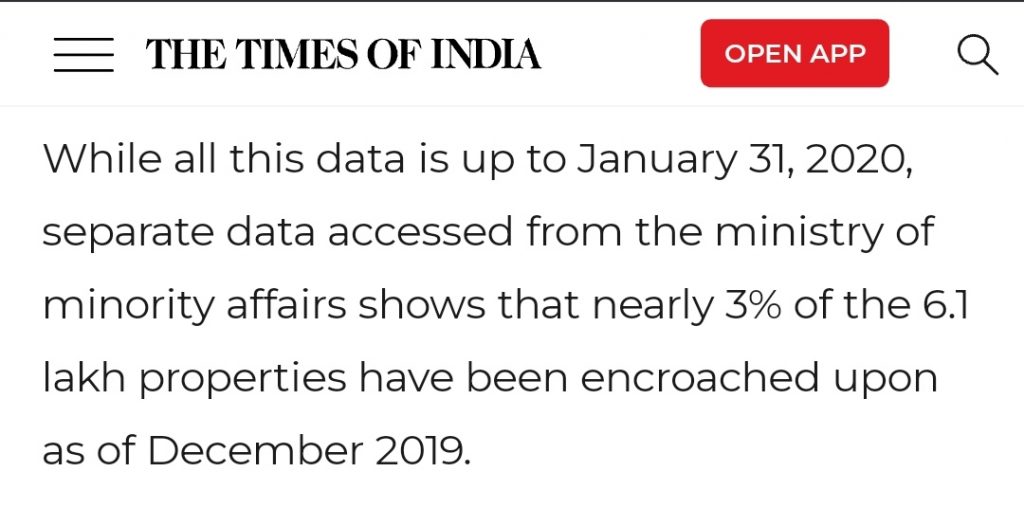 The report also mentions that these encroachments have been made both by individuals and organizations, adding, "Most of the encroachments are reported in Punjab (5,610), followed by Madhya Pradesh (3,240) and West Bengal with 3,082. Tamil Nadu and Karnataka have reported 1,335 and 862 encroachments, respectively."
Subsequently, a keyword search led us to reports in The New Indian Express and Deccan Herald, which talk about large-scale encroachment of Waqf board properties across the country. The former, dated December 14, 2018, says, "Minister of Minority Affairs Mukhtar Abbas Naqvi gave a written reply to the Lok Sabha on Wednesday wherein he stated that Waqf properties were found to have been encroached in 20 states and two Union Territories."
The latter, published on November 21, 2019, notes, "In a written reply to BJP MP Ajay Nishad's question, Minorities Affairs Minister Mukhtar Abbas Naqvi told the Lok Sabha that a total of 16,937 Waqf Board properties were under encroachment in the country, including 5,610 in Punjab."
Alt News also found a document released by the Press Information Bureau of the Union government which contains former minority affairs minister Mukhtar Abbas Naqvi's address at the 76th meeting of the Central Waqf Council. Naqvi said, "…during the last three years, more than two thousand criminal cases have been filed in connection with encroachment on waqf properties."
None of these reports, documents or press releases mentioned any instance of the Waqf board/s encroaching upon land/property owned by other parties.
Hence, it is evident that the figures under column 'encroachment' in the widely shared tweet refers to the number of Waqf board properties encroached upon by others, and not properties illegally encroached by the Waqf board, as claimed in the tweet. The truth is the exact opposite of what is being claimed in the tweet.
Incidentally, Anshul Saxena has a history of spreading misinformation that has been documented by Alt News. The readers can find the related reports here, here and here.
Donate to Alt News!
Independent journalism that speaks truth to power and is free of corporate and political control is possible only when people start contributing towards the same. Please consider donating towards this endeavour to fight fake news and misinformation.