The second wave of coronavirus has proved fatal for India with patients unable to get ICU beds and oxygen supply. Several have died waiting to be admitted to hospitals, leaving supporters of different parties passing the buck as states run out of oxygen. A section of journalists and members and supporters of the BJP have targetted the AAP government in Delhi by tweeting an identical screenshot of four handles sharing the exact story about the demise of their grandfather. The first tweet is by the Chairperson of the Delhi Commission for Women Swati Maliwal who said that her grandfather passed away waiting to be admitted to Sharda Hospital in Noida. It's alluded through the screenshot that Maliwal has concocted a story of her grandfather's death to defame the UP government.
News18 managing editor Amish Devgan, Sirf News founder Surajit Dasgupta, ABP News editor Pankaj Jha, journalist Minhaz Merchant, and author Abhinav Agarwal were among those who tweeted the screenshot.
Copy & Paste = Agenda
Hence Exposed…. pic.twitter.com/YD86ih9SNr

— Amish Devgan (@AMISHDEVGAN) April 23, 2021
This slideshow requires JavaScript.
Raja Rammohun Roy Library Foundation chairman Kanchan Gupta, BJP members Keya Ghosh and Surendra Poonia also shared the screenshot. Gupta suggested that AAP is targetting the UP government through a copy-paste campaign. BJP supporters Rishi Bagree and Anshul Saxena also promoted the claim that Maliwal 'faked' her grandfather's death. Most of these posts are now deleted.
This slideshow requires JavaScript.
Journalists and BJP supporters mock Swati Maliwal's loss citing fake tweets by troll accounts
Swati Maliwal had tweeted about her grandfather's demise on April 22. She wrote that her grandfather died after waiting for half an hour in front of Sharda Hospital, Greater Noida.
My nana died waiting for emergency support in front of Sharda Hospital Greater NOIDA. I kept standing there for half hour and pleading for admission and nothing happened. Shame! Pathetic!

— Swati Maliwal (@SwatiJaiHind) April 22, 2021
The next day, she tweeted about his cremation and also wrote, "Meanwhile fake tweets have been propagated on social media and people have been calling him names".
Don't have a brother so I cremated my nana yesterday. Went to Gadh Ganga for his last rites today. Was very close to him and it has been most painful. Meanwhile fake tweets have been propagated on social media and people have been calling him names. Have some mercy! Reham karo!

— Swati Maliwal (@SwatiJaiHind) April 23, 2021
The journalists and BJP supporters who claimed that a fake story was planted on social media to target the UP government, shared the same screenshot of four tweets. While the first tweet is Maliwal's, the other two tweets are by right-wing troll accounts @AdolffHitlar and @RamsamVenkat, and the fourth by @kaplnameena01, a pro-Congress account that has deleted the tweet and renamed itself to @kaplanameena.
@AdolfHitlar has pinned the tweet copying Maliwal's account of her grandfather's condition on the day of his death. The handle wrote that its tweet was 'sarcastic'.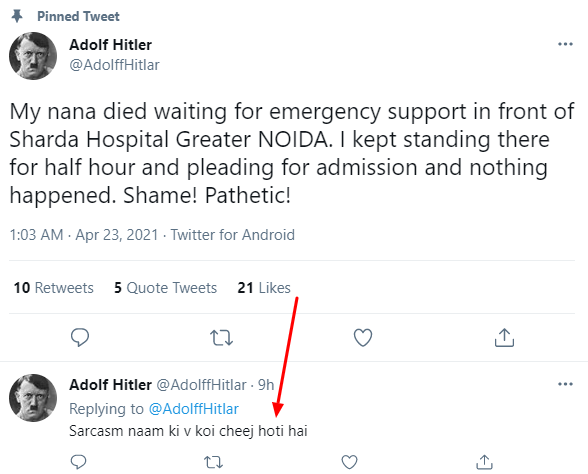 But the handle has also retweeted tweets claiming that the story is a conspiracy to defame the Yogi Adityanath government.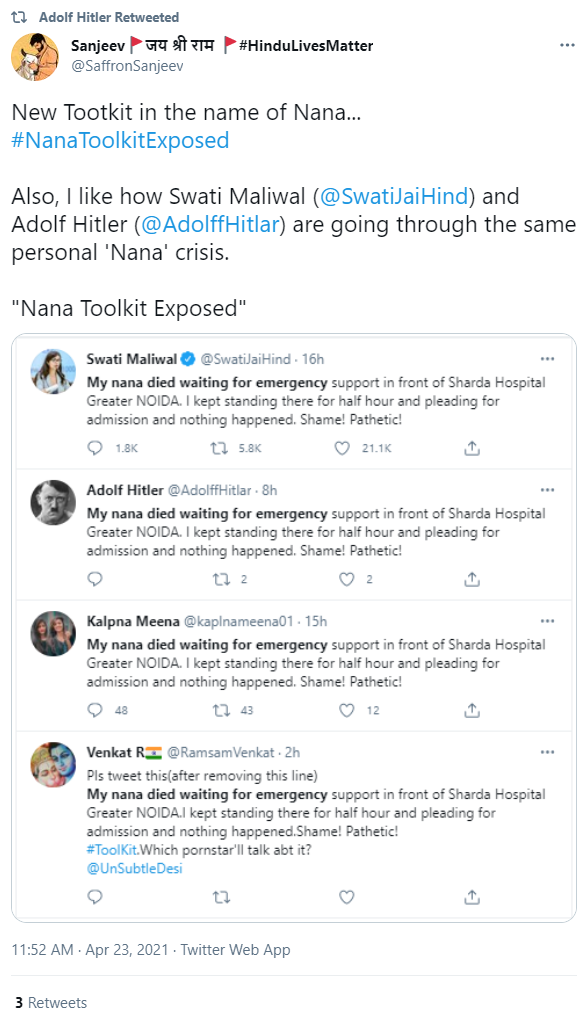 And has undoubtedly taken the 'sarcasm' too far.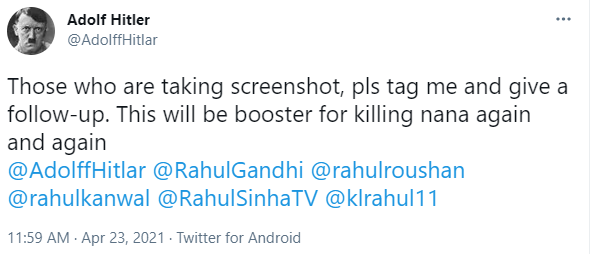 The other handle @RamsamVenkat took down its own copy-pasted tweet and shared a screenshot of the exact tweet by @kaplanameena01 to allude 'toolkit' conspiracy.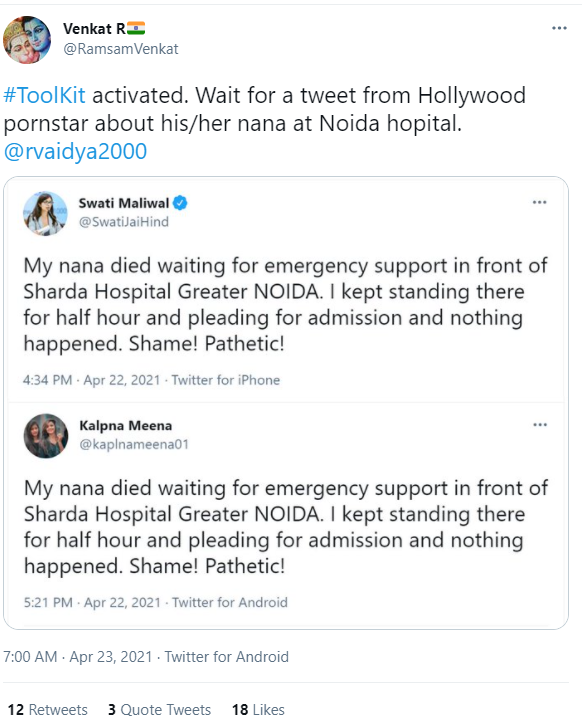 @RamsamVenkat too is a vocal BJP supporter.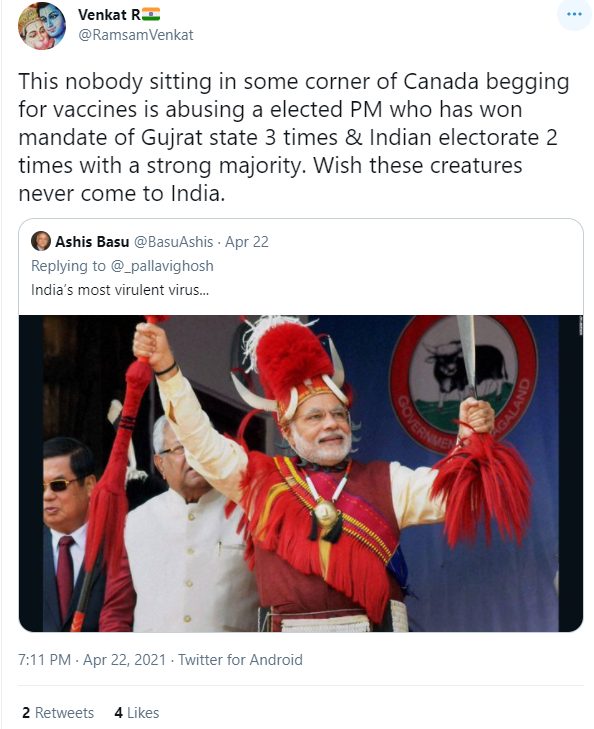 Online troll accounts copy-pasted a tweet by Swati Maliwal about her grandfather's demise. This was used by a section of journalists and BJP supporters to question Maliwal's story and also allege an 'agenda' to defame the Yogi Adityanath-led UP government.
Donate to Alt News!
Independent journalism that speaks truth to power and is free of corporate and political control is possible only when people start contributing towards the same. Please consider donating towards this endeavour to fight fake news and misinformation.