"Yesterday in Kashmir, one soldier was beaten to death by stone pelters. Are soldiers meant to beaten up by stone pelters? Share this post so that it reaches ministers sitting in Delhi" (translated). This is the message circulating on social media along with a photograph that shows a J&K policeman being thrashed by masked men. Indian Army is a Facebook page that has over 60,000 followers. It posted this message along with the photo on March 13. The post has been shared more than 16000 times.
कल कश्मीर में एक सैनिक को पत्थरबाजों ने पीट पीट कर मार दिया क्या सैनिक पत्थरबाजों से मार खाने के लिए बने हैं इस पोस्ट को इतना #शेयर करें की यह दिल्ली में बैठे हैं मंत्रियों के कानों तक पहुंचे…
#jai_hind

Posted by Indian army on Monday, 12 March 2018
Another page Bharatiya Sena: Hamari Shaan which has a huge following of over 1.1 million too has posted this photograph with identical text as the post above. It was shared over 1000 times.
कल कश्मीर में एक सैनिक को पत्थरबाजों ने पीट पीट कर मार दिया क्या सैनिक पत्थरबाजों से मार खाने के लिए बने हैं इस पोस्ट को इतना #शेयर करें की यह दिल्ली में बैठे हैं मंत्रियों के कानों तक पहुंचे…

Posted by भारतीय सेना : हमारी शान on Tuesday, 13 March 2018
So is this photograph genuine, and is the claim made along with it accurate? Alt News found that the picture is indeed of Kashmiri protesters assaulting a policeman. However, the incident in question happened not 'yesterday' as claimed by those circulating it, but in the year 2010. The photograph was clicked by Dar Yasin for the Associated Press and can be accessed through this link here. It may be recalled that violent protests had broken out in Jammu & Kashmir in the summer of 2010. This incident had taken place on June 28, 2010 in the outskirts of Srinagar.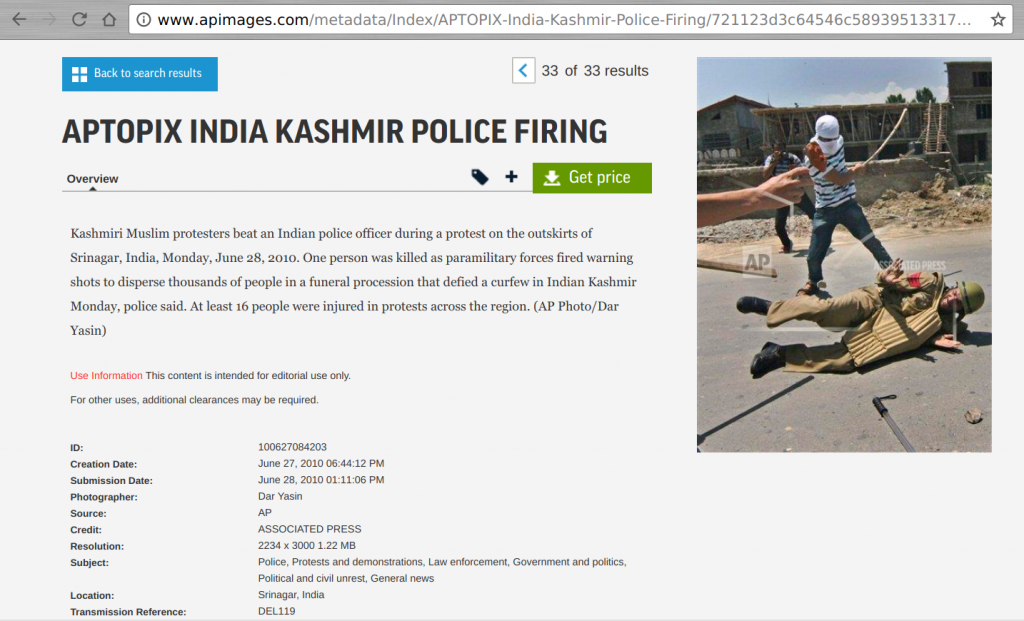 It is unfortunate that an old incident is circulating as a recent event; this only serves to exacerbate the climate of mistrust that exists between security forces and citizens in J&K, and also between the people of J&K and those who live in other parts of the country.
Donate to Alt News!
Independent journalism that speaks truth to power and is free of corporate and political control is possible only when people start contributing towards the same. Please consider donating towards this endeavour to fight fake news and misinformation.