Delhi's Nizamuddin has emerged as a coronavirus hotbed after numerous people who attended a Tablighi Jamaat meet in mid-March tested positive for the viral infection. Since the news broke out, the issue has been massively communalised on social media and by a number of mainstream media outlets. In the latest attempt, a video of a man inside a police van, spitting on a cop, has been shared by numerous individuals online. Alt News has received fact-check requests for the video on its official mobile application where the claim suggests that the man was an attendee at the meet organised at Nizamuddin Markaz.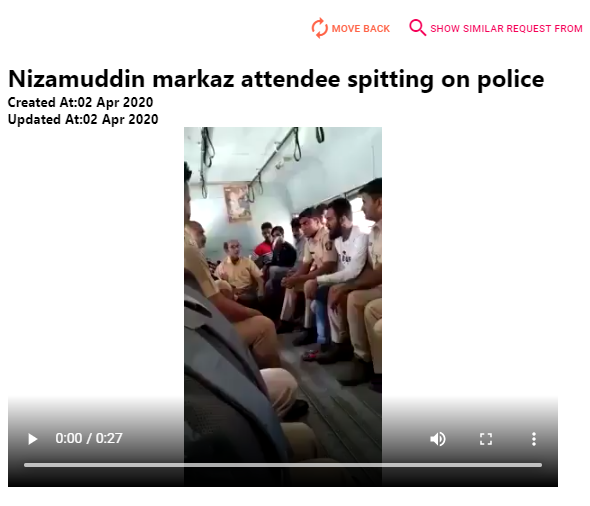 The same has also found its way to Facebook where it has been uploaded with the following text in Hindi – "जिनको सबूत चाहिए वो ये देख लों फरिश्तों की करतूतें । शान्ति से थूक का परिचय देते हुए । ये कल भी थूक रहे थे आज भी (Those who wanted proof, here it is. The action of angles. Peacefully spitting. They were spitting yesterday, they are also spitting today.)" Below is a post by Facebook user Meghraj Choudhary. It has garnered over 1 lakh views and 6,500 shares.
जिनको सबूत चाहिए वो ये देख लों 👇
आतंकवादियों की करतूतें

Posted by Meghraj Choudhary on Thursday, 2 April 2020
FACT-CHECK
The people who attended the congregation at Nizamuddin Markaz were taken to hospitals and quarantine centres in buses. The vehicle in the video looks like a police van. Furthermore, there are no health workers in the van and nobody is wearing protective masks.
A keyword search on YouTube – 'man spits police van' – led us to a report by Times of India. According to the report, "An undertrial allegedly attacked and spit on a few members of the Mumbai police escort party on Saturday. Reportedly, he was upset with the policemen for not allowing him to have home-cooked food brought by his family." An undertrial is a person who awaits trial for a crime.
The incident was reported by Mumbai Mirror on February 29, 2020, and the accused was identified as Mohammad Sohal Shaukat Ali. His family members had got him food at the court which the police disallowed him from consuming. In the video, Ali can be seen arguing and abusing the cops of Mumbai's Thane police.
Therefore, the video is unrelated to Tablighi Jamaat meet and has been shared to falsely portray that the man was an attendee spitting at cops to spread coronavirus infection. Earlier, a video of a Sufi ritual was falsely viral as intentional mass sneezing inside Bagle Wali masjid. We have debunked another video that shows Bohra Muslims practising the custom of licking utensils to not waste leftover food. This too was falsely shared as the Muslim community spreading the disease.
Note: The number of positive cases of the novel coronavirus in India is over 2,300 and close to 70 deaths have so far been reported. The government has imposed a complete restriction on movement apart from essential services to tackle the pandemic. Globally, more than 9.5 lakh confirmed cases and over 48,000 deaths have been reported. There is a sense of panic among citizens, causing them to fall for a variety of online misinformation – misleading images and videos rousing fear or medical misinformation promoting pseudoscience and invalid treatments. While your intentions may be pure, misinformation, spread especially during a pandemic, can take lives. We request our readers to practice caution and not forward unverified messages on WhatsApp and other social media platforms.
Donate to Alt News!
Independent journalism that speaks truth to power and is free of corporate and political control is possible only when people start contributing towards the same. Please consider donating towards this endeavour to fight fake news and misinformation.