The ministry of electronics and information technology (MeitY) on January 17 uploaded a new draft of amendments to the IT (Intermediary Guidelines and Digital Media Ethics Code) Rules, 2021, which it had earlier released for public consultation, and sought feedback from the public on the proposed modifications.
Though much of the document concerns rules and regulations regarding online gaming, a key change says that information that is identified as 'fake or false' by the Press Information Bureau (PIB) or any other agency authorized by the Union government has to be taken down by 'intermediaries'.
As per Delhi-based think tank PRS Legislative Research, an intermediary under IT Rules is an entity that stores or transmits data on behalf of other persons and includes telecom and internet service providers, online marketplaces, search engines, and social media sites. The draft does not clarify what is expected of intermediaries as 'reasonable efforts'.
Part II of the Rules talks about 'due diligence by intermediaries and grievance redressal mechanism'. Sub-section b(v) under Section 3 in this part says an intermediary 'shall make reasonable efforts to cause the user of its computer resource not to host, display, upload, modify, publish, transmit, store, update or share any information that … deceives or misleads the addressee about the origin of the message or knowingly and intentionally communicates any misinformation or information which is patently false and untrue or misleading in nature 1[or is identified as fake or false by the fact check unit at the Press Information Bureau of the Ministry of Information and Broadcasting or other agency authorised by the Central Government for fact checking or, in respect of any business of the Central Government, by its department in which such business is transacted under the rules of business made under clause (3) of article 77 of the Constitution]'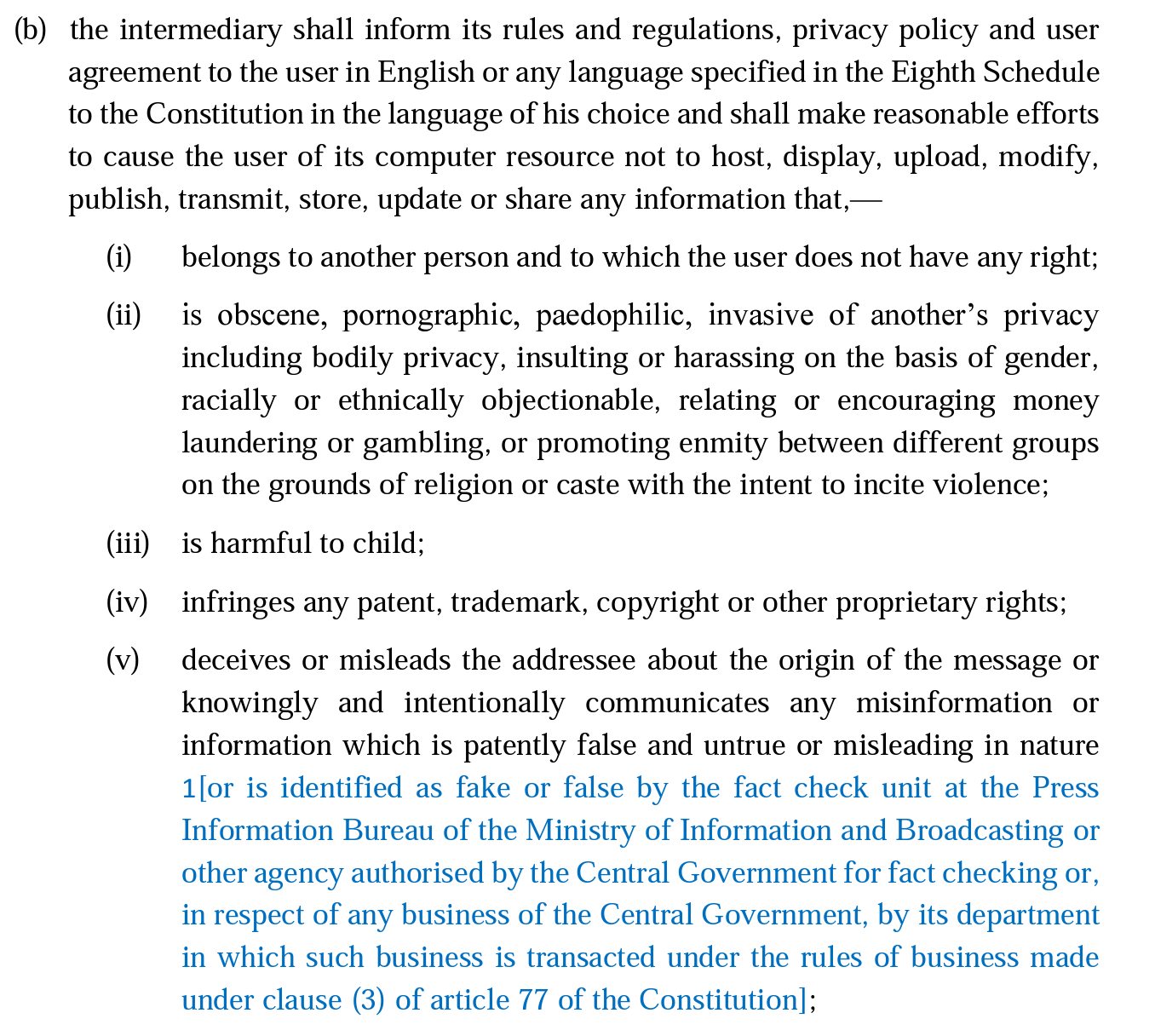 To put it simply, information flagged as fake or false by the PIB or any other agency authorized by the Union government will have to be removed as per the proposed amendment.
What 'Facts' Does PIB Check?
The PIB fact check unit was set up in 2019 following the then Vice-President of India Venkaiah Naidu expressing concern over the spread of 'fake news'. While the objectives and methodology of PIB fact checks are not clearly mentioned on the website, its Facebook page states it debunks misinformation about government policies and schemes. If we can call this the PIB's mission statement, then the statement itself establishes that there is a clear bias in what the organization decides to debunk and what it chooses to ignore.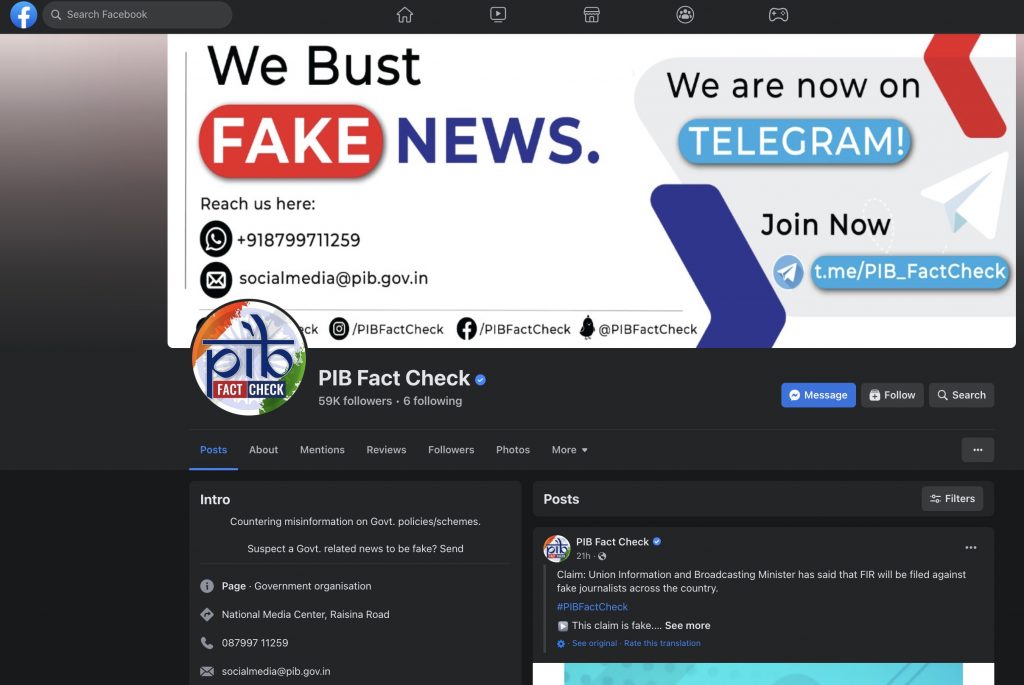 We noticed that the PIB had fact-checked misinformation by Rahul Gandhi and activist-turned-TMC leader Saket Gokhale several times. However, not once did they fact check a claim by any BJP leader. Most of their fact checks, true to their mission statement, are about government policies. Misinformation about various Prime Minister schemes was debunked the most number of times — 7.
This slideshow requires JavaScript.
The claim by Gokhale that PIB fact-checked was not about government policies or schemes. But the PIB still fact-checked it ostensibly because Gokhale is an opposition leader and severe critic of the BJP government. A fact-check of a claim by Shashi Tharoor is another such example.
Again, there have been instances where a BJP leader has shared misinformation about the government. For instance, the claim by home minister Amit Shah that the Russia-Ukraine war was halted for a few hours on PM Modi's request to facilitate the evacuation of Indian students. The PIB did not fact-check it.
We also noticed that the PIB had also flagged multiple YouTube channels and videos. When we went through the content, we found that almost all of them were anti-BJP in nature.
This slideshow requires JavaScript.
It is worth noting that according to Alt News's 2022 year-ender reports, last year, of all the false claims circulated by political parties and leaders or activists associated with them, BJP and its leaders shared the maximum amount of misinformation, with a share of 48.1%. Moreover, in nearly 41% of instances where misinformation had a clear collective target, that target was Muslims.
How Credible is PIB in Fact-checking?
In December 2020, the PIB stamped a genuine recruitment notice of the Intelligence Bureau as fake, and the publications division of the ministry of information and broadcasting had to point out the incorrect 'fact-check'.
Government's fact-checking arm PIB Fact Check termed an Intelligence Bureau recruitment circular issued by the Home Ministry as "fake". A day later, the I&B Ministry clarified that the advertisement is genuine. #AltNewsFactCheck | @Pooja_Chaudhuri https://t.co/y3SNI81VA3

— Alt News (@AltNews) December 19, 2020
Earlier, in June, the PIB had incorrectly declared a UP STF advisory on Chinese apps as 'fake news'. An Alt News fact check of the PIB fact check established this.
The same year, at the height of the pandemic, the video of a toddler trying to wake up his dead mother on Bihar's Muzzafarpur railway station platform was widely circulated on social media. According to media reports, the child's mother, Arvina Khatoon (23), died of heat, thirst and hunger as passengers were not served food or water inside the Shramik special train on which she was travelling.
The Railway authorities quickly denied the reports even as a PIB fact check termed the media reports 'incorrect' and 'imaginary'. According to PIB Bihar, Arvina was suffering from an illness before she boarded the train and her family corroborated this.
After an exhaustive investigation which included statements from Arvina's family members and medical experts, Alt News found that there was no evidence to support the claim that Arvina had died of a pre-existing condition. We also pointed out, "PIB Fact Check, which has emerged as the latest tool for bullying journalists and media organisations, did not write a thorough fact-check. In fact, PIB's investigation into the death of a migrant worker was barely two sentences."
A video of a toddler tugging at a blanket covering his dead mother was one of the most traumatic scenes of the lockdown. Read how PIB Fact Check misused fact-checking to downplay her death. #AltNewsFactCheck | @Pooja_Chaudhuri @free_thinker @Dr_Sharfarozhttps://t.co/mfKLjjDnw5

— Alt News (@AltNews) June 2, 2020
In the same month, June 2020, Alt News reported that three out of four 'fact-checks' on deaths in Shramik trains by the PIB were unsubstantiated. We pointed out, "When reports of workers' deaths came to light, fact-checking by the government's nodal agency blurred the lines between fact-checking and defence of the government with unsubstantiated information. As if misinformation on social media wasn't enough, dedicated fact-checking organisations are forced to invest time in fact-checking such irresponsible 'fact-checks' by the government that downplay the plight of the poor."
On the basis of PIB Fact Check, the government claimed that people who died on Shramik trains were suffering from pre-existing conditions. #AltNewsFactCheck spoke to four families of the deceased and found the claim to be unsubstantiated. | @Priyankajha0https://t.co/bQRVE6jbEs

— Alt News (@AltNews) June 6, 2020
Since 2020, Alt News has debunked six instances of misinformation by PIB (view details). Other fact-checking outlets such as BoomLive and The Quint (1,2) have done so as well. In none of the cases, the PIB issued a clarification or a corrigendum.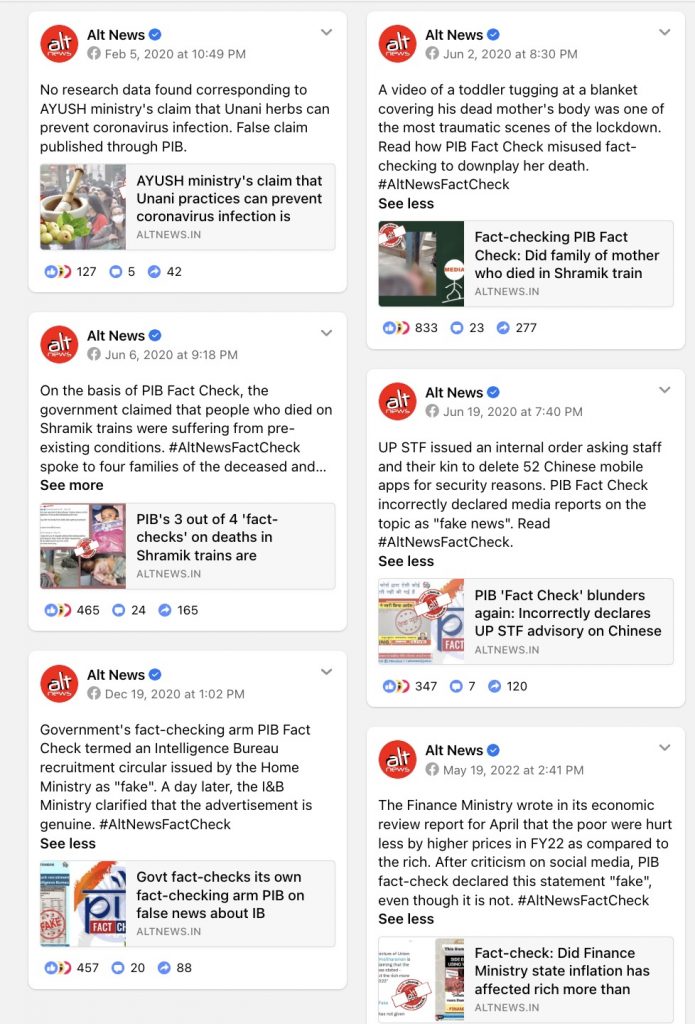 Flawed Methodology
To sample the kind of work the PIB does, we looked at all their fact checks over the last three months. Since October 2022, the PIB has published 53 fact checks. None of them is in the form of a report or has any detail about the methodology followed. Each of them comprises just a sentence or two stating that some claim is false. Fact-checking, in its true sense, involves independent investigation, research, cross-checking of claims and counterclaims, sifting through data and documents and in some cases digital forensics. There is no evidence to suggest the PIB treads that path.
In the following fact-check post, the 'Read More' tab opens PIB's tweet of the same fact-check. As supporting data, it has the link to another tweet by the Inland Waterways Authority of India.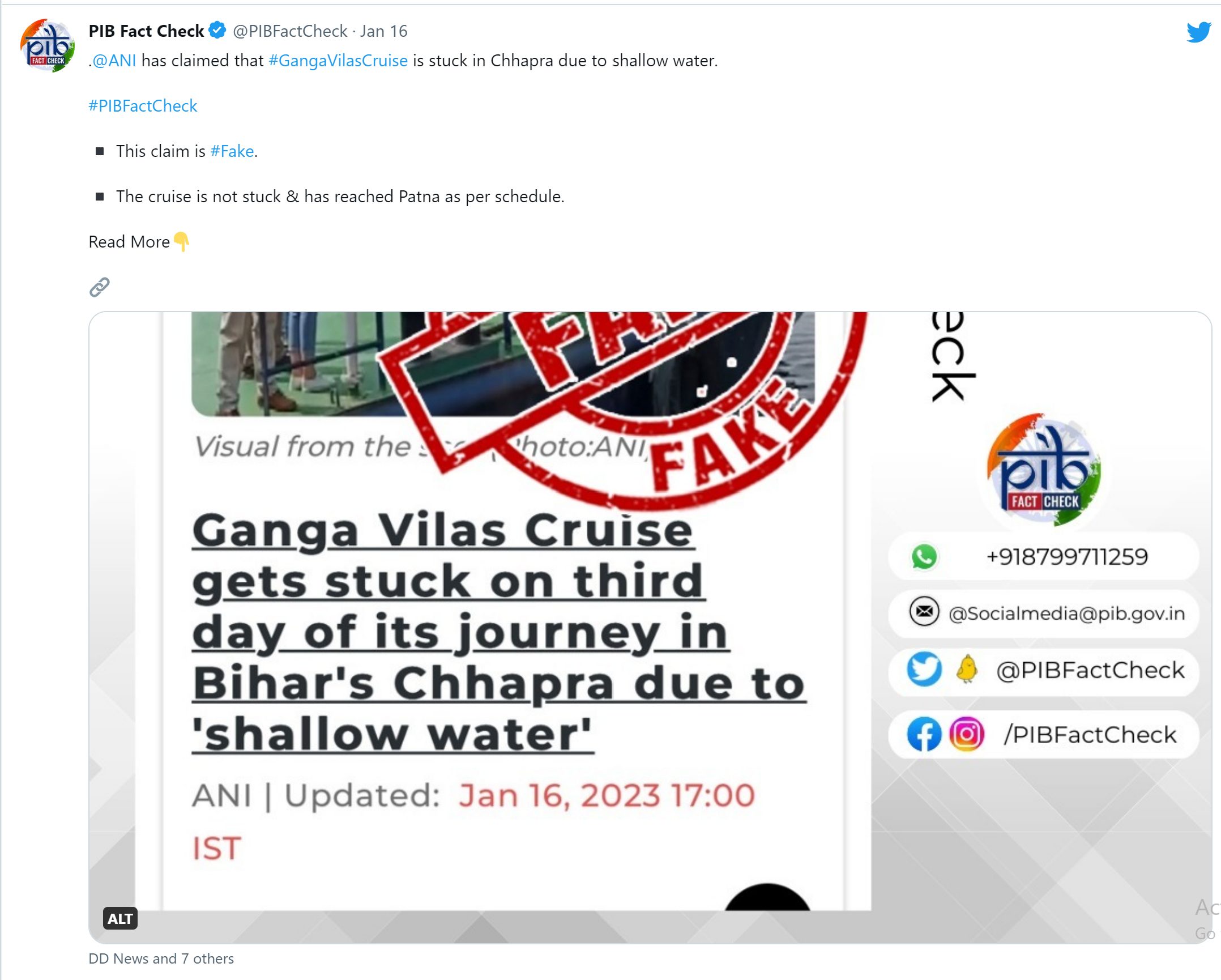 In a May 2020 article, Newslaundry commented that PIB did not understand the difference between repudiation and refutation.
The Larger Question: Fact Check or Perception Management?
The draft amendments have raised quite a few eyebrows as they give the PIB, a government body, the supreme power to have the final say on what is fake or false. Not only the PIB, but any agency authorized by the government in future will have a carte blanche to force the removal of a post/information from the digital space. The issue seems even more problematic when one considers the fact that the PIB has faltered on so many occasions in its fact checks. In most of those cases, their false fact checks sought to portray the government in good light or protect its image in the face of some damning allegations.
On occasions, they have been more interested in the Union government's perception management than in establishing facts.
Moreover, in selectively fact-checking only those claims which have the potential to harm the government's image, the PIB leaves out the larger share of misinformation that targets the Opposition and certain communities and comes from persons/organizations that are pro-BJP in their political stance. The proposed amendments suggest that all misinformation targeting the government will be removed, but those targeting others can remain online for public consumption.
As a basic principle, fact-checking is done worldwide with a view to protecting the public at large from collective harm caused by misinformation and disinformation. Since the PIB ignores major false claims or rumours that have the potential to cause massive public harm — false communal claims or the child-kidnapping rumours for example — the proposed amendment fails to address the core problem.
The draft amendment also raises the question of whether the concerned provisions will ultimately lead to further gagging of news media critical of the government. Speaking to the Financial Times, a lawyer expressed the fear that "this proposal, if approved, would make the government the ultimate authority of what news is or what news should be…". In 2022, India's press freedom ranking dropped eight positions to 150 out of 180 countries.
Strong Reaction from Stakeholders
Prateek Waghre, policy director at the Delhi-based digital rights group Internet Freedom Foundation told The Indian Express, "According to the draft, it will be an obligation on intermediaries that they cannot have content marked false by PIB or any other agency approved by the government. Beyond intermediaries, it would apply to the entirety of the technology stack, including hosting service providers and internet service providers."
The Editors Guild of India also put a statement criticizing the initiative. The statement said, "This will stifle legitimate criticism of the government and will have an adverse impact on the ability of the press to hold governments to account, which is a vital role it plays in a democracy."
EGI is deeply concerned by amendment to IT Rules 2021 made by MEITY, giving authority to PIB to determine veracity of news reports, and directing online intermediaries and social media platforms to take down content deemed as 'fake'. Guild feels this is akin to censorship. pic.twitter.com/uy49cOwTcT

— Editors Guild of India (@IndEditorsGuild) January 18, 2023
On a related note, in October 2022, Alt News reported that the ministry of information & broadcasting (MIB) had instructed YouTube to ban 45 videos from 10 YouTube channels based on 'inputs from intelligence agencies'. Alt News found that four videos on the channel 'Mr Reaction Wala' didn't violate any of the reasons mentioned by the MIB in a press note.
The Union govt recently blocked 45 videos on 10 YouTube channels. Upon close examination of four such videos on the channel 'Mr Reaction Wala', Alt News could not find anything that justified the action. An analysis by @ArchitMeta https://t.co/W6sfGbJjCw

— Alt News (@AltNews) October 28, 2022
Above and beyond all this, there should be a debate on whether taking down misinformation is at all a possible and desirable way of tackling the menace. And that debate should involve all the relevant stakeholders.
Donate to Alt News!
Independent journalism that speaks truth to power and is free of corporate and political control is possible only when people start contributing towards the same. Please consider donating towards this endeavour to fight fake news and misinformation.