By the end of 2022, rumours of child kidnapping had become so widespread that state authorities had to intervene and issue warnings to the common people. Innumerable unrelated and scripted videos began circulating on social media. Several of these videos had been debunked by ALt News.
Recently, a similar video ahs gone viral. In the video, a man slaps and kicks a woman wearing a burqa. A user named Satish Anna tweeted the video with a caption that translates to, "Hijab is also being used for child theft… be careful." (Archive)
हिजाब भी इस्तेमाल हो रहा है बच्चा चोरी के लिए… सावधान रहें 🙏#HindusUnderAttack @sdeo76 @chitrapadhi @SaundiD @jeetensingh @Muktak8 @MNageswarRaoIPS @Sjp1007 @total_woke_ @gopalgiri_uk @madhukishwar @AshwiniUpadhyay pic.twitter.com/IzWHFFi3OS

— Satish Anna (@mysatish20) March 16, 2023
Another user named Azad shared the same video and wrote 'Abdul wearing Burqa trying to kidnap a Hindu child.'
Abdul wearing Burqa trying to kidnap a Hindu child.
pic.twitter.com/jrHcwDVprw

— Azzad Alsalem (@AzzatAlsaleem) March 16, 2023
In addition, while sharing this clip, some right-wing handles have given a communal angle.
This slideshow requires JavaScript.
This video has also gone viral on Facebook, with claims that hijab is being used for child lifting.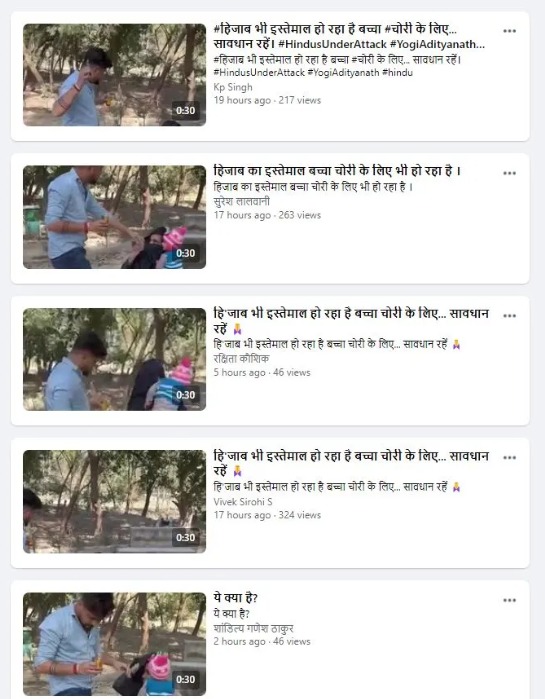 Fact Check
Alt News noticed that the man seen in the video is Ankur Jatuskaran who frequently posts scripted videos. Alt News has fact-checked viral videos made by him in the past.
According to his Facebook page, he creates prank videos and uploads them on his YouTube channel and Facebook page. We checked his YouTube channel and found that the video in question was uploaded on February 18, 2023. It has obtained over 2 crore views. There is no disclaimer.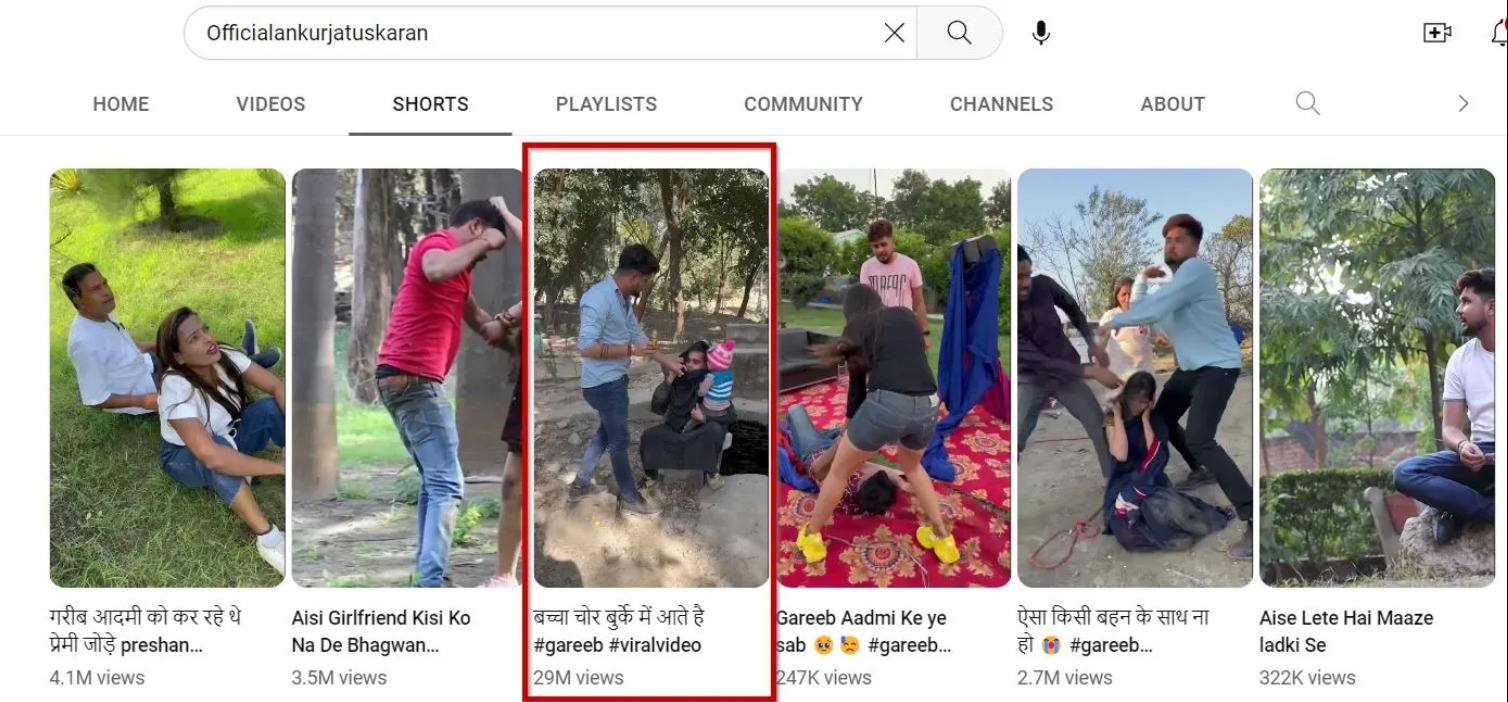 Ankur has two Facebook pages and two YouTube-verified channels. All of these channels post violent scripted videos. Some videos are without any disclaimer.
We went through Ankur's Facebook pages. Both pages have posted a longer version of this viral video. It was posted on one page on February 19, and on the other page on February 23. The longer version of the viral video is of 7-minute duration. There is a disclaimer which is visible only for a second each at the start and at the end. "This video is purely for viewer entertainment and is a work of fiction," says the disclaimer, among other things.
Ankur has two YouTube channels. Both have a total of 19 lakh subscribers. And his two Facebook pages have 4 million and 6 lakh followers. He frequently posts violent scripted videos with no disclaimer so that people often mistake them for a real incident. In this particular video, the disclaimer is so brief that it requires pausing the video to read it completely. Viewers who are unable to do so are easily misled.
To sum up, once again a scripted video is being used to make a false communal claim that a man wore a burqa to kidnap a child. Such scripted videos have been used in the past to make false claims. Alt News reports on them can be found here.
Donate to Alt News!
Independent journalism that speaks truth to power and is free of corporate and political control is possible only when people start contributing towards the same. Please consider donating towards this endeavour to fight fake news and misinformation.