Social media has become a convenient medium for purveyors of misinformation. Fake news has grown manifold, a large proportion of which is dominated by information which is communal in nature and inciteful in tone, seeking to divide on religious lines. Alt News has observed that in the past few months, a systematic, synchronised and organised attempt is underway to target Muslims and Christians and paint both communities as criminals and morally bankrupt while constantly painting the Hindu community as a victim. This has been sought to be achieved by weaponising misinformation and targeting the minority communities through distortion and lies.
1. Fake news of 9-year old rescued from being sexually assaulted by 'Sajid'
"A 9yr old girl was saved 4m rape by alert people. Guy, who was caught with kid, is Sajid. M/s @Uppolice please arrest this guy Sajid & make him spend some time in jail!" This message was circulated along with a video in which a girl child is seen crying and a young man is thrashed by passers-by. Those who are shared it claimed that the girl was about to be sexually assaulted by the perpetrator whose name is Sajid, but was rescued in time. his video has been tweeted by an account named Kunvar Ajaypratap Singh(@sengarajay235) who is followed by PM Modi. Another Twitter user @goyalsanjeev who is followed by the office of Piyush Goyal also tweeted it.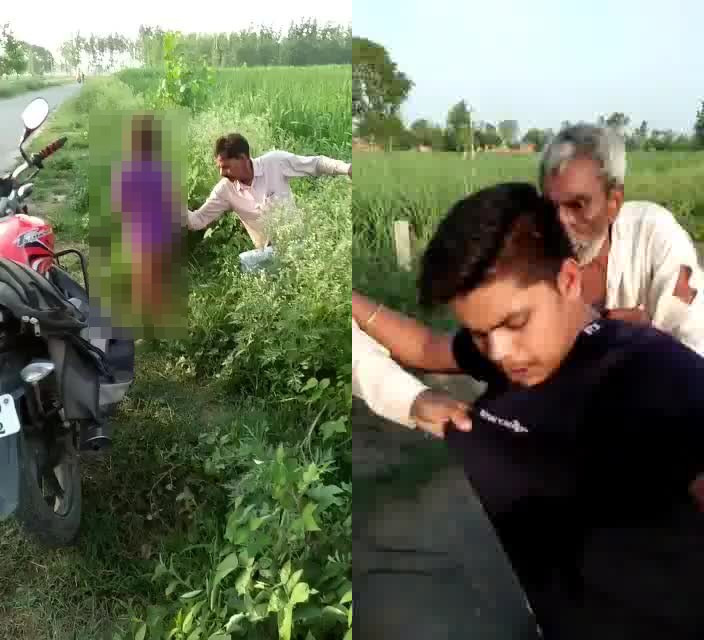 The perpetrator's name is not Sajid but Gokul Ramdas. This was confirmed to Alt News by the inspector of Jinjhana police station who confirmed that the claims floating on social media with regard to this incident are false.
2. "Muslims responsible for 95% rapes in 2016"
Mahesh Vikram Hegde, founder of Postcard News was among those who tweeted a set of statistics according to which he claimed 95% of perpetrators of rape in 2016 were Muslim, and 96% of the victims were non-Muslim women. Hegde is followed by PM Modi on Twitter. This message was shared widely across social media platforms.
The National Crime Record Bureau (NCRB) which is the nodal agency for recording crime in India, in a conversation with Alt News called this claim false and malicious. It categorically stated, "It is totally wrong data & complete misrepresentation of facts as NCRB does not collect data on the religion of accused & victims. It is malicious propaganda, which needs to be countered by the law-abiding citizens. Concerned officials have been advised to initiate legal action."
3. Fake news about 'Khalid' and 'Irfan' charged in Lucknow rape case
A minor girl was reportedly gangraped and the incident filmed by the perpetrators in Lucknow, Uttar Pradesh. The incident occurred in the beginning of July 2018 in Lucknow. Soon, social media was abuzz with the claim that the two accused in the incident are named Khalid and Irfan, and that they have been arrested. मंदसौर के बाद लखनऊ में नाबालिग बच्ची से दुष्कर्म… आरोपी खालिद और इरफान गिरफ्तार… वीडियो भी बनाई (After Mandsaur, minor girl raped in Lucknow. Accused Khalid and Irfan arrested… they also made a video- translation), said the message.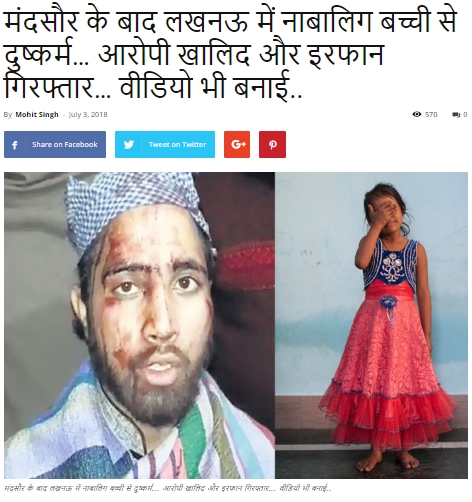 The claim that the two accused in the case are Khalid and Irfan is a lie. SSP Lucknow, Deepak Kumar has stated that the two accused in the case are Bhola Chandrakar and Kushmesh Kanaujiya. According to reports, the accused Chandrakar hails from Chhattisgarh while Kanaujiya is from Sitapur district in UP. The duo was caught while trying to escape after the victim raised an alarm.
4. Fake news of march by Muslims demanding release of Mandsaur rape accused
The brutal rape of an 8-year old in Mandsaur, Madhya Pradesh in June 2018 was given a brazenly communal spin on social media. Thousands of users shared a message according to which members of the Muslim community rallied on the streets of Mandsaur demanding that the perpetrator of the crime be released because the Quran sanctions rape of non-Muslim women. This claim had appeared in the form of an article by a website IndiaFlare.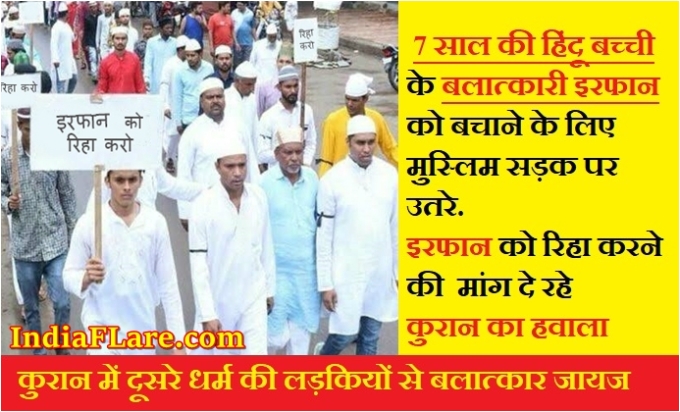 The above picture is photoshopped. While the image is indeed of Mandsaur, the rally was in support of the victim and demanded the harshest punishment for the accused. The article also wrongly claimed that no Muslim groups had descended on the streets in solidarity with the victim.
5. Photoshopped image of madrasa teacher portraying Islam as superior to Hinduism
In June 2018, a photograph was shared widely on social media. It showed a teacher apparently demonstrating to students via the black board how Islam is a superior religion to Hinduism.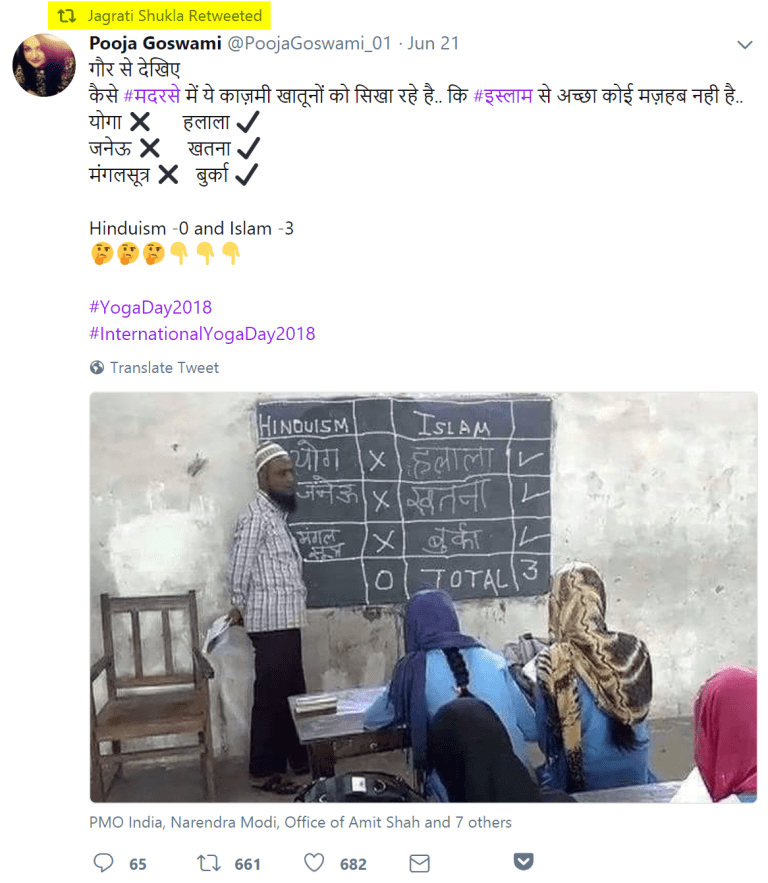 As expected, this photograph turned out to be photoshopped. It is a photo from a madrasa named Darul Uloom Husseini in Gorakhpur, Uttar Pradesh. Many news organisations had reported the story and carried the photograph in April 2018, out of which an article from Outlook reported, "This Madrasa has become a center for modern education, where along with Arabic and English, Sanskrit is also taught (translated from Hindi)". It further states, "The specialty of this Madrasa is that Sanskrit is being taught by a Muslim teacher. Probably, this is the first time ever that Sanskrit is also being taught in Madrasa".
6. False claim of woman's hair chopped off for not wearing burqa
"If Dont Wear A Burqa This Is The Way A Women Is Punished By Cutting Her Hairs With Daughter In Her Lap. And These Cowards Say They Will Conquer The World? These Moron Mujahids Are The Most Cowards Creatures On Earth,They Can Only Torture Helpless Humans. They Cant Face Real Men" tweeted a social media user Singh Singh(@HatindersinghR) on June 26, 2018, with an attached video. The tweet claimed that a woman's hair was chopped off because she refused to wear a burqa and the video showed a man cutting a woman's hair.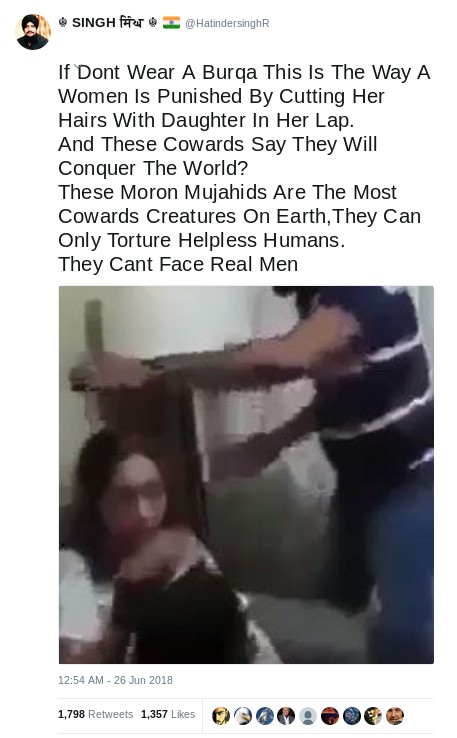 Alt News tried to find out the truth of this claim. Googling the key words "man cuts off woman's hair" threw up a list of articles, out of which an article which was posted by Daily Pakistan. It stated that this is allegedly a video of a husband who is cutting his wife's hair for cheating on him with his nephew. On further investigation, Alt News found that this incident had been reported by a number of websites in Portuguese. It has been claimed that the incident took place over an extra-marital relation. There is however no reference to the claims made in the tweet- that this couple is a Muslim couple and that her hair was chopped off because she refused to wear a burqa.
7. Rajiya Bano becomes Sharma ji- A fake, hate spewing profile exposed
"Hindustan ka sher jisne As*** ka badla lia" A malicious Facebook post by one "Rajiya Bano" cheered the accused of the horrific Mandsaur child rape case suggesting that he had avenged the rape of the Kathua victim that had rocked the country a few months ago. The post suggested that the scores were settled as the victim in the Mandsaur rape case was a Hindu and the alleged rapist, a Muslim; in revenge for Kathua where it was the other way round.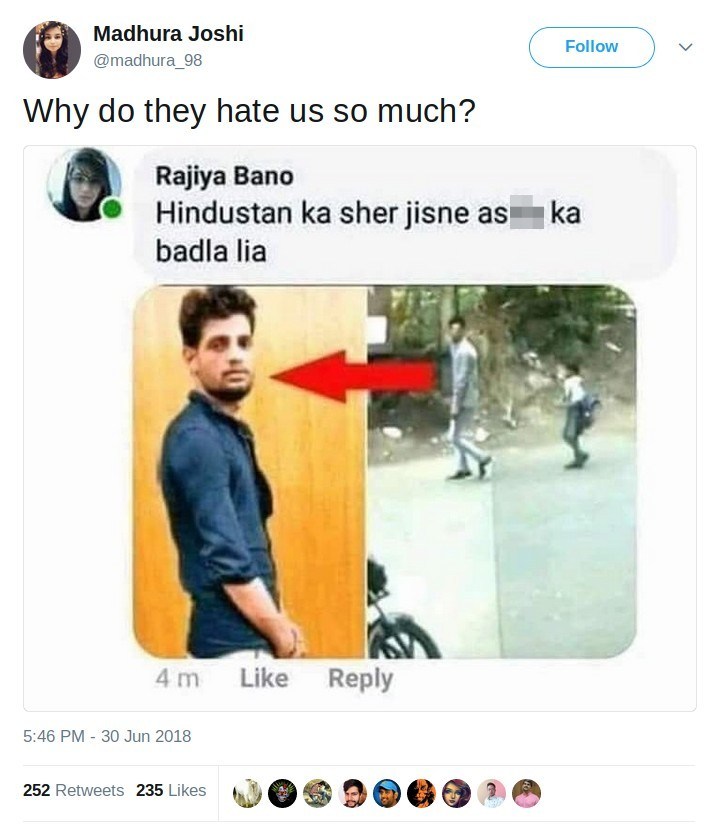 Alt News found out that this is a fake profile. For example, the university that Rajiya Bano claims to be teaching in, is not in Pakistan but in the Philippines. Moreover, a Facebook post of May 2018 exposed the identity of this Rajiya Bano. The replies to a post that asked "Kya haal hai doston" post had comments inquiring why has this person changed the name. In one of the comments, the person is addressed as "Sharma Ji", while in another comment this person is addressed as "Pawan".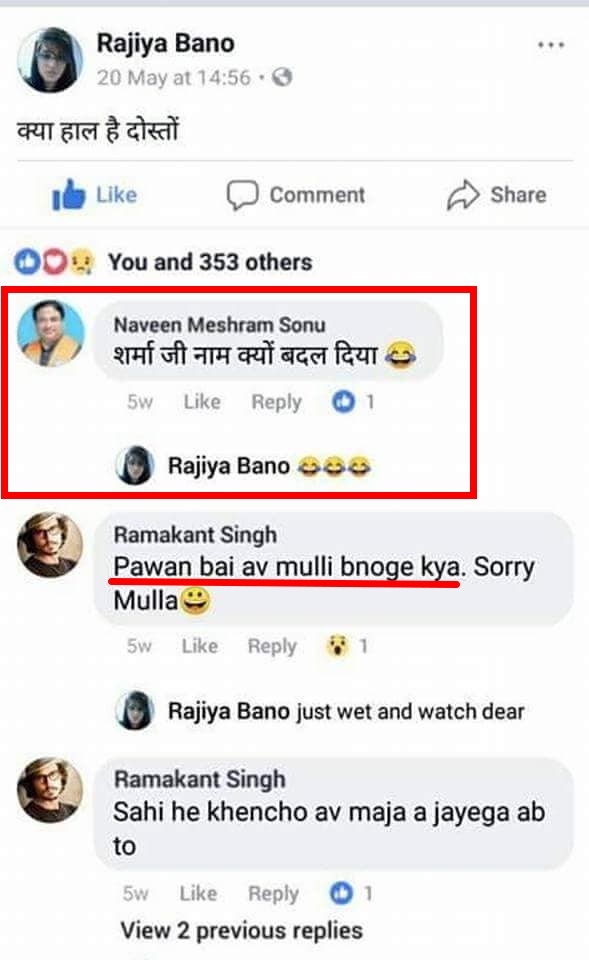 Communally provocative misinformation about Karnataka
Assembly election in Karnataka took place in May 2018. The run up to the poll saw a flurry of misinformation which continued unabated after the election ended and the new government was formed. In all of these instances, Muslims and Christians were projected as aggressors and schemers who enjoyed the support and patronage of the Congress party and the Congress-JDS government in the state.
Misinformation prior to election
1. Congress leader promising 'unending bloodshed of Hindus' if voted to power
'Bangalore Congress candidate (chamarajpet) Zameer Ahmed promises unending bloodshed of Hindus if Congress is voted to power and when he becomes minister'. This provocative message accompanied a video that was circulating widely on social media prior to the election. In the video, Congress candidate for the Karnataka assembly election Zameer Ahmed Khan is seen addressing citizens in Urdu on his campaign trail. The video along with this message was posted on Twitter by a user Kamal Lochan Mahanta. Mahanta according to his Twitter profile is a self-proclaimed Hindu nationalist residing in Chicago who is 'blessed to be followed by PM @narendramodi'.
As can be seen and heard in the video posted above from 00:51 to 1:00, Zameer Ahmed Khan is saying, "लिखवा लेना, मेरे को मिनिस्टर बनाया तो 5 साल के अन्दर ऐसे ऐसे कारनामे करके दिखाऊंगा गिनीज रिकॉर्ड में नाम आएगा" (Take it in writing, if I am made a minister, in five years I will do such work that my name will appear in the Guinness record. (approximate translation). Instead, what was claimed is that the Congress candidate is promising bloodshed of Hindus if Congress comes to power and he becomes a minister. This was shared widely on social media by BJP supporters.
2. Pakistan flag waved at Congress rally in Karnataka
Social media was abuzz with the claim that the Pakistani flag was waved at a rally by the Congress party in North Belgaum. This message along with a video of the rally in which a green coloured flag can be seen, was spread on multiple platforms- Facebook, Twitter and WhatsApp.
The flag that was waved at this rally was NOT the Pakistani flag. This is in fact the flag of IUML (Indian Union Muslim league), which is different from the flag of Pakistan. The Pakistani flag has a white band on the left side. Also, there is a difference in the colour and the angle of the crescent in both flags. Very often, the Pakistani flag is also confused with the banner of Islam.
3. Role of church in Lingayat issue
"Lo Behold! #Church allegedly behind the divisive scheme of separating #Lingayats from #Hindus. A leaked of email supposedly sent by SecGen CBCI to Archbishop Bangalore….this says much". Along with this message, an email was circulated allegedly written to Archbishop, Bengaluru by the Catholic Bishops' Conference of India celebrating the granting of separate religious status to Lingayats and urging him to work hard for the "rich harvest of souls in Karnataka." BJP MP Subramaniam Swamy was among those who had retweeted this message.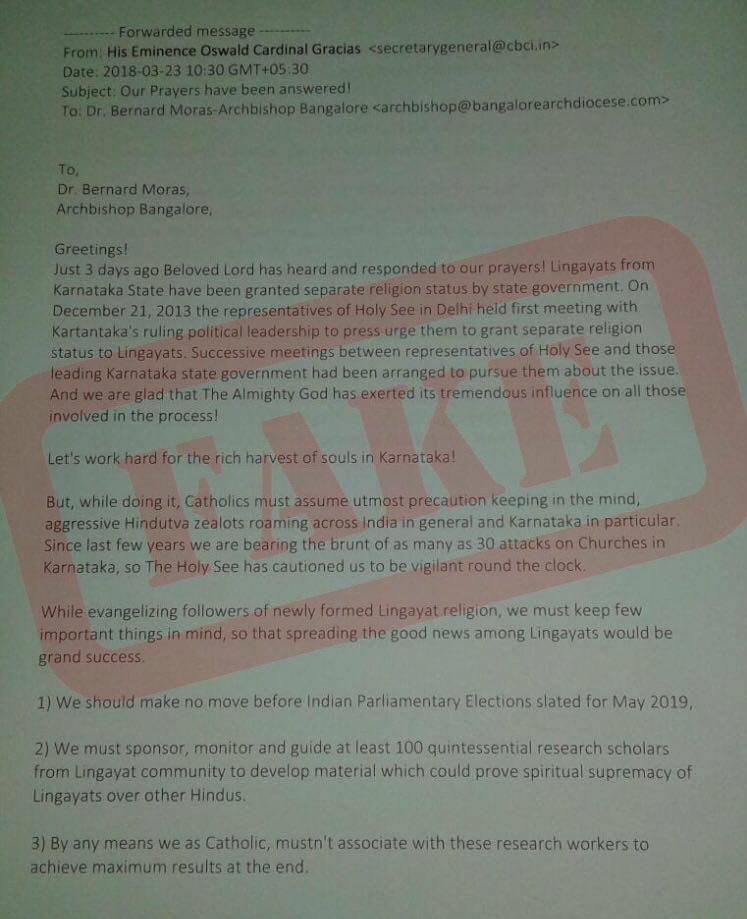 Alt News had reported how this is a fake email. Bishop Theodore Mascarenhas, Secretary General, Catholic Bishops Conference of India dismissed the claims as fake and diabolic. In a clarification, Mascarenhas stated, "a very malicious fake letter is being circulated in social media and in Karnataka on the eve of the elections". He added that "the false letters makes wild allegations about the Church involvement in the Lingayat issue".
Misinformation post Karnataka election
The wave of misinformation with regard to Karnataka continued even after the assembly election ended. It was the newly formed Congress-JDS government in the state which became the target and minorities were the prop.
1. Video of public brawl in Ranchi shared as assault by Muslims on Hindus
(Whoever thinks Congress should return in 2019 should see this video. Not a month has elapsed since the govt has been formed and muslims are beating Hindus and the police in a muslim bazaar- translated). This message was circulated in June 2018 along with a video that showed a group of men thrashing a biker, which then led to a violent ruckus. It was claimed that this is the state of affairs in Karnataka ever since the Congress-JDS government assumed power in the state.
जिस भड़वे को लगता है कि देश में 2019 में कांग्रेस आना चाहिए
कांग्रेसी चमचे को ये वीडियो देख लेना चाहिए
कर्नाटक में 1महीना भी नही हुआ है सरकार बने और ये हालात है
वीडियो में मुस्लिम बाजार में मुस्लिमो ने हिन्दू और पुलिस को कैसे दौड़ा दौड़ा कर पिट रहा है
भारत में सुरक्षित रहना है😂 pic.twitter.com/FIz5BpnNGd

— Sunilkarmunge🆎 JaiHind #NAMO🚩 (@sunilkarmunge21) June 12, 2018
Alt News found that the video is from Ranchi, Jharkhand. The clash took place after members of the Bharatiya Janata Yuva Morcha (BJYM) allegedly raised provocative slogans during a bike rally that they had held to celebrate four years of BJP government at the Centre, according to a report by The Pioneer. BJYM is the youth wing of the BJP.
2. Photoshopped image of Lingayat Catholic Church
"Hey kannadiggas this is the extensive work done by missionaries in Karnatka. Wat is 'Lingayat Cotholic'. These bloody missionaries are fooling innocent n poor hindus..N they r falling for few money..@SushmaSwaraj hope u r not approving visas 4 these anymore…"Along with this message was a photograph of a church with the name of the church being 'Lingayath Catholic Church'. The text under the name of the church read "Estd: April 16, 2018 Bangalore, Karnataka". This was circulated widely on social media.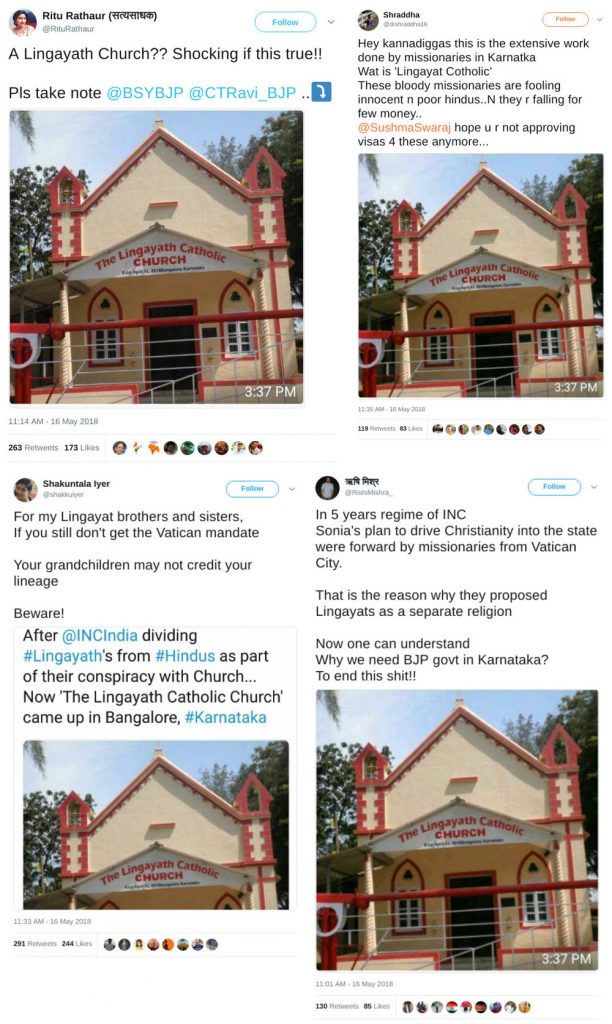 The image that was passed off as a 'Lingayath Catholic Church' established in April 2018 in Bangalore is actually a church in Dahanu, a coastal town in Thane district in the western part of Maharashtra. The photograph of the church had been photoshopped.
3. Video of brutal assault over personal enmity shared as Hindus beaten up
"कर्नाटक में हिन्दू कार्यकताओं को मारा जा रहा है… केंद्र मौन क्यों???" (Hindu workers are being beaten in Karnataka…why is the centre quiet?- translated). A video circulating on Facebook showed at least four men mercilessly flogging a man outside a shop. It was claimed that the Congress-JDS government was turning a blind eye to assaults on Hindus across the state.

Alt News discovered that the said incident had occurred in Bengaluru and was the outcome of personal enmity. There was no truth in the claim that it represented a general assault on Hindus in the state.
Flurry of communally provocative misinformation in the past few months
Over the past few months, numerous posts have sought to portray Hindus at the receiving end of aggression, intimidation and assault by minorities. The Muslim community is the primary target, although Christians too have been targeted.
1. "Victory for Allah, defeat of Ram"- Fake quote ascribed to new Kairana MP
In the aftermath of the impressive victory of Begum Tabassum Hasan, candidate of the Rashtriya Lok Dal (RLD) from Kairana, UP in the bypoll held in May 2018, a quote ascribed to Hasan spread like wildfire on social media and WhatsApp. According to this quotation, Hasan had said, "ये अल्लाह की जीत है और राम की हार" (This is the victory of Allah and defeat of Ram- translated). This was tweeted by at least three people on Twitter who are followed by Prime Minister Narendra Modi.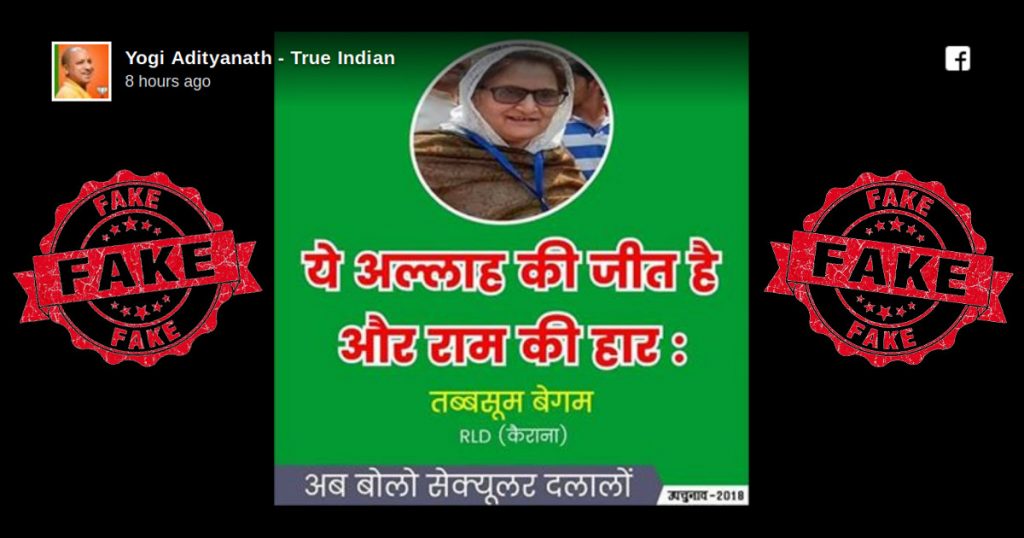 Alt News contacted Tabassum Hasan who clarified that she has not made any such statement in any capacity whatsoever. However, the damage was done as thousands of social media users had already shared this fake quotation once it was uploaded.
2. Football related vandalism in Switzerland shared as Muslims rioting during Ramzan
"Muslims violence in Birmingham during Ramadan!!! They want to close the road to eat on the roads". This message was shared along with a video that shows rioters attacking cars on a street. It was claimed that the incident occurred in Birmingham, U.K when members of the Muslim community resorted to vandalism as they wanted to 'eat on the roads', in a reference to the practice of breaking fast during Ramadan. The video circulated on YouTube, Twitter and Facebook.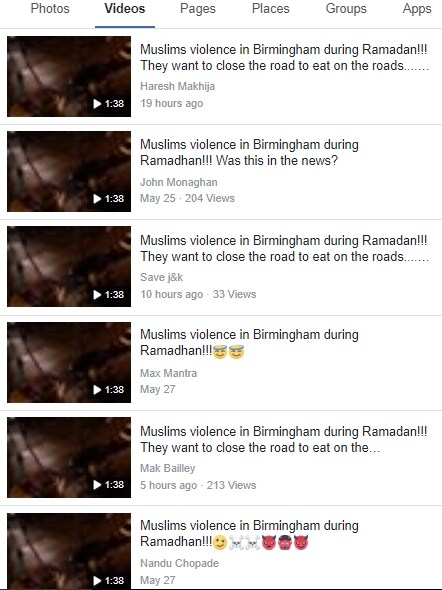 Alt News found that the incident in question occurred not in Birmingham, U.K but in Basel, Switzerland. Also, it has nothing to do with Islam or Muslims. The vandalism on display is in relation to a football match between Basel and Lucerne football clubs, and the violence took place on May 19 at Birsstrasse, Basel.
3. 'Bus full of Muslims from West Bengal' hoisted Pakistani flag
"A bus full of Muslims from West Bengal ( Didi's Raj ) reached Punjab ( Capt. Amarinder's Raj) with a Pakistan flag hoisted on the bus. Just listen what the Punjab police did when they saw the Pakistan flag". A video was viral on social media with the aforementioned message. In this video, an elderly person is seen being abused. According to those who are abusing him, it is because he has hoisted a Pakistani flag on a bus. Twitter account @ExSecular was among those who shared this video. This user is followed on Twitter by Prime Minister Narendra Modi.
See below a tourist bus came from West Bengal of 'Didi'. It was full of 'M's'. A Pakistan flag was placed on the front.
When it reached Punjab, it was 'suitably' treated by the public there pic.twitter.com/d6yNuTlMjG

— नारदमुनि (@NaMuGC) June 3, 2018
The flag on display in the video is not the flag of Pakistan. It is a generic flag that is used as a religious symbol by the Muslim community in the subcontinent. Also, the incident took place in Haryana in March 2018.
4. Train with NEET students from Tamil Nadu delayed by devotees offering namaz
In May 2018, a picture circulated on social media in which a group of men is seen offering namaz(prayer) on a railway track. Along with this picture was text which said 'Rail route blocked for Namaz. Sad that students who were travelling in this train got delayed and couldn't appear for the NEET exams (translated).' The text was in Tamil language.
— जेगनाथन जी Jaganathan G ஜெகநாதன் ஜி (@yogees46) May 8, 2018
This image is not from Tamil Nadu and has nothing to do with the NEET exam. It was clicked in New Delhi in June 2017. Anindya Chattopadhyay who is a photojournalist with Times of India took this photograph of devotees offering the Alvida Namaz (last prayer of Ramzan) at the New Delhi Railway Station which was published by Times of India on June 23, 2017.
5. Old, false case from Meerut circulated as incident of rape inside madrasa
In May 2018, a video of a young woman speaking to reporters circulated in large numbers on social media. In the video, the woman alleged that she was gang raped inside a madrassa, and was pressured to convert to Islam by her captors who abused her and her faith. A number of right-wing accounts and pages shared this video.
मेरठ के मदरसे में इस हिन्दू बेटी से कई महीनो तक हुआ बलात्कार पर हमारा सारा मीडिया मौन ऐसा क्यों ?
कोई पत्रकार इस पर नहीं बोलता, इस पर कोई बहस नहीं क्योंकि मामला मदरसे का है और मौलवी का है, अगर किसी मंदिर का होता और साधू संत का तब सारा मीडिया अगले 6 महीने तक समाचार चलाता और बताता की सारे साधू संत रेपिस्ट होते हैं मंदिरों को बंद करो

Posted by We Support RSS on Saturday, April 14, 2018
Alt News fact checked this claim and found that this particular case is not a recent incident but dates back to August 2014 when news had emerged from Meerut that a woman was allegedly gang-raped and forcibly converted. It was alleged that the crime had taken place inside a madrasa. In an interesting turn of events however, later that year, the young woman who had alleged rape and forcible conversion withdrew the case. She stated that no such crime had been committed on her and that she had gone to her beloved, who belonged to another faith, of her own accord. Later in 2015, the woman married the accused.
Not a current phenomenon
The above compilation chronicles the instances of fake news that plagued social media over the past two months. Alt News has observed that this trend however goes back to January 2018 when some instances were sought to be communalised in a manner similar to the above instances which occurred later. These trends have continued to play out on social media.
1. "Saddam, Nadim, Firoz, Aamir, Ashraf attacked school bus in Gurugram"
In January 2018, during the ongoing protests against the movie Padmavat, a school bus was attacked in Gurugram. A video of this attack went viral which showed young kids cowering in fear as the bus was pelted by stones and caused huge outrage across the nation. Along with this video, a message began to circulate on social media which read, "in the stone pelting case on a school bus in Gurgaon, Karni Sena's Saddam, Aamir, Nadeem, Firoz and Ashraf have been apprehended". (translation) Among prominent accounts, at least three accounts whom PM Modi follows on Twitter (Jay @Saffron_Rocks, Jitendra Pratap Singh @jpsin1 and Kunwar Ajaypratap Singh @sengarajay235) circulated this message.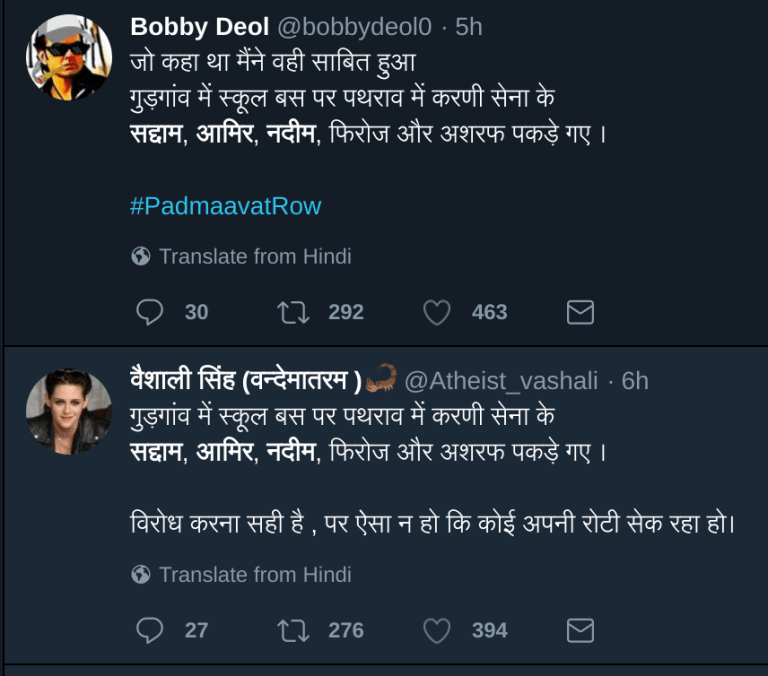 To fact check this claim, Alt News had spoken to the Commissioner of Police, Gurugram who had stated that the information that is being circulated on social media is absolutely false and that none of the names of the accused as being circulated on social media matches with the actual names.
This was among the earliest instances wherein Muslim names were ascribed to the perpetrators of violence, and this trend has followed thereafter.
2. Fake news on death of Hindu youth in Kasganj violence
Over 100 people were arrested after communal violence erupted in Kasganj, Uttar Pradesh on January 26, 2018. Following a scuffle over the unfurling of the tricolour, clashes broke out between two communities in which a youth, Chandan Gupta was killed, shops were gutted and buses set on fire. On social media, reports began to spread that apart from Gupta, another youth, Rahul Upadhyay had been killed in the violence. Among those who posted it was Abhijit Majumder, the then managing editor of Mail Today.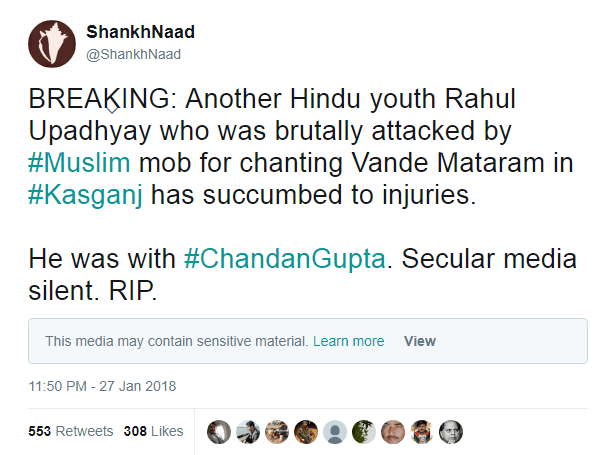 The language and tone of these tweets were inflammatory and communal in nature, suggesting that Hindu youth were being killed in clashes at the hands of Muslims. This report however turned out to be completely false. The U.P police had issued an official statement, saying Upadhyay is alive and four people have been arrested for spreading false rumours.
3. Rumour mongering over death of Paresh Mesta in Karnataka
'Head cut open', 'castrated' and 'boiling oil poured on face' are some of the provocative messages that did the rounds on social media to describe 21 year old Paresh Mesta's death in Uttara Kannada district of Karnataka in January 2018. Mesta's decomposed body was found in a lake in Honnavar town, days after he had gone missing following communal clashes in the region. The lead in this matter was taken by BJP MP from Karnataka Shobha Karandlaje. It was also shared by the fake news website Postcard News.
SP under #SiddaramaiahRule has declared this as 'Samaanya Saavu'
Hindu boy 21 yr old Paresh Mesta goes missing.when he was found, he was mutilated,castrated.burnt by boiling oil poured over his head & his head split dastardly with a weapon. pic.twitter.com/tmxkK6r2GS

— Shobha Karandlaje (@ShobhaBJP) December 10, 2017
These inciteful claims were a malicious concoction. This was confirmed by Department of Forensic Medicine, Manipal which conducted the post-mortem and released a document which gave a point-by-point rebuttal of each of the allegations of torture and mutilation of Paresh Mesta.
The modus operandi has now become predictable, and operates on the basis of a few set templates- Muslim names ascribed to perpetrators of violence, morphed pictures, forged letters, videos circulated with different context, and sheer rumour mongering. Almost every single day, a fresh claim is circulated and shared widely on social media platforms. While this trend peaks during the election cycle, it generally continues unabated. With a number of assembly elections coming up in the next few months and the general election of 2019 not far away, the trend as highlighted in this article shows that targeting of minorities through misinformation is going to be a significant electoral strategy over the next year, with constant polarisation on a daily basis being the primary objective.
Donate to Alt News!
Independent journalism that speaks truth to power and is free of corporate and political control is possible only when people start contributing towards the same. Please consider donating towards this endeavour to fight fake news and misinformation.