2017 will go down as another year that saw a steady decline of trust and confidence in mainstream media. This was a year when mainstream media gave tough competition to social media in originating and circulating fake news. Alt News brings you a roundup of the most telling instances where mainstream media was caught reporting fake news. In the race to be the first to break news, fact-check is the first victim. But it is not always about haste. The year also saw the more sinister variety of agenda-driven fake stories circulated by mainstream media.
Here are the top 10 fake stories circulated by mainstream media in 2017. From lazy journalism failing to do basic fact-checking to agenda driven deliberate planted stories, you will find it all here. Look out for the repeat offenders, look out for the patterns, and look out for how a fake narrative is being pushed to shape public opinion.
1. Republic TV: Jama Masjid in dark due to non-payment of electricity bills over four crores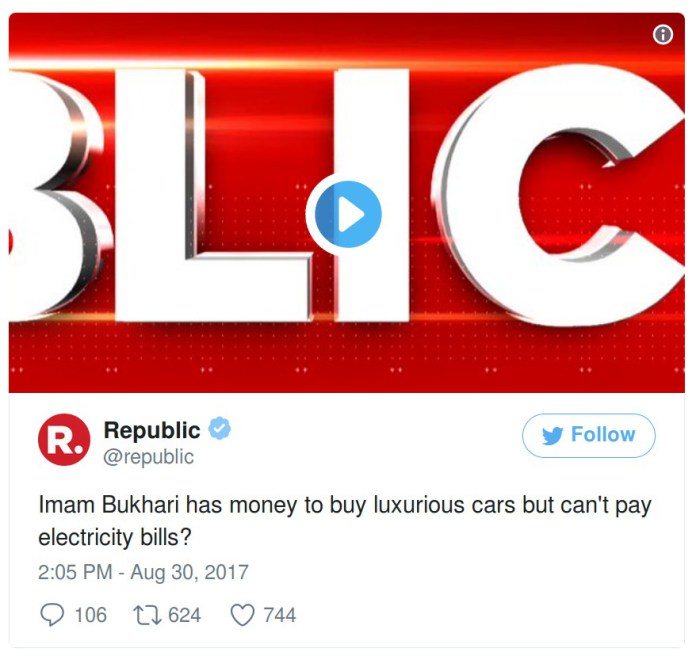 The news on Republic TV about Jama Masjid being in dark due to non-payment of electricity bills will make it to any top ten list of fake news. This was fake news that originated from various Hindutva handles and Postcard News, a renowned fake news website. Republic TV sent a fact finding team to the site, which snooped around outside Imam Bukhari's residence counting cars and recording their make but didn't ring the bell to verify if the story was true. It also did not occur to the team to ask those around whether the mosque is usually lit at night and what time the lights are normally switched off at night. Funnily the reporter pointed out to a lit board at the gate but it didn't occur to him how the board could be lit when the electricity was cut off. On the basis of this so-called investigation, ignoring the clarifications tweeted by BSES, Republic TV broke the news about BSES giving a jolt to Jama Masjid due to non-payment of over four crores. The fake news was exposed by Alt News in its article after which the channel quietly deleted its tweet and video without any apology or explanation.
2. Aaj Tak: Fatwa in Saudi Arabia that men can eat their wives if hungry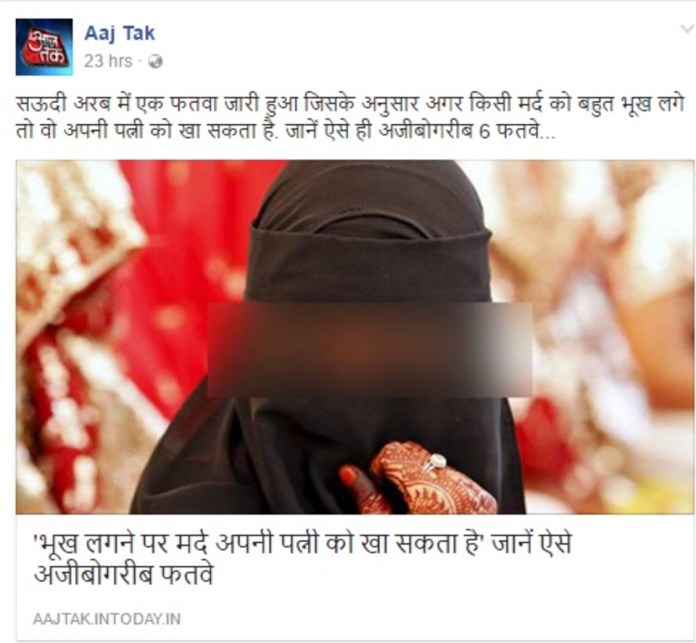 Aaj Tak deserves full marks for falling for a story that is so screamingly fake. The "story" carried by India Today's Hindi channel had its origins in a satirical column by a Moroccan blogger and was quashed in 2015 by Daily O, a website owned by none other than India Today itself. The less said about this so-called newsbreak the better but it does leave us wondering about the motives of Aaj Tak behind circulating such obviously fake stories. You can read more about this fake news in this Alt News article.
3. Times Now: Conversion rate card unearthed in Kerala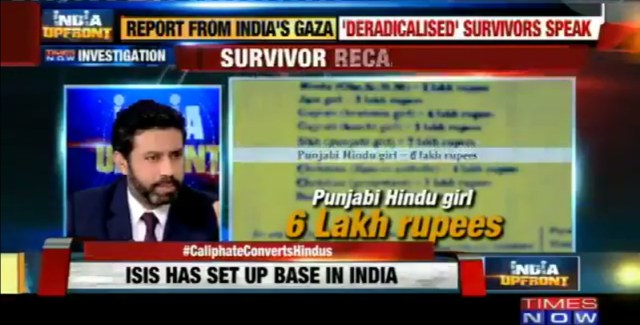 Times Now anchors screaming their lungs out over a seven year-old photoshopped image was absolutely hilarious. Here was WhatsApp journalism at its best. "I can't even begin to tell you ladies and gentlemen the kind of insidious fine print that is on this rate card, to convert Hindus. A Hindu Brahmin girl – five lakhs, seven lakh rupees for a Sikh Punjabi gal, for a Gujarati Brahmin and so on and so forth, Hindu Khastriya gal – four and a half lakhs, Hindu OBC/SC/ST – two lakhs, Buddhist girl – one and a half lakh, a Jain girl 3 lakh rupees, the caliphate has put a price on your faith." Read out Rahul Shivshankar from a photoshopped image that has not only been doing the rounds on WhatsApp for years but was also debunked years ago. Read more about this fake rate card that made it to a Prime Time show on national television here.
Times Now referred to Kasargod in Kerala as India's Gaza. With phrases like "in this hub of ISIS activity", we leave it to the readers to figure out the agenda behind this story.
4. Times of India: CPM cyber warriors troll Australian cricketer Tom Moody after Moody's upgrades India's ratings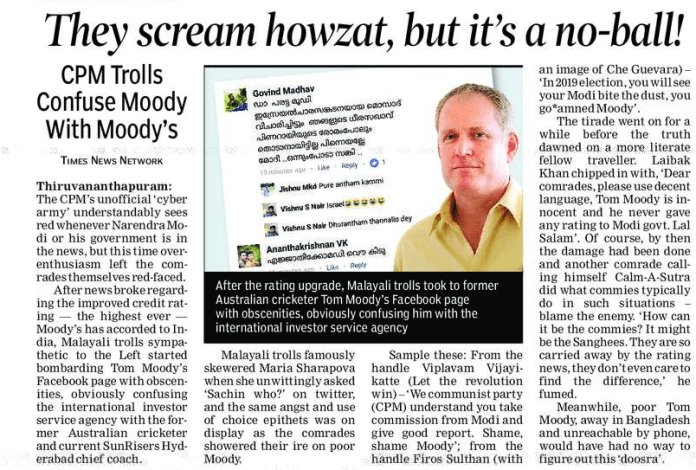 Mocking Kerala continues to be high on the agenda. Trolls in the state with the highest literacy confuse cricketer Moody with rating agency Moody's? Oh really Times of India? A careful look at the story and its source should have given you a hint about the chances of it being true but instead of doing that, Times of India carried the story on the front page of its Kochi edition. Meanwhile RSS supporters who had impersonated the comrades to comment on Tom Moody's Facebook post were now posting the link of Times of India article mocking CPM. As the true story unfolded on social media, it was clearly Times of India that had became the laughing stock. Needless to say, the newspaper did not acknowledge its error despite the uproar on social media.
5. Zee News, ABP: Dawood Ibrahim's assets worth 15,000 crores seized in UAE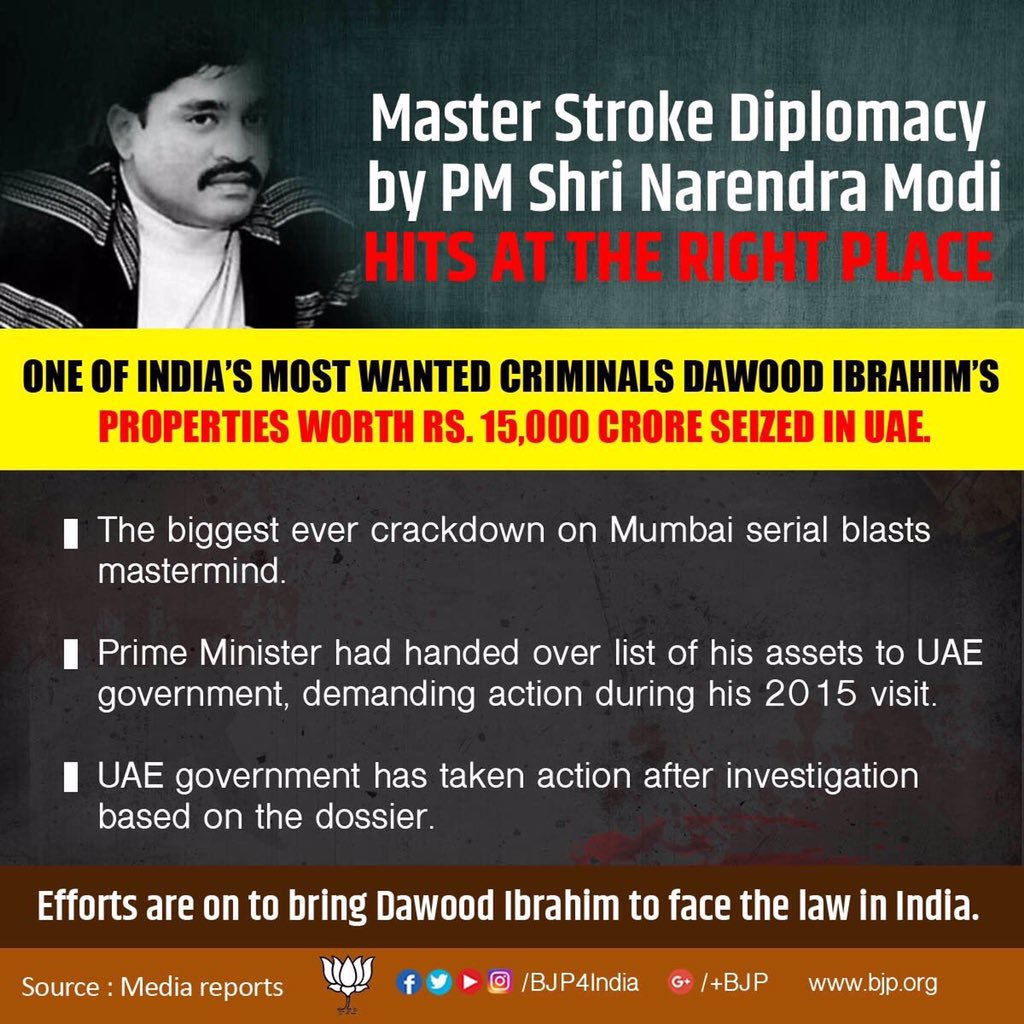 Nothing excites Indian media more than news about Dawood, even when it is unsubstantiated. With another round of state elections around the corner, it was the turn of Zee News to drop the D-word. Hold your breath, the source was not UAE authorities or the Ministry of External Affairs or even the Indian consulate but Zee News's own "sources". This was tweeted by BJP as a major diplomatic breakthrough stating not the government but media reports as its source. Soon the news was all over the media. Within five days, doubts began to appear and the wording of new stories changed to "planning to seize" and "starting to act". Finally two weeks later the news was officially denied by UAE authorities.
6. Republic TV, CNN News 18: Arundhati Roy's statement
70 lakh Indian army can't defeat azadi gang of Kashmir – Arundhati Roy .Her birth certi in fact is a regret letter from maternity ward .

— Paresh Rawal (@SirPareshRawal) May 17, 2017
Join Arnab with #IndiaFirstNoCompromise as the nation celebrates the honour for Major Gogoi pic.twitter.com/fr9OZBzuo6

— Republic (@republic) May 22, 2017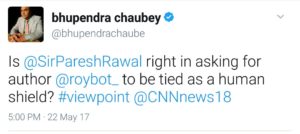 "70 lakh Indian soldiers cannot defeat Azadi gang in Kashmir" was the statement attributed to Arundhati Roy. A fake statement made in a non-existent interview during a trip that never took place was enough to launch prime time debates on Republic TV and CNN News 18 attacking Roy. The fake news had originated from some obscure Pakistani website called timesofislamabad.com and dutifully circulated by Postcard news and other known fake news websites. What followed was attack on Roy by BJP MP Paresh Rawal and prime time debates on the topic.
Arnab Goswami called Roy a "one book whiner wonder" and continued to rant about his favorite topic of Lutyens media and pseudo liberals: "they called the Indian Army names, they all came together, especially the Lutyens media, and the fake pseudo-liberal crowd, they came together to abuse our army, and then in rhythm and almost in a pre-planned way, one-book whiner wonders like Arundhati Roy came crawling out of the woodwork to once again attack the Indian Army." CNN News 18's Bhupendra Chaubey Chaubey on the other hand wanted to know whether Rawal was right in asking for Roy to "be tied as a human shield". Chaubey's subsequently deleted his tweet.
An investigation by The Wire revealed the truth behind the fake outrage fueled by the news channels and this piece by Newslaundry explored it further Newslaundry had republished an op-ed responding to Roy's fake quote and it apologised for its editorial oversight and retracted the piece. There was no retraction or apology from Republic TV or CNN News 18 for attacking Roy based on fake news.
7. Republic, Zee News, Times of India, Economic Times, Financial Express: President Kovind gains 3 million new followers in an hour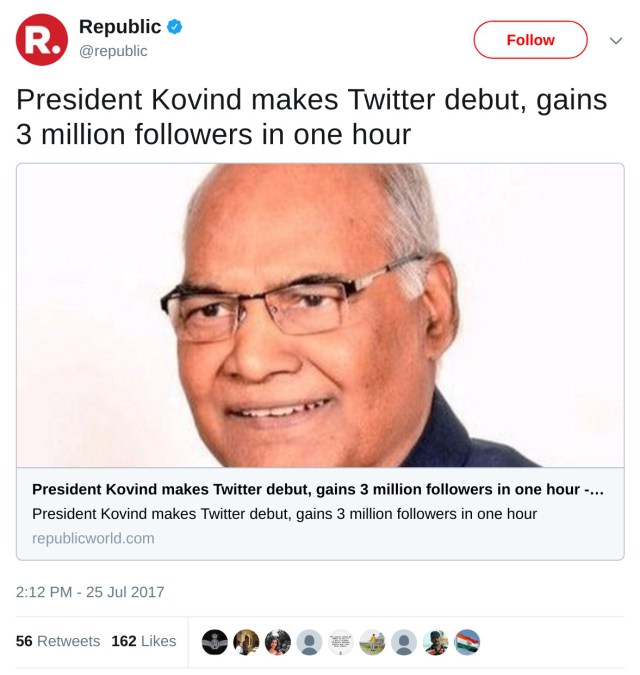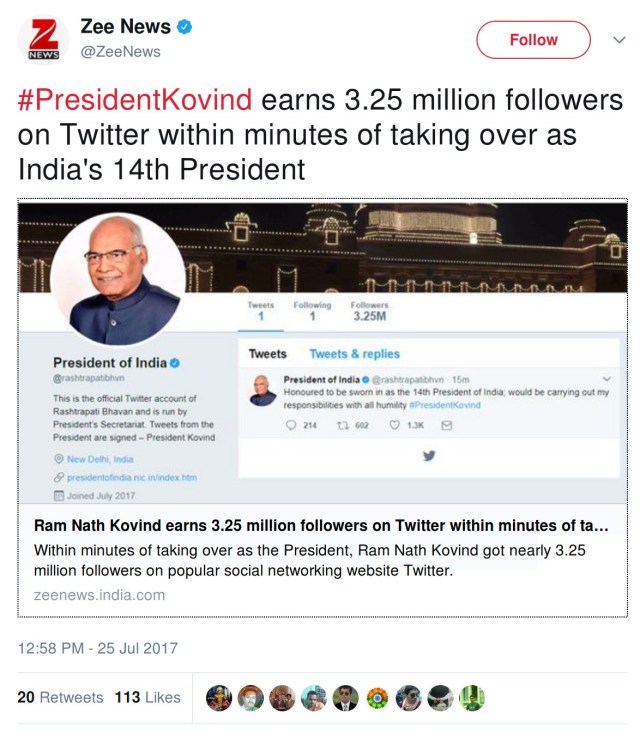 This news really makes you wonder about how ridiculous must a story be for the Indian media to recognize it as fake. Sections of Indian media fawned over President Kovind gaining three million followers in the span of one hour without pausing to think if this was really possible.
In reality, President Kovind had merely inherited the followers of President Mukherjee. Official Twitter accounts of the President, Vice President and various Ministries are considered digital assets that belong to the government. Twitter has a strategy for digital transition when the occupant of a position changes to ensure continuity and preserve the digital history of the previous occupant. All Tweets from President Mukherjee were archived under @POI13. The new @RashtrapatiBhvn account started with zero tweets and all the followers from the previous account. This was a perfect example of the herd mentality of Indian media when basic fact-checking has no place in the rush to break news. https://www.altnews.in/president-kovind-gains-3-million-new-followers-hour-get-real-indian-media/
8. Aaj Tak, India Today, Zee News, ABP News and India TV: Pakistani posts of Kirpan & Pimpal destroyed by Indian Army in an immediate retaliation to beheading of soldiers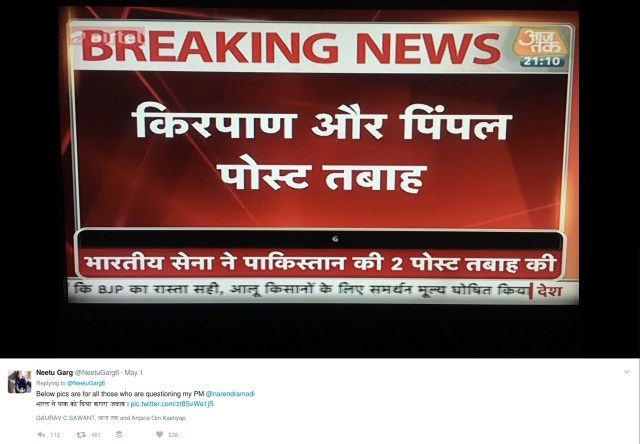 On May 1st, soon after the news of killing and mutilation of two Indian security personnel along the Line of Control (LoC) was reported, many news outlets started reporting retaliation by the Indian Army. Aaj Tak was the first to share this news followed by elaborate reports on retaliation by Indian Army by Aajtak's sister concern India Today, Zee News, ABP News and India TV.
It turned out that Kirpan was actually an Indian post and the news of an immediate retaliation by the Indian army was fake. TV channels had gone overboard without seeking an official confirmation from the army. An army spokesperson confirmed to Hindustan Times that "There was no retaliation whatsoever by us in the KG sector on Monday night. They (TV channels) go ballistic without asking us anything. We will retaliate and when we do, we will come out with an official statement." You can read more about how this chest-thumping fake news unfolded here.
9. Republic TV, Times Now: Exclusive! What is Robert Vadra doing with the Chinese envoy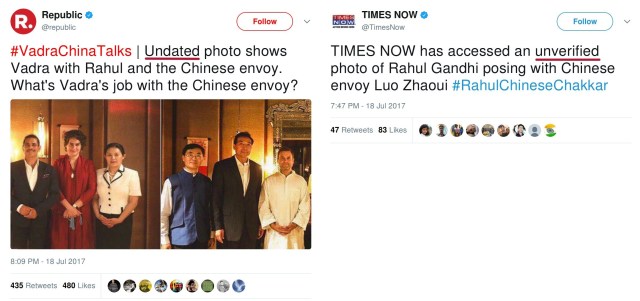 OMG! A picture of Vadra with the Chinese envoy. Both Republic TV and Times Now got excited enough over a picture of Robert Vadra to launch hashtags and primetime shows. Alt News had to give a video tutorial to Times Now and Republic TV to avoid such rookie mistakes. The picture was from a Chinese food festival that was also attended by India's Railway Minister Suresh Prabhu, Sitaram Yechuri from CPIM, KC Tyagi from JDU and other leaders from BJP such as Tarun Vijay and Udit Raj. A quick google search could have avoided these channels the embarrassment though we suspect that they neither consider this as an embarrassment nor are they interested in the truth.
10. Zee News: Nostradamus had predicted the rise of supreme leader Narendus
"Indus supremus gudjaratus status natus est
Patrus Theus boutiqus, studium bonus est
Namusprimum narendus est"
"The supreme leader of India will be born in the state of Gujarat
His father will sell tea in a shop
His first name will be narendus (Narendra)"
Yes, Francois Gautier invented this tale about how passages of Nostradumus found by him in an old abandoned trunk spoke about a supreme leader, Narendus. In a blog titled Nostradamus and India, published in the Times of India, Gautier shared these hilarious passages. Gautier has been discovering these old trunks since a long time. Even way back in 1999 he revealed that it was Nostradamus who had founded RSS 400 years ago.
Even as everyone was having a good laugh about Narendus, Vajpayum, Advanum and Murlum Joshum, Zee News found it to be an entirely believable tale, worthy of sharing with their viewers. Read more about these hilarious passages here.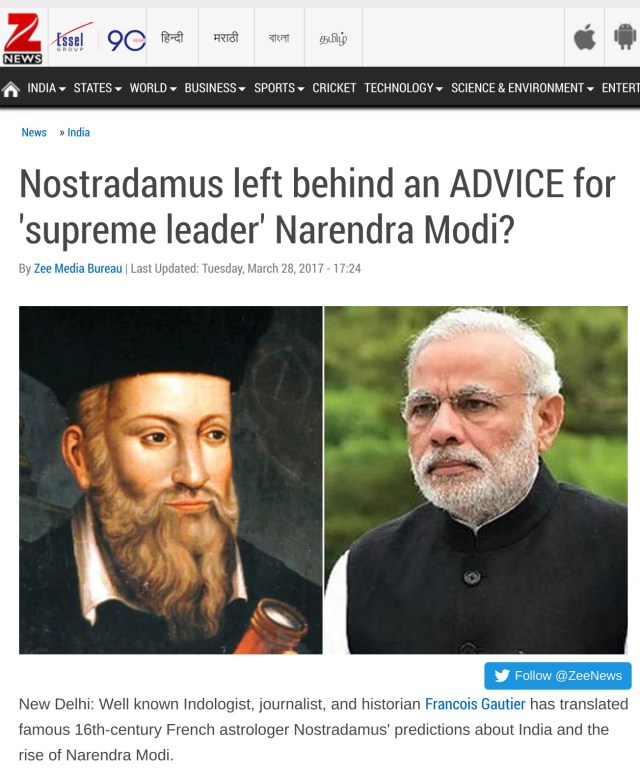 11. The Hindu: Dying woman molested, video shows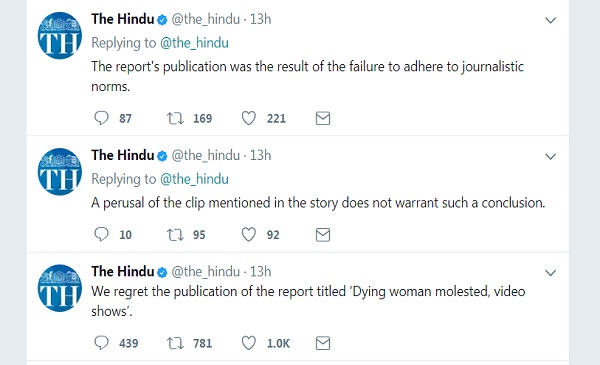 A really sad piece of fake news was the 8 second verdict by The Hindu about a stampede victim being molested by an unidentified man. It was republished by many others citing The Hindu and also made its way to international press. Doubts about the molestation claim began to emerge when the full video came to light. It did not appear from the video that it was a case of molestation. Witnesses and police also refuted the story.
The Hindu apologized and retracted the story but the damage was done. An innocent man was painted as a molester
12. India Today: Paresh Mesta case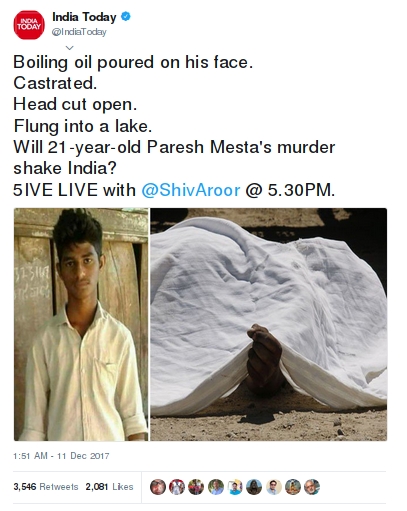 Boiling oil poured on his face. Castrated.
Head cut open. Flung into a lake.
Will 21-year-old Paresh Mesta's murder shake India?"
This graphic tweet by India Today that subsequently turned out to be fake brought home the dangers of fake news. India Today's tweet was seen as a validation for the news that was so far only a claim made by a BJP MLA.
The forensic report trashed the claims but by then the rumor-mongering had already sparked communal violence. The police stated that "There is a deliberate attempt to create divide in the society by circulation of false news as well as rumours through press notes, social media, and particularly whatsapp for personal gain."
Shiv Aroor, India Today editor explained his stance in this article. He was slammed by Prem Panicker, former Managing Editor Yahoo India, who wrote on how the India Today story amplified an unsubstantiated allegation and gave it oxygen, which led to communal tension.
Whew! It was tough picking out the top stories out of the dozens that did the round this year, dutifully shared by Indian mainstream media. There are a lot more out there like when Times of India declared the missing JNU student an ISIS sympathizer or when Times Now showed a video of Kerala student union rally as a BJP protest or when Times Now attempted to discredit '#NotInMyName' protests by presenting distorted facts, or when Punjab Kesri declared that VP Hamid Ansari's budget was six times that of the President or when Times Now attacked UPA for Pakistani visas ignoring the fact that the highest number of visas were issued under BJP rule…… Read about these and more on Alt News. Going by the experience of this year, 2018 promises to be yet another rocking year for fact checkers. Bring it on!
Donate to Alt News!
Independent journalism that speaks truth to power and is free of corporate and political control is possible only when people start contributing towards the same. Please consider donating towards this endeavour to fight fake news and misinformation.