"In my SIT (Special Investigation Team), there are three ACPs and seven officers, and we have been working day and night", announced DCP (Crime) Joy Tirkey during a January 10 press conference by Delhi police on JNU violence. The officer laid down the purported sequence of events that led to a rampage in the varsity campus on the intervening night of January 5-6. He began with alleged vandalism of servers by students opposing hostel fee hike to stop registrations for the winter session of the university.
"At 3:45 PM on January 5, these four organisations – Students' Federation of India, All India Students Federation, All India Students Association, Democratic Students Federation – I will also share images, we have identified a few people – these people attacked Periyar hostel. They had muffled faces and some members of JNUSU were also there. In fact, their president was also there who was caught on camera," informed Tirkey, stating that the police has registered FIRs against nine students for assault, criminal intimidation and damage to public property.
Towards the end, he released print-outs which had pictures of suspects he claimed that the "SIT identified" after speaking to a "crosssection of students, teachers, JNU admin staff, hostel wardens and other residents" and through "viral videos and images."
But as it turns out, the photographs in the print-outs released were earlier circulated by RSS-affiliated ABVP members on social media in the exact print and design.
Police investigation vs ABVP investigation
1. "Chunchun Kumar Ex student, JNU"
The print-out held DCP Crime Joy Tirkey, naming Chunchun Kumar, was identical to the one tweeted on January 7 by ABVP's national organising secretary Ashish Chauhan. "CHUNCHUN AISA Activist (Pelting stone With stick in hand outside Periyar hostel)," reads the text in the yellow box in both images that carry the same markings, numbering and grammatical errors (words starting with capital letters in the middle of the sentence).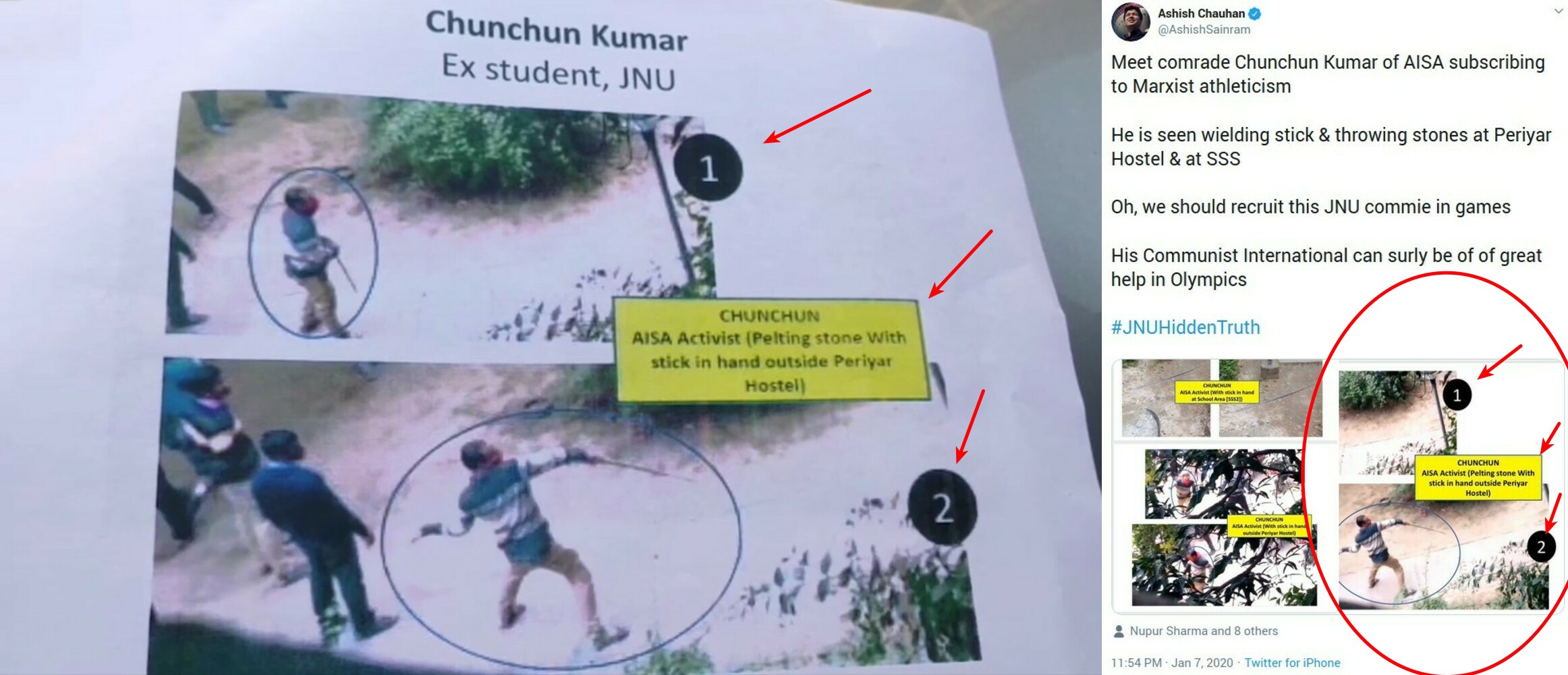 2. "Pankaj Mishra School of Social Sciences (SSS), JNU. Mahi-Mandvi Hostel"
This was tweeted by Chauhan on January 6. The text inside the blue box reads, "Pankaj Mishra [SSS] Mahi-Mandavi Hostel." Notice how the name of the hostel is spelt "Mandvi" on the police print-out and Chauhan's tweet but "Mandavi" inside the blue box in both photographs.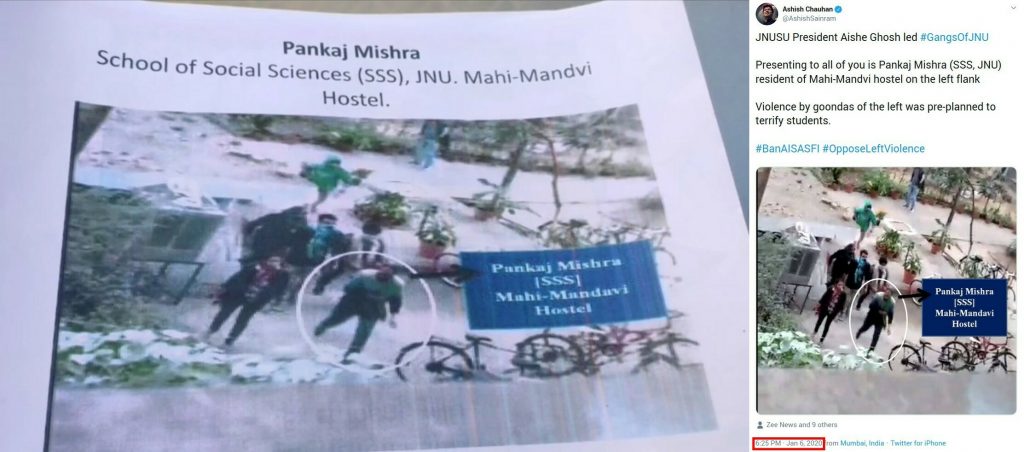 3. "Aishe Ghosh President JNUSU"
"You can see Aishe Ghosh madam here," said Tirkey, holding a print-out to the camera which has also been floating on social media since January 6. State joint secretary ABVP Delhi Anima Sonkar had tweeted the image saying, "Make no mistake. Identify the culprit. @aishe_ghosh (the @JNUSUofficial president) clearly seen as leading the masked men. It's a conspiracy to attack the JNU students who went against the Left's decision to boycott registration. Classic case of legitimising mob (left activists)!" The same photograph was also shared by JNU professor Alok Singh on the same day.
The red box in both photographs reads, "JNUSU President Aishe Ghosh with red bag is seen in the video of Periyar Hostel Vandalism. Leading her masked violent comrade gang in hostels."
It is unclear why the words "comrade gang" were used by the police as part of an official investigation.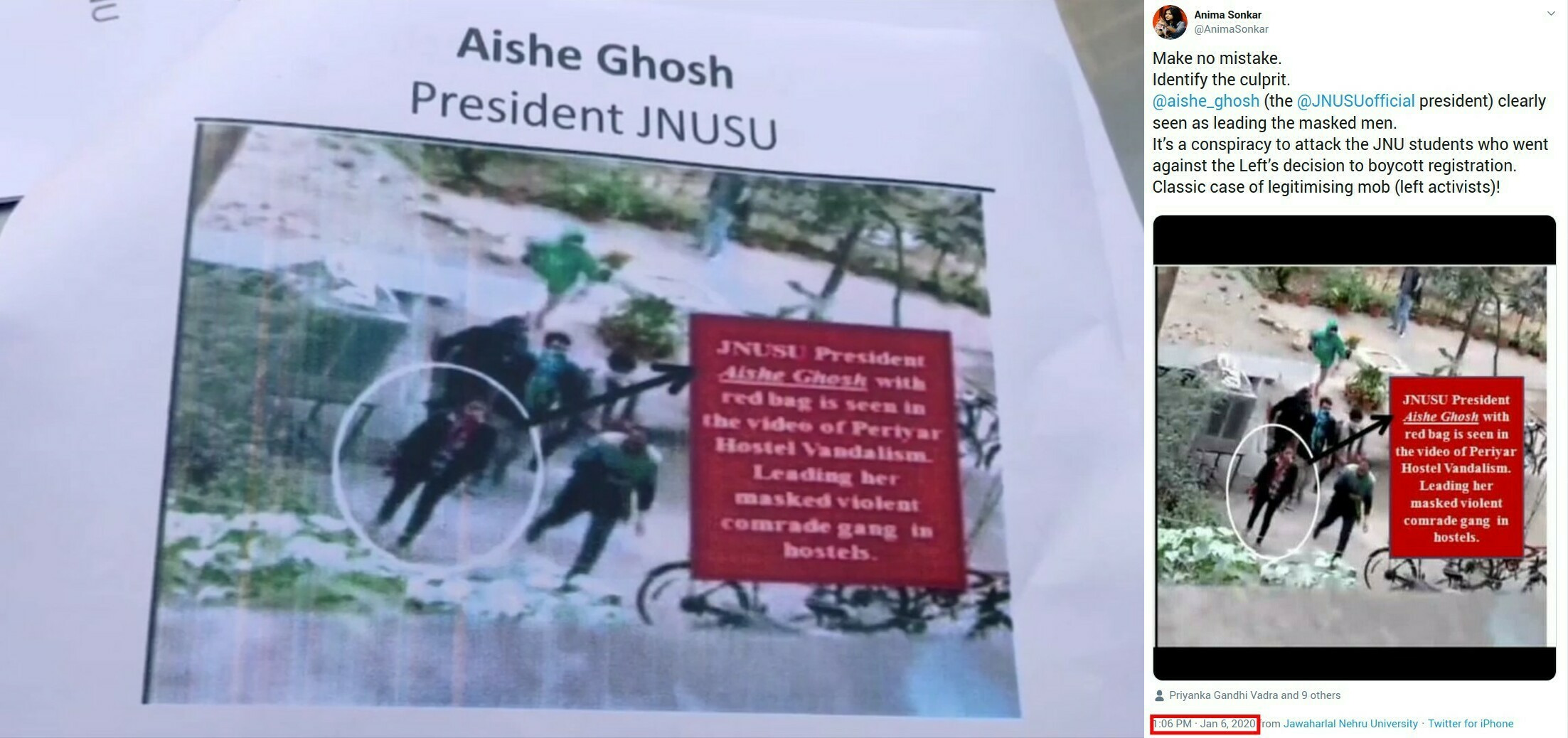 4. "Vasker Vijay Mech MA, SAA, JNU"
The Delhi police released a cropped image of a photograph shared by ABVP's Ashish Chauhan on January 6, naming Vaskar Vijay Mech as one of the suspects behind the violence. Notice that the circle highlighting Mech is the same and a portion of the black arrow is also visible on the print-out held by DCP Tikey.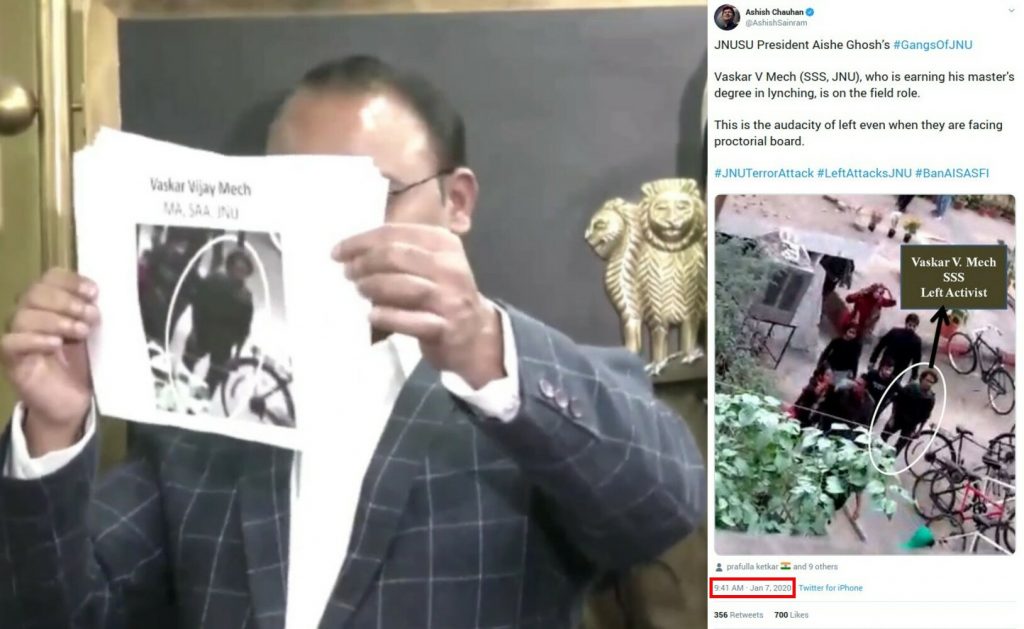 5. "Dolan Samanta (Face covered by red scarf). School of Social Science, Centre- Centre of Historical studies"
In all the above-mentioned instances, the police print-outs were the same as images shared by ABVP members. All of them were identical stills taken from videos, they carried identical markings and the exact text.
However, in the case of Dolan Samantha, ABVP did not circulate similarly-designed photographs but a video. Ironically, Delhi police also did not release an image with text and markings but a photograph where Samanta can be seen in a red scarf.
Below, we have compared the still in the police print-out with Samanta's video shared by Ashish Chauhan and ABVP on January 6. As evident, the police's screengrab is from the same video.
"Girl with red-scarf is AISA activist Dolan Samanta (CHS, JNU), seen beating a common student who was going for registration," reads Chauhan's tweet.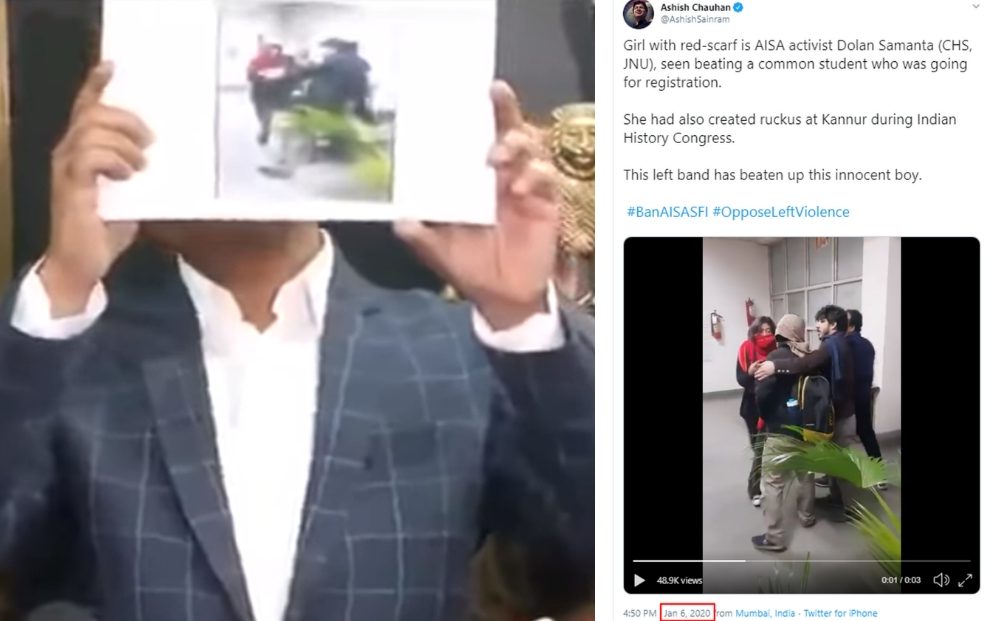 Alt News was unable to locate photographs/ videos of Sucheta Talukdar and Priya Ranjan.
Two ABVP activists among the suspects
During the press conference, DCP (Crime) Joy Tirkey referred to Left-affiliated student bodies – AISA, SFI, AISF and DSF – and their alleged involvement in vandalism multiple times. However, ABVP found no mention thus giving the impression that the RSS-affiliated organisation was not responsible for the mob frenzy that took over JNU on the fateful night of January 5.
But among those nine suspects were two ABVP activists, which the police failed to clarify despite journalists questioning ABVP's role.
1. Yogendra Bhardwaj
"This is Yogendra Bhardwaj ji, PhD Sanskrit who was the admin of the WhatsApp group Unity Against Left," stated Tirkey. The photograph held up by the senior officer has been circulating on social media since January 6. It used to be Bhardwaj's Twitter profile picture before the account was deleted/ deactivated. Bhardwaj's image began circulating after his name came up in a WhatsApp group chat 'Unity Against Left'.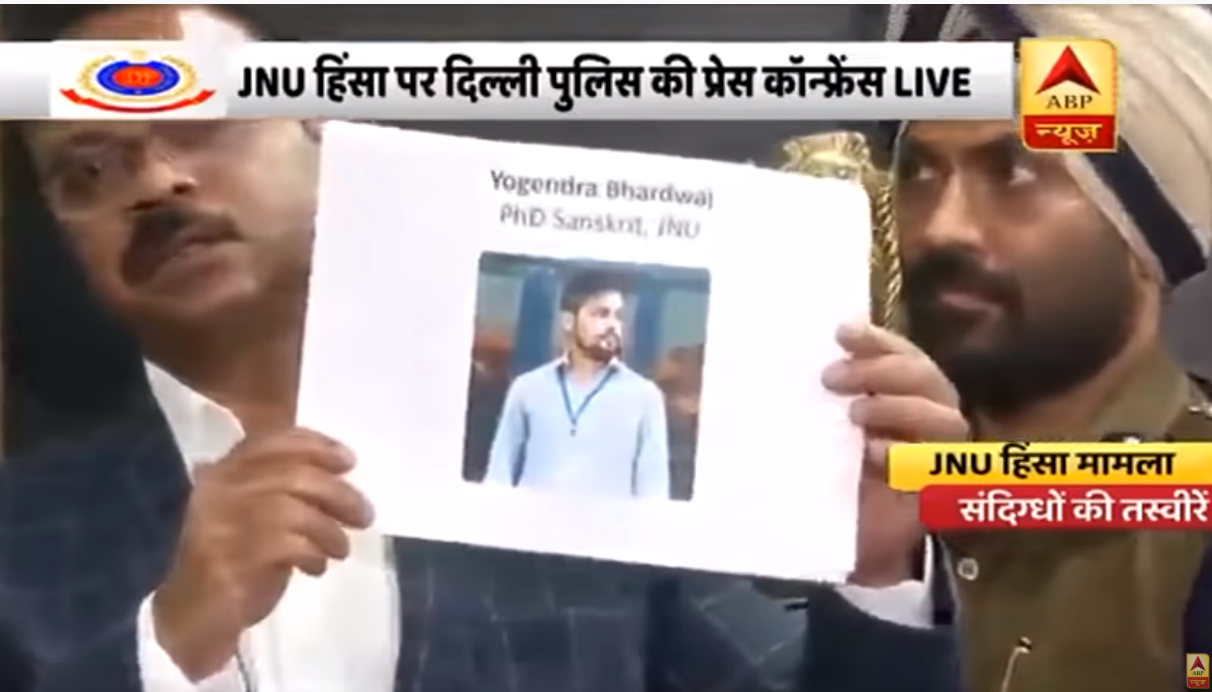 He identified himself as JNU ABVP joint secretary, 2017-18. on Twitter but the same was omitted by the police.
7. Yogendra Shaurya Bhardwaj #ABVP_TERRORISTS #अखिल_भारतीय_गुंडा_परिषद pic.twitter.com/WltzKkGJa3

— Ashwin Gupta (@Ashwinca2012) January 6, 2020
2. Vikas Patel
"This is Vikas Patel," claimed Tirkey, holding a photograph of a stick-wielding man in a blue and yellow jacket.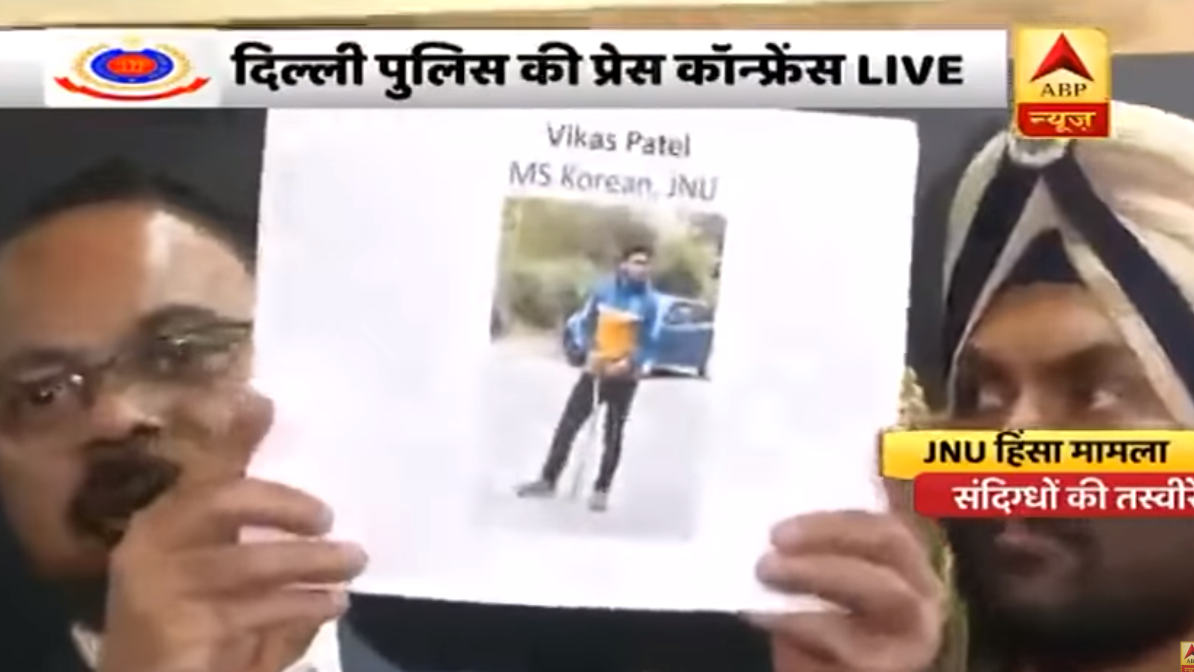 The police, however, made a blunder and misidentified ABVP's Shiv Poojan Mandal as Vikas Patel who is also a member of the student body. Moreover, the photograph released by the police was cropped. In the full picture, Mandal can be seen with a baton. It is unclear why the Delhi police released only one of their names as suspects.
The Delhi police press conference on JNU violence by DCP Tirkey claimed that a Special Investigation Team carried a thorough probe. However, Alt News found that the list of suspects released by the police was essentially an exhibition of visuals shared by ABVP days before the briefing. Moreover, the RSS-affiliated student body found no mention in the nearly half an hour-long conference despite two of the suspects' evident association with the organisation.
Donate to Alt News!
Independent journalism that speaks truth to power and is free of corporate and political control is possible only when people start contributing towards the same. Please consider donating towards this endeavour to fight fake news and misinformation.