ओवैसी ने UN को पत्र लिखा कि हिंदुस्तान में मुस्लिम सेफ नहीं है , UN से जवाब आया 'जहाँ पर सेफ हो वहां चले जाओ ' (Owaisi wrote a letter to UN saying Muslims are not safe in Hindustan, UN replied 'please go wherever you are safe'- translation). This message along with a picture of AIMIM chief and Hyderabad MP Asaduddin Owaisi has been posted by a Facebook page Acche Din.
The above post of January 6 has been shared over 16000 times already. The page Acche Din has a following of over 13 million. The message has also been shared by individual users on Facebook.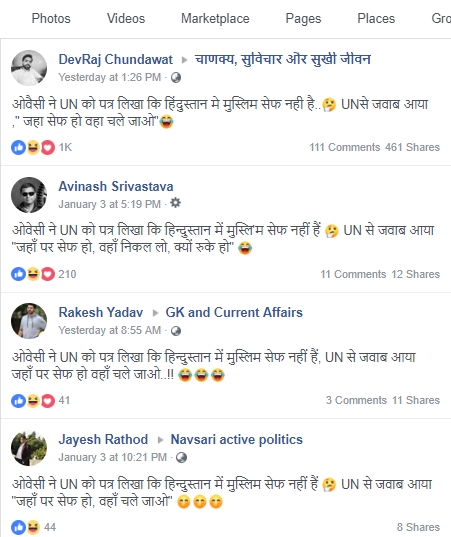 Expectedly, this claim has also found its way to Twitter.
"AN ABSOLUTE LIE"
In conversation with Alt News, Asaduddin Owaisi said, "This is an absolute lie. It is the work of trolls. You may refer to my response to (SP leader) Azam Khan over the Dadri issue, when I had raised objection over him taking the issue to the United Nations. I have recently criticised (Pakistan PM) Imran Khan over his statement on minorities in India. There is no question of my having written such a letter to the UN."
In 2015, Asaduddin Owaisi had lashed out at SP leader Azam Khan after the latter had written a letter to the then UN Secretary General Ban Ki Moon, seeking intervention after the Dadri lynching episode in which Mohammad Akhlaq was killed on suspicion of having slaughtered a calf. Owaisi had reportedly said, "Azam has committed a blunder by taking up India's internal issue with the UN. It is supposed to be solved within the country."
Donate to Alt News!
Independent journalism that speaks truth to power and is free of corporate and political control is possible only when people start contributing towards the same. Please consider donating towards this endeavour to fight fake news and misinformation.To make an instant donation, click on the "Donate Now" button above. For information regarding donation via Bank Transfer/Cheque/DD, click here.