Bollywood actress Swara Bhasker, responding to Sadhguru's "liberals are fanatics remark", tweeted that "some ass***** with big caste pride tied men to a jeep, flogged them publicly and recorded it (but Sadhguru says liberals are fanatics)."
Some assholes with big caste pride, tied men to a jeep, flogged them publicly and recorded it ; #ButLiberalsAreFanatics #SadhguruSays

— Swara Bhasker (@ReallySwara) August 10, 2018
Soon after, she was attacked on Twitter by many who claimed that the actress abused Major Leetut Gogoi and the Indian army. They assumed that Bhasker was referring to the Kashmir "human shield" incident. Among the many who attacked her were the ones followed by senior BJP leaders like Smriti Irani, Piyush Goyal's office and BJP IT cell head Amit Malviya (1, 2, 3, 4).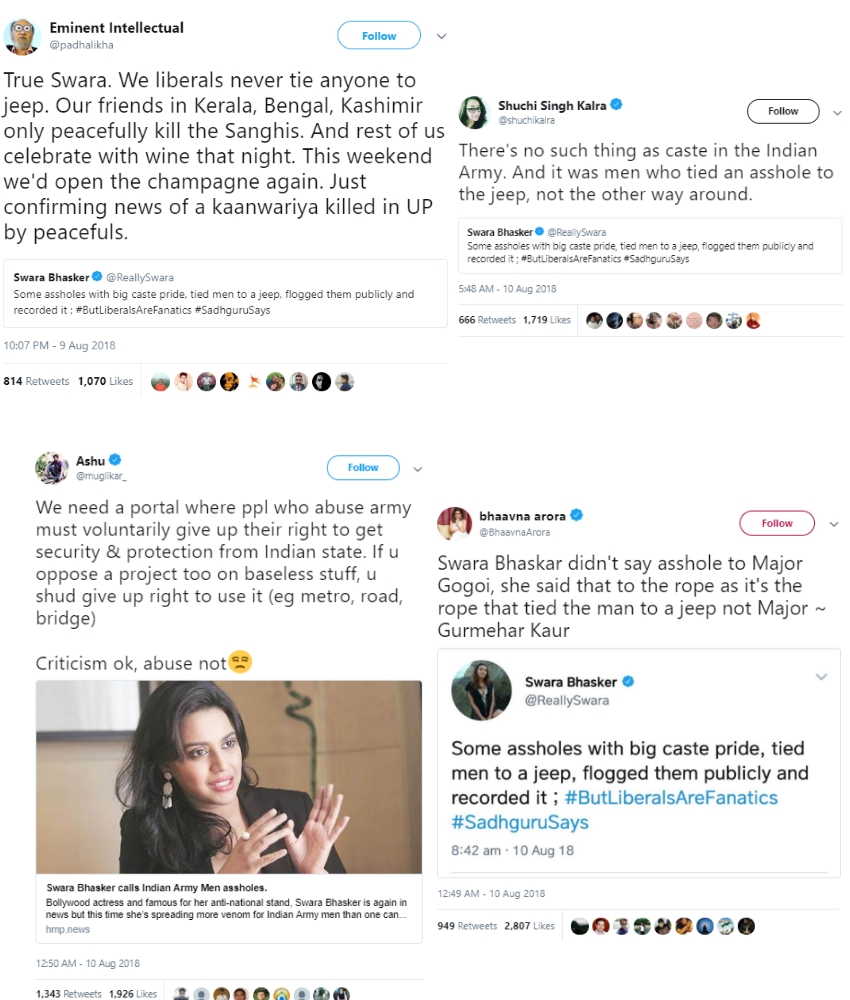 There were also several others followed by PM Modi (1,2,3,4).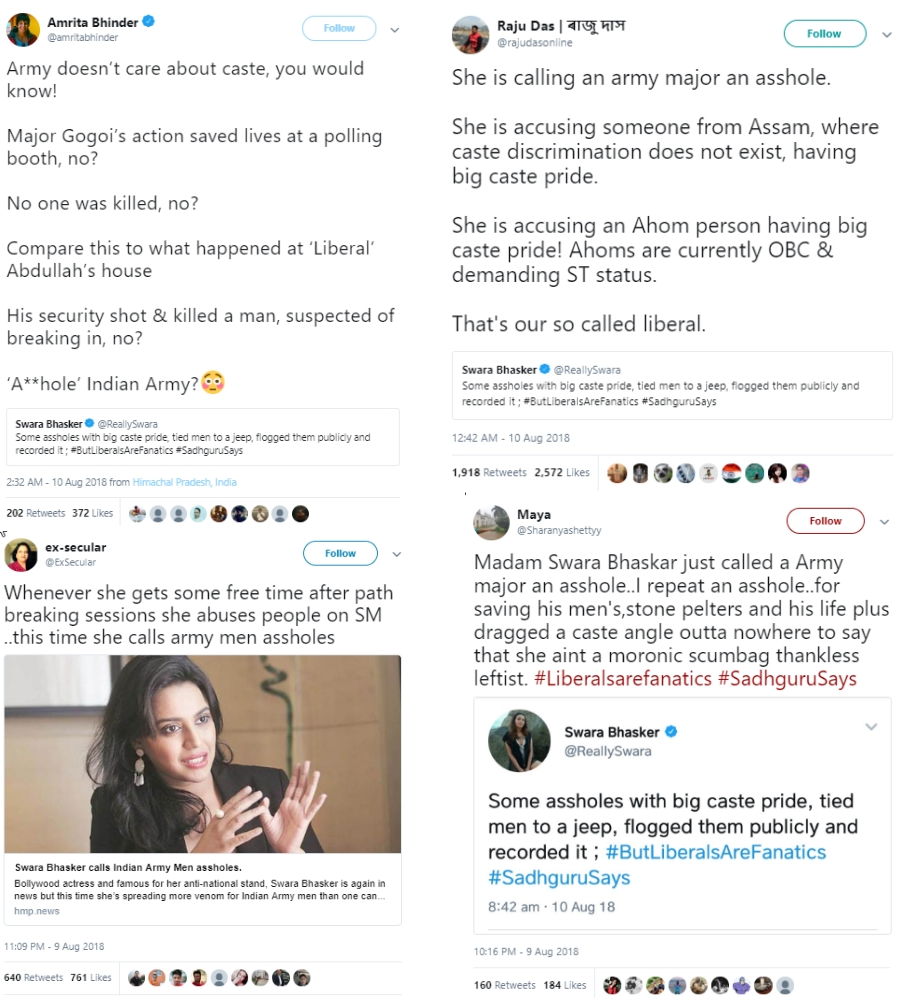 A Twitter user @dishasatra, who is followed by Piyush Goyal's Office, responded to Bhasker by posting a picture of herself in a t-shirt with the image of the man who was tied to a jeep in Kashmir and the caption – "Indian army saving your ass whether you like it or not." Her post was retweeted nearly 7,000 times.
Hi @ReallySwara 🔥😎 pic.twitter.com/bUvi791WlI

— Sabudana khichadi (@Dishasatra) August 10, 2018
The t-shirt is sold by an e-commerce website tshirtbhaiya.com, owned by BJP Delhi spokesperson Tajinder Singh Bagga. After Bhasker's tweet went viral due to the enormous right-wing backlash, Bagga began giving discounts on his "human shield" t-shirt using the hashtag #SwaraKoMirchiLagi.
Use the DISCOUNT COUPEN #SwaraKoMirchiLagi at Checkout & Get Rs 100 DISCOUNT on Major Gogoi T-Shirt pic.twitter.com/bImz4Kd9qr

— TShirtBhaiya.Com (@TShirtBhaiya) August 10, 2018
Twitter user Gaurav Pradhan also lashed out on Bhasker and abused her father, a former naval officer. Pradhan is followed by PM Modi and Piyush Goyal Office's on Twitter.
An asshole babu who clubbed with ISI and was a pet dog of muridke sent her daughter to clifton road. so that she can have a 2 minute appearance in the screen. Each time her movie flops the sane asshole dad have to sent her daughter to clifton to get a role in a flop movie pic.twitter.com/vicLbWXy1i

— #GauravPradhan 🇮🇳 (@DrGPradhan) August 10, 2018
Another user followed by Piyush Goyal's office tweeted an email of a criminal complaint filed by his organisation "India Against Biased Media" against Bhasker. The complaint has been filed under IPC Section 124A (sedition).
#IABM files Criminal Case of Sedition against @ReallySwara for Inciting hatred towards Indian Army. People like her must be taught a lesson.. At least 100 similar cases must be filed against her across the country.. @ippatel pic.twitter.com/oH11yMhZP9

— Vibhor Anand (@vibhor_anand) August 11, 2018
The actress' tweet was also picked up by Postcard News, HMP News and Satya Vijayi, who wrote articles saying that the actress abused the Indian army.
What was Swara Bhasker's tweet really about?
After self-styled Godman Sadhguru's comment that "liberals are fanatics", Swara Bhasker sent out a series of tweets using the hashtags #ButLiberalsAreFanatics #SadhguruSays. She made out multiple tweets related to atrocities that took place across the country in recent times.

Her tweet on "ass***** tied men to jeep" was not related to Major Gogoi or the Indian army but the 2016 Una flogging where seven members of a Dalit family were tied to a jeep and beaten with iron rods for skinning a dead cow. The actress clarified the same on Twitter after her post was completely misinterpreted.
Obviously 'big caste pride' is referring to the #Una case in Gujarat.. sigh! Read the newspapers, use your brains.. or don't – whatever! https://t.co/PKPTQphCc3

— Swara Bhasker (@ReallySwara) August 10, 2018
Swara Bhasker has often found herself in the crosshairs of the right-wing who target her for her vocal views on certain issues. She has also been a repeated victim of misinformation with morphed tweets and fake quotes circulated in her name.
Donate to Alt News!
Independent journalism that speaks truth to power and is free of corporate and political control is possible only when people start contributing towards the same. Please consider donating towards this endeavour to fight fake news and misinformation.To make an instant donation, click on the "Donate Now" button above. For information regarding donation via Bank Transfer/Cheque/DD, click here.