"जो ईंटें राम-मंदिर के नाम पर इकट्ठा की गई थीं..वो अब #UP_सरकार के चहेते ठेकेदारों द्वारा #अयोध्या में नाली बनाने के उपयोग में आ रही हैं.. #धार्मिक आस्था का #व्यवसायिक इस्तेमाल करना कोई BJP से सीखे (The bricks which were collected in the name of Ram Mandir are now used by the government's favourite contractors to construct a drain in Ayodhya. One should learn from BJP how to use religious faith for business -translated)", tweeted an individual user, Pooja Yadav on January 4. The tweet claims that bricks which were collected for the Ram Mandir in Ayodhya are now being used to construct a drain." The bricks shown in the images were engraved with 'Shri Ram'.
जो ईंटें राम-मंदिर के नाम पर इकट्ठा की गई थीं..वो अब #UP_सरकार के चहेते ठेकेदारों द्वारा #अयोध्या में नाली बनाने के उपयोग में आ रही हैं..#धार्मिक आस्था का #व्यवसायिक इस्तेमाल करना कोई BJP से सीखे.. pic.twitter.com/Lr8N1AOIqP

— Pooja Yadav (@Poojasocialist) January 4, 2019
A website named TeesriJung News has published an article based on viral images with the same narrative.
What is the truth?
We found a Facebook post where the images were first shared on the internet. Manoj Mishra, who describes himself in his Facebook bio as a press reporter, had posted these images from his individual Facebook account on December 30, 2018. This was the earliest instance that Alt News could find.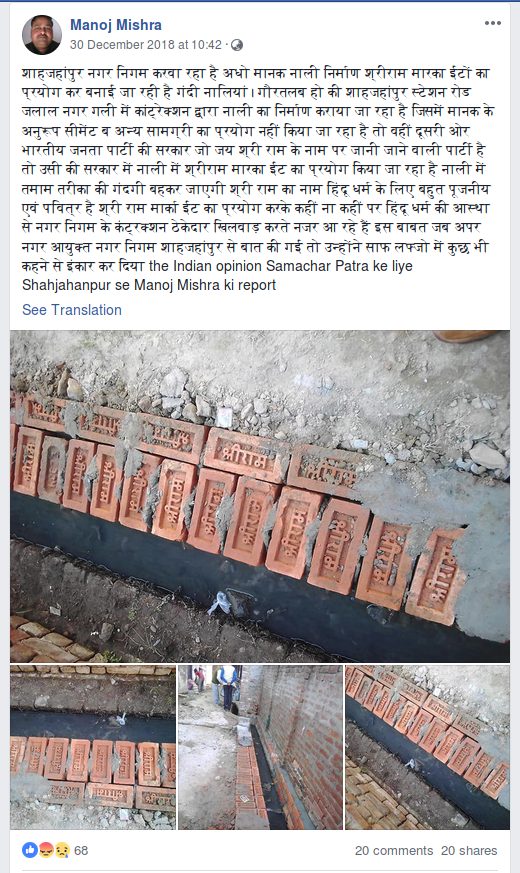 According to the post, the municipal corporation of Shahjahanpur, Uttar Pradesh is constructing a drain with bricks branded 'Shri Ram'. The cement and other materials used in the drain are not up to standard. The post claims that the Bharatiya Janata Party which is also known as a party of Lord Ram is using bricks with the branding of 'Shri Ram' to build a drain near Shahjahanpur station road.
In another Facebook post, Mishra questions a person, who seems to be a figure of authority, present at the site about using the bricks branded with 'Shri Ram' for constructing a drain. Upon being questioned, the person blamed the local brick manufacturer.
We contacted Manoj Mishra, who is a journalist based in Shahjahanpur to confirm the authenticity of this post. In a conversation with Alt News, Mishra confirmed, "Some days back, I was passing through station road when I saw this new drain constructed in one of the streets. The bricks have nothing to do with Ayodhya". We also found a video of the incident on YouTube.
Moreover, a report published by News Track on January 7 further corroborates that these images belong to a drain constructed by the municipal corporation in the Sadar Bazar area of Shahjahanpur.
In conclusion, bricks used in the construction of drains in Shahjahanpur were merely branded with 'Shri Ram' and were neither meant to be used nor were they collected for the construction of Ram mandir in Ayodhya.
Others who put out this misinformation
Congress coordinator Delhi Luv Datta who is followed by the official Twitter handle of Indian National Congress made the identical claim. He is also followed by several prominent Congress leaders like Sanjay Jha and Shashi Tharoor.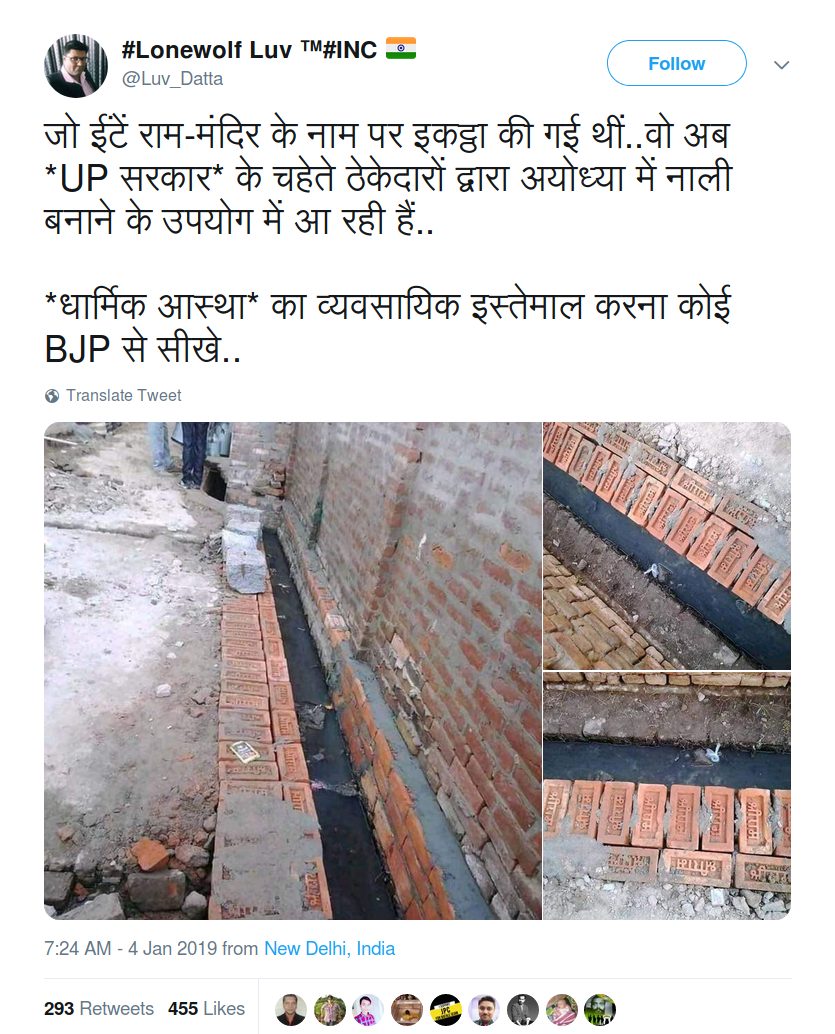 Rajasthan Congress IT cell member, Sunil Goyal tweeted the images suggesting that these bricks were to be utilised in building the Ram Mandir. Another user Zainab Sikander also tweeted the images without authenticating the claim by saying, "If this is true,Yogi govt is truly hollow". Several other individual users on Facebook and Twitter have posted the images with an identical narrative.
A FB post has gone viral in which pics show bricks that were made with the intent to build Ram Mandir being used instead for making 'nalis'(gutters)in some area of UP.If this is true,Yogi govt is truly hollow.I apologize for even putting up these pictures😔https://t.co/tjKPsHWC3u pic.twitter.com/5szqIW5ZP7

— Zainab Sikander (@zainabsikander) January 7, 2019
Donate to Alt News!
Independent journalism that speaks truth to power and is free of corporate and political control is possible only when people start contributing towards the same. Please consider donating towards this endeavour to fight fake news and misinformation.To make an instant donation, click on the "Donate Now" button above. For information regarding donation via Bank Transfer/Cheque/DD, click here.