On January 11, India Today's Rahul Kanwal questioned Akhil Bharatiya Vidyarthi Parishad (ABVP) JNU secretary Manish Jangid about Komal Sharma after a masked photograph of her inside Jawaharlal Nehru University (JNU) campus during the January 5 attack went viral. Jangid was questioned about Sharma's affiliation with ABVP, to which he said, "No she is not ABVP."
#JNUTapes | Komal Sharma is not member of ABVP: Manish Jangid, ABVP's JNU unit secretary.@rahulkanwal
More videos at https://t.co/wMGGKJy9GN pic.twitter.com/gF2M0fbUDK

— India Today (@IndiaToday) January 11, 2020
Jangid's response to Kanwal during India Today broadcast was retweeted by ABVP's official Twitter handle.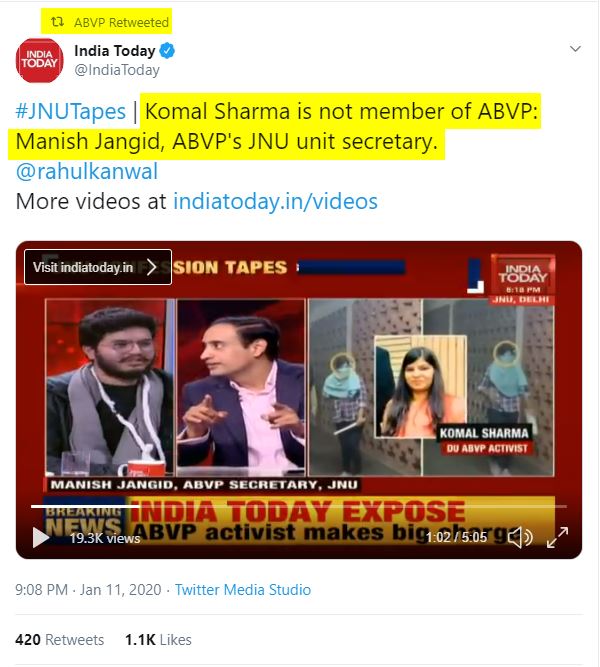 ABVP had earlier denied association with another student Akshat Awashti who had declared himself as an ABVP activist and confessed his involvement in the attack during a sting operation. Alt News found a plethora of photographs and videos of Awasthi in ABVP rallies, with ABVP office-bearers, chanting pro-ABVP slogans.
In this report, we will lay down a similar pattern in the case of Komal Sharma – a trail of evidence from the past that links her with the RSS-affiliated student body.
Komal Sharma and her association with ABVP
A school senior of Komal Sharma had uploaded an Instagram conversation where Sharma confessed her presence inside JNU campus on the night of the attack. In an earlier investigation, Alt News found multiple social media profiles of Sharma [Facebook (1,2), Instagram and Twitter (1,2)], where she declared her affiliation with ABVP.

Alt News has now discovered visual evidence of her association with ABVP.
On September 13, ABVP swept the Delhi University Students' Union (DUSU) elections by 3-1 against Indian National Congress's student wing National Students' Union of India (NSUI). In the video below, Komal Sharma can be seen celebrating ABVP's electoral victory in DUSU elections. Speaking to the press she says, "We are so happy with this win. I regret that we didn't get that one seat but we are happy that we won by 3-1. ABVP has once again won. Win or loss, there can be only one thing. Now that we have won, they have to lose and ABVP is such an organization that works for 365 days and not only during the election period. We want to congratulate all the workers of the organization because every activist works for 365 days with the same dedication as during the elections."
It is noteworthy that she refers to herself as "we", a voice of the student body and not an individual.
Below, we have compared a screengrab from the video with the photograph of Komal Sharma that Rahul Kanwal had shown to ABVP secretary Manish Jangid.
Moreover, Alt News found a screenshot of an Instagram post by ABVP Delhi which features Komal Sharma.
The same image was also tweeted by ABVP Delhi on June 29, 2019, with the caption, "Today ABVP Delhi after announcement of #First_Cutoff set up Helpdesks in every College of Delhi University and helped students during Admission process." Here, Sharma is seen wearing a badge that reads, "May I help you join ABVP" meaning, she was a part of ABVP help desk at Daulat Ram College, where she is a student. An archived version of the tweet can be accessed here.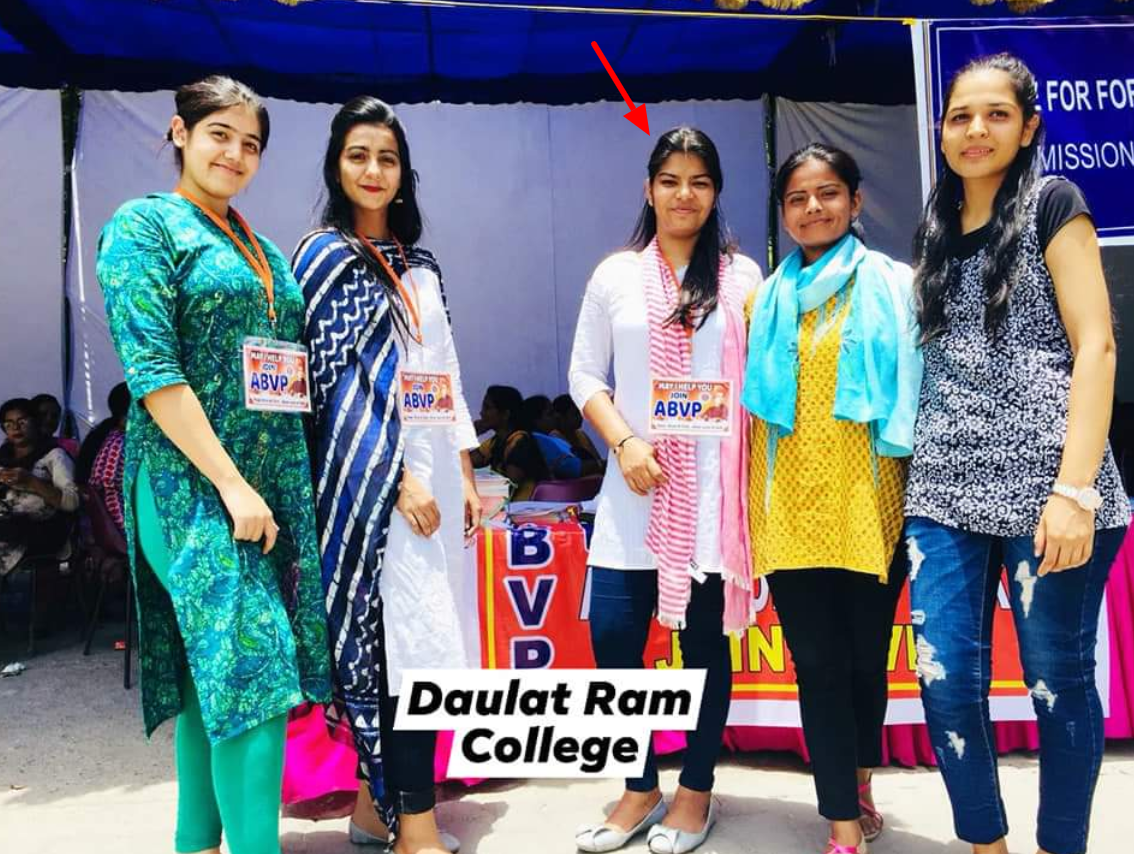 ABVP office-bearers contradict each other
Speaking to NDTV, ABVP state secretary Sidharth Yadav said that Komal Sharma is a member with the student body but she is not the masked woman in the viral video. He said, "Komal Sharma is afraid of people on social media who troll. She is afraid of people, who without giving any thought, will post anything on social media. Today on social media, anything is put against the student and nobody is thinking about it and the Home Minister wouldn't come to save her, the society will have to come forward and stay back from rumours."
He further added. "I am the state secretary of ABVP, I am telling you, Komal Sharma is our activist and (she) is not the masked(women). And today, we have posted this from our social media handle. Whoever says that we'll file a defamation case against (them)." This interview was broadcasted on January 7, 2020.
While ABVP JNU secretary Manish Jangid denied the student body's association with Komal Sharma, Alt News found her giving an interview as a representative of ABVP. She was also a part of ABVP's designated help desk at her college, Daulat Ram.
Donate to Alt News!
Independent journalism that speaks truth to power and is free of corporate and political control is possible only when people start contributing towards the same. Please consider donating towards this endeavour to fight fake news and misinformation.