A screenshot of Delhi-based lawyer Prashant Patel Umrao's tweet has become a point of contention on social media. Twitter user Asaur Rahman brought to light a 2013 tweet by Umrao where the lawyer allegedly called for a genocide of the Muslim community. Rahman shared a screenshot of the tweet in the wake of the arrest of journalist Ali Shorab after an FIR was filed by the UP police under the charges of "comments on social media regarding Ayodhya verdict."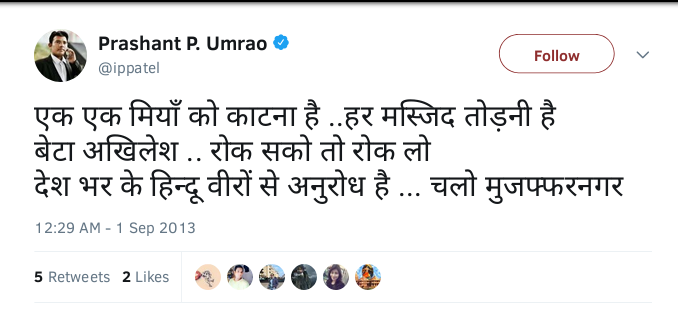 In the 2013 tweet, Umrao had said, "एक एक मियाँ को काटना है ..हर मस्जिद तोड़नी है बेटा अखिलेश .. रोक सको तो रोक लो देश भर के हिन्दू वीरों से अनुरोध है … चलो मुजफ्फरनगर (Each and every Muslim has to be butchered. Every mosque has to be destroyed. Akhilesh, stop us if you can. All Hindu braves of the country are called upon to proceed to Muzaffarnagar -translated)".
The lawyer, however, claimed that he did not post the said tweet and termed it a work of 'photoshop'. He quote-tweeted Rahman's and wrote, "Asarur Rahman is circulating photoshopped images and wants to create unrest by spreading fake news," while tagging UP police.
Dear @Uppolice this person Asarur Rahman is circulating Photoshop images & want to Crete unrest by spreading fake news. Kindly take action. He is spreading fake news & writing uncivilized words about CM Yogi also.@dgpup https://t.co/SgVc1TbF47

— प्रशान्त पटेल (@ippatel) November 16, 2019
FRIENDS TO THE RESCUE
BJP volunteer Vikas Pandey defended Umrao and dubbed the tweet 'photoshopped'. Pandey posted a screenshot of a tweet by advocate Sanwar Ali who demanded action against Umrao.
This so called lawyer @advsanwar tried to spread fake Photoshop tweets of @ippatel thus making him a target of Islamic terrorists like Kamlesh Tiwari ji. This is really terrifying. Hope he is arrested soon! pic.twitter.com/50ETz1uH9Y

— Vikas Pandey (@MODIfiedVikas) November 16, 2019
BJP leader Kapil Mishra also came to Umrao's rescue and alleged that Sanwar Ali had photoshopped the screenshot under a conspiracy to spread hate against Prashant Patel Umrao.
क्या ये लोग दंगे करवाना चाहते हैं?

ये देखिये @advsanwar ने झूठी फोटोशॉप बनाई और @ippatel के खिलाफ नफरत फैलाने की खुलेआम साजिश की

लगता हैं ये लोग देश में दंगे की गंदी साजिश में लगे हैं@Uppolice – such person should be behind the bars immediately pic.twitter.com/2p7q4Laocn

— Kapil Mishra (@KapilMishra_IND) November 16, 2019
INTERNET ARCHIVE PROVES OTHERWISE
In February 2018, Alt News had compiled several instances of misinformation, often hate-filled, propagated by Umrao. The article serves as a profile of the Delhi-based lawyer, documenting his statements against religious minorities and his support for Mahatma Gandhi's assassin Nathuran Godse and German dictator Adolf Hitler. The report includes the 2013 tweet by Umrao where he called for all Muslims to be butchered and mosques to be demolished in Muzzafarnagar. An archive of the tweet proves that it had existed on Umrao's timeline at least up to February 4, 2018, but was later taken down.
The other tweet seen in Pandey's and Mishra's tweets which is claimed to be morphed is also available in the Internet archive. In this tweet, he is reminding people of the violence unleashed in Muzaffarnagar and Godhra, saying "We will finish what you begin, just like Godhra. Then keep shouting for 10 years, like Gujarat. Do you remember Muzaffarnagar?"(translated)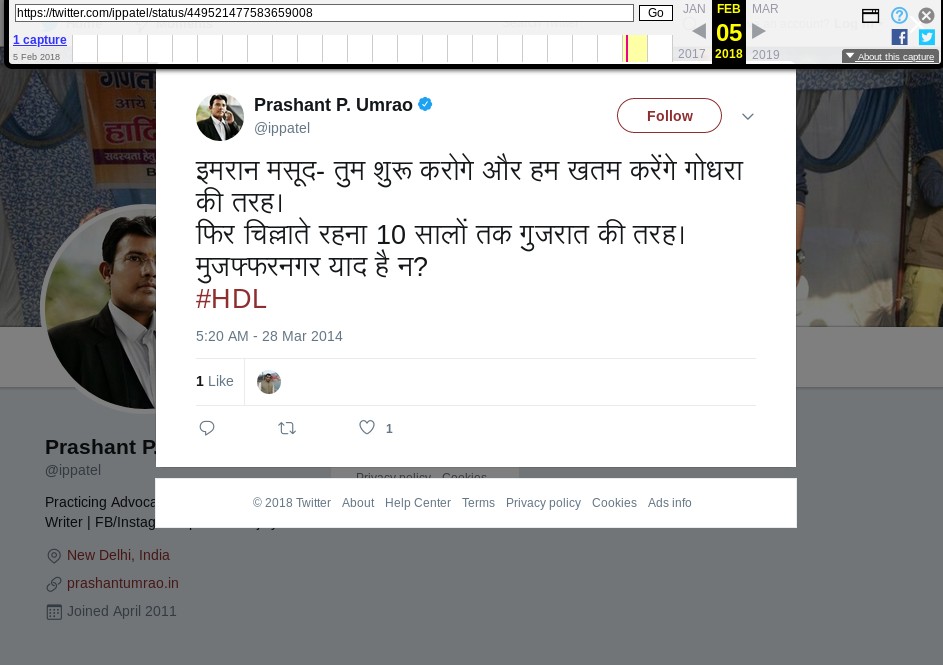 A ONE-MAN HATE FACTORY
Rajdeep Sardesai had filed a police complaint against Umrao in 2018 for attributing a fake quote to the journalist calling for 'killing a 1000 Hindus'.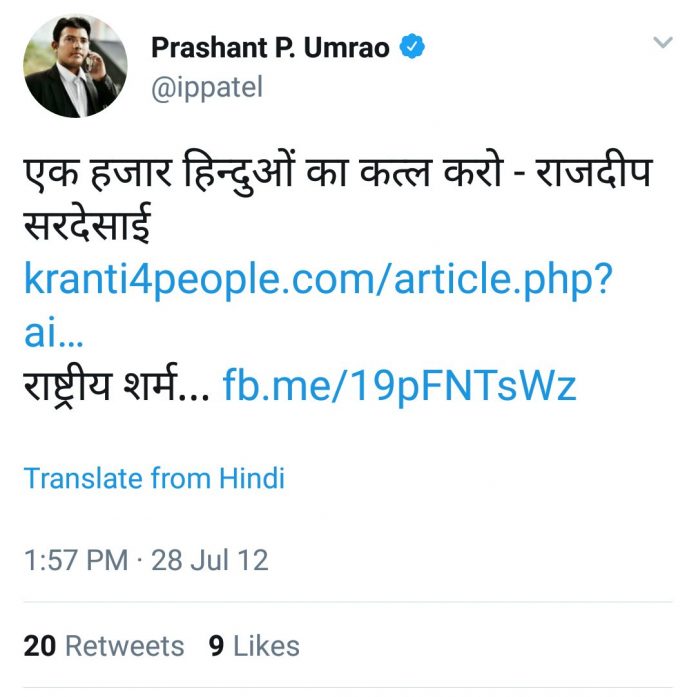 However, this was a one-off instance when an action was taken against Umrao's propaganda. His hate-mongering is mostly either ignored or justified by influencers who echo his views.
In October 2017, a Swiss tourist couple was physically assaulted at Fatehpur Sikri in UP. The couple sustained grievous injuries and the report made international news. Umrao was among those who spread the false information that it was members of the minority community who had attacked the Swiss couple.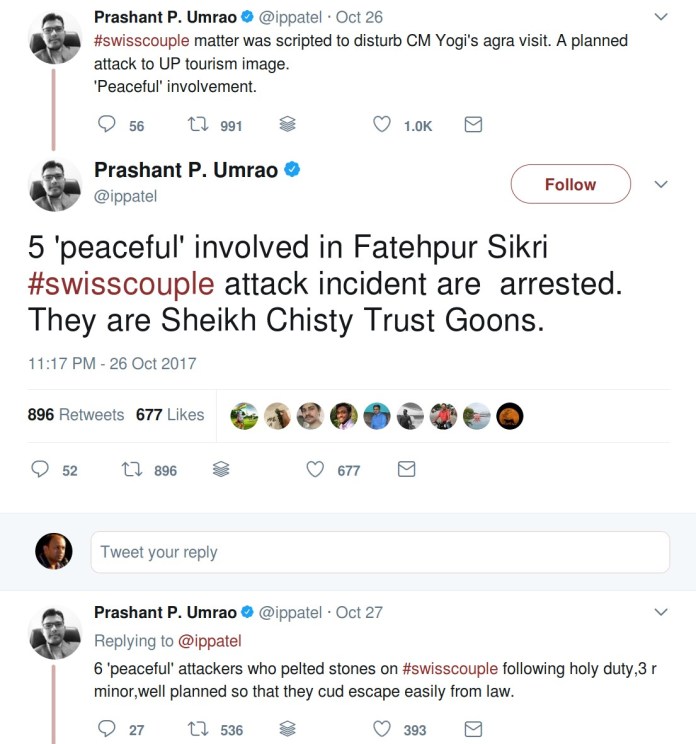 When the Utkal Express derailed in Muzaffarnagar in UP last year, Umrao alleged that the accident was a terror ploy and could be a move to kill Hindu pilgrims, an allegation which turned out to be false.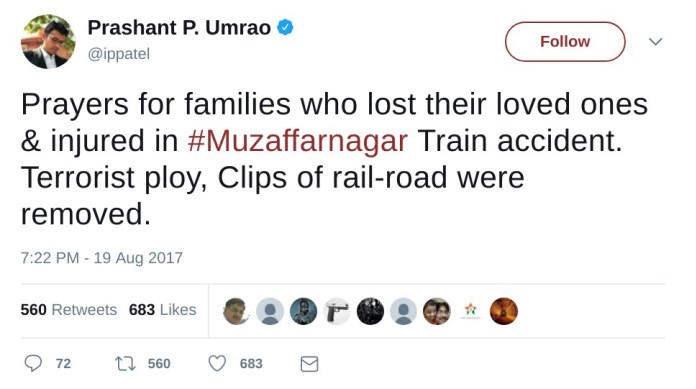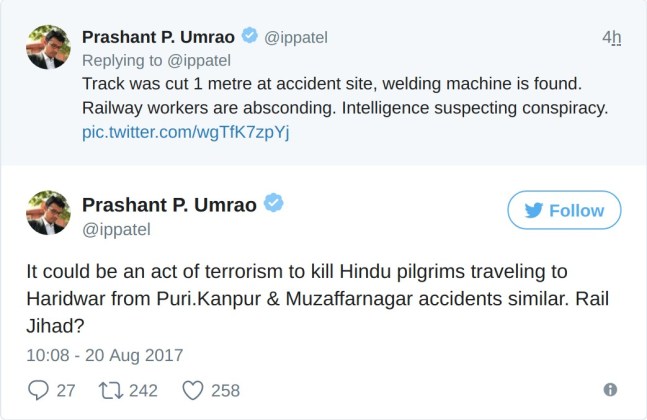 His hate for the Muslim community is well-known to anybody who has followed the lawyer on social media through the years. Umrao has called for a genocide of Muslims multiple times on Twitter. Posted below is a now-deleted tweet from 2014.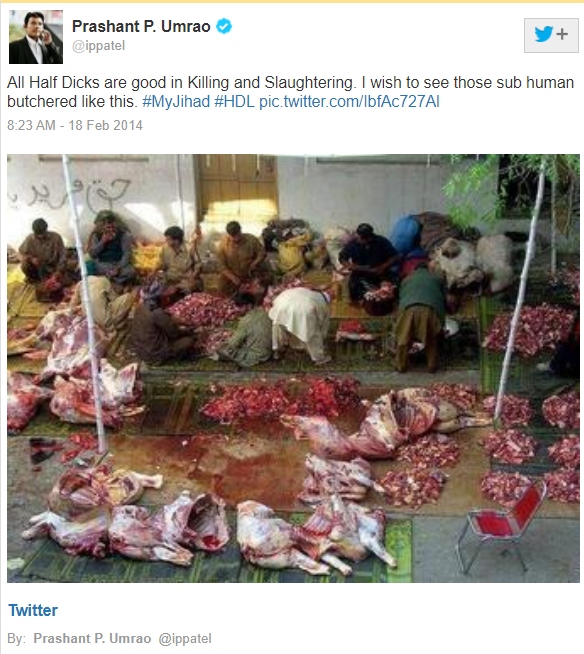 In 2012 as well, he made similar comments calling for a pogrom.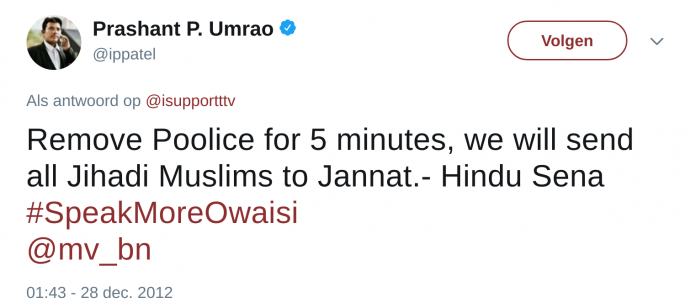 The above examples only provide a myopic view of the hate-filled world of Prashant Patel Umrao. For a larger picture, readers can refer to earlier reports by Alt News – 1, 2.
Most people familiar with Prashant Patel Umrao's trysts with disinformation would not be astounded that the lawyer defended his calls for a genocide of Muslims with more disinformation. However, a BJP leader coming to the rescue of Patel's genocidal tweets while reiterating the false claim, intentionally or otherwise, is highly condemnable.
Donate to Alt News!
Independent journalism that speaks truth to power and is free of corporate and political control is possible only when people start contributing towards the same. Please consider donating towards this endeavour to fight fake news and misinformation.