At 2:36 pm on December 11, 2017, Times Now broke an 'exclusive' story of former Finance Minister P Chidambaram meeting Taliban leader Mullah Abdul Saleem Zaeef. According to the photograph broadcast by the channel, Chidambaram is seen in the same room as Zaeef. The photograph was taken during the Tehelka ThinkFest at Goa in 2013.
The hashtag for the report carried by the channel was #CongTalibanTango. The title used by the channel was 'UPA mantri met Taliban leader?' 
#TNExclusive: Former Finance Minister P. CHidambaram photographed with Taliban leader Mullah Abdul Zaeef pic.twitter.com/JLH8lGtZdf

— TIMES NOW (@TimesNow) December 11, 2017
This 'revelation' was cannon fodder for the channel and supporters of the BJP who were quick to denounce the former FM, alleging that he and his party were hand-in-glove with the Taliban. Delhi BJP spokesperson Tajinder Bagga retweeted this tweet by BJP foreign affairs department incharge Vijay Chauthaiwale.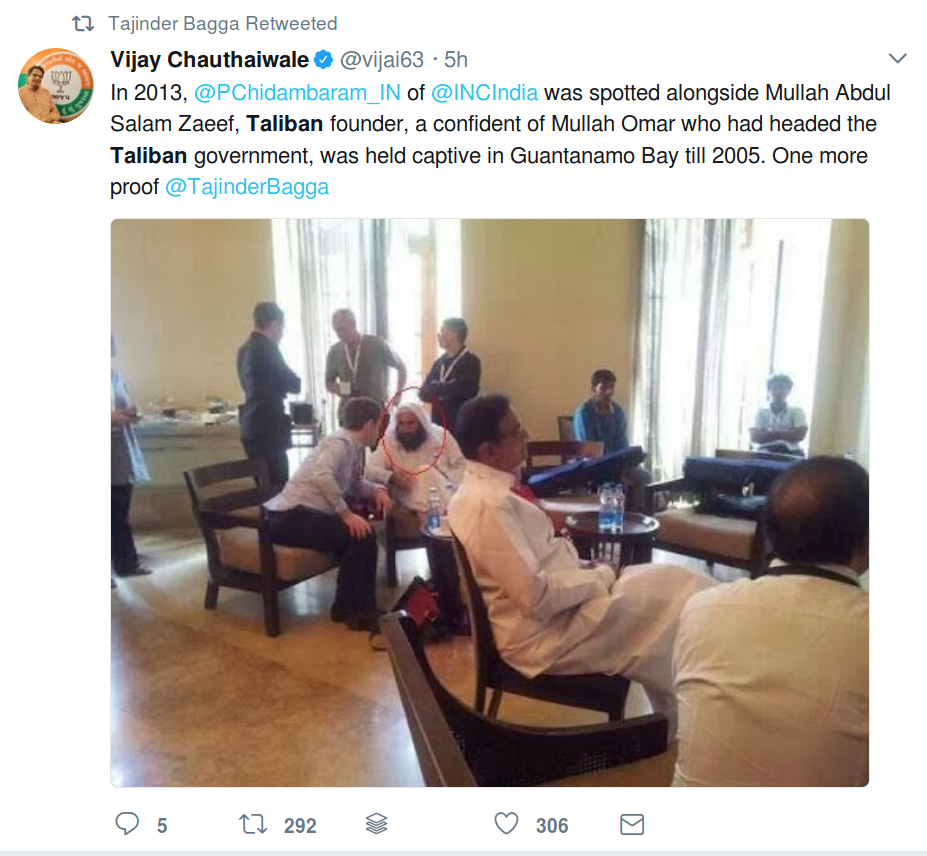 What is intriguing is that this news was widely reported by none other than Times Now's sister concern Times of India back in 2013 when the meeting took place. Defence Minister and then BJP spokesperson Nirmala Sitharaman had tweeted the picture back then, questioning the stance of the Congress party.
At the Thinkfest in Goa: Terror within arms distance? Or with visa given, a welcome guest? pic.twitter.com/s9dJjgjqKP

— Nirmala Sitharaman (@nsitharaman) November 10, 2013
Shoma Chaudhary, director of ThinkWorks which organised the annual ThinkFest, 2013 has clarified in a tweet that Zaeef was a speaker at the conclave along with others.
@TimesNow @PChidambaram_IN How ridiculous! MullahZaeef was a speaker@THiNK 2013 with CIA chief Robert Grenier& 80 others. Doha talks were on https://t.co/lmPH8Dd8gQ

— Shoma Chaudhury (@ShomaChaudhury) December 11, 2017
Chidambaram retweeted Shoma Chaudhary's tweet as a clarification.
These tweets were from the Organizers of the Conclave @TimesNow @timesofindia @ndtv @CNNnews18 https://t.co/yfANBMj11b

— P. Chidambaram (@PChidambaram_IN) December 11, 2017
Mullah Abdul Saleem Zaeef, who was the Afghan ambassador to Islamabad before the U.S invasion of 2001 was later arrested and imprisoned at Guantanamo Bay by U.S authorities till 2005 after which he was released. His name was later removed from the United Nations' Terrorists list in 2010. Zaeef had been invited to speak at the ThinkFest as part of an effort to deliberate on the emerging political scenario in Afghanistan and India's role in reshaping the trouble torn region.
Times Now claimed that the old photograph had 'resurfaced', when it has been established beyond doubt that it was the channel itself that manufactured the story out of nowhere.
Republic TV was quick to follow-up and put out a story about the picture on their website.
Another picture emerges to haunt the Congress!https://t.co/xF25wQpH7r

— Republic (@republic) December 11, 2017
Times Now's antic is part of a pattern that has been witnessed in the run up to the Gujarat election wherein provocative and/or misleading information is broadcast on a daily basis with the clear intention of polarising the electorate to favour the ruling party. The core issues affecting citizens have been deliberately ignored and a high decibel campaign has been launched by Times Now and some other channels, throwing neutrality to the winds. The entire focus of these channels has been on raking up issues that pertain to national security and twisting the context to suit a political narrative. The fact that the channel chose to play up a 4 year old report is suggestive of a pre-determined agenda to keep attention firmly on trivial issues as Gujarat votes in the 2nd phase on December 14.
Donate to Alt News!
Independent journalism that speaks truth to power and is free of corporate and political control is possible only when people start contributing towards the same. Please consider donating towards this endeavour to fight fake news and misinformation.To make an instant donation, click on the "Donate Now" button above. For information regarding donation via Bank Transfer/Cheque/DD, click here.