A newspaper clipping of a report published by DNA which is headlined, "Qatari Princess caught in Orgy with 7 men" is circulating on social media. It cites a report by the British newspaper Financial Times (FT) and says, "Qatari Princess Sheikha Salwa was caught having group sex with seven men at a hotel in London".
The prospect of 7 men running train on a Qatari princess is crazy ffs💀 pic.twitter.com/6ZhZeq2wLA

— Aks (@AksWashed) June 8, 2022
The same story was carried by Hindi daily Amar Ujala in 2016.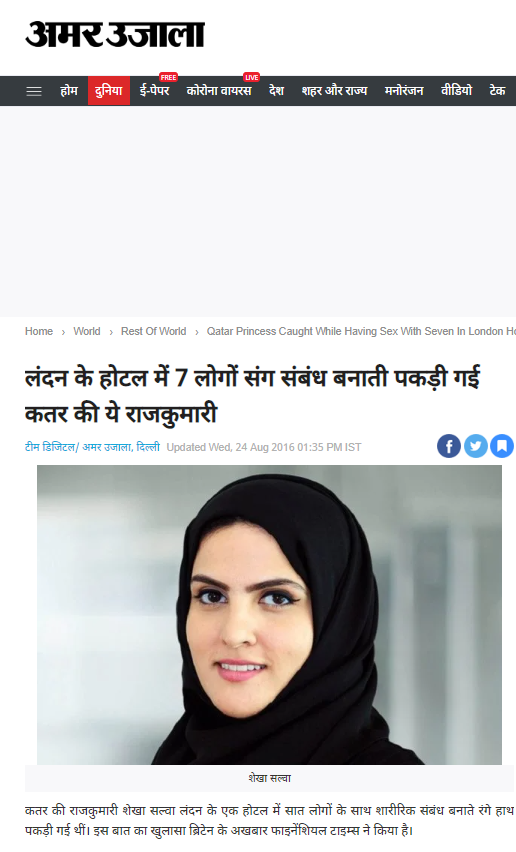 Certain users have also shared Amar Ujala's now-deleted report.
अल हबीबी अल हबीबी ओये 🤲🏿
तुम सब इधर उलझे होती उधर 2016 में अमारे बगल के कतर की राजकुमारी लंदन में कांड करवा लेती ओये
वल्लाह वल्लाह ओये 🤲🏿🤲🏿@zoo_bear @RanaAyyub pic.twitter.com/C1Q2XJnOOq

— शेख पंचरूद्दीन (@Dubai___wale) June 8, 2022
@fahedalemadi@qatar@zoo_bear ❤️डे के फैक्ट चेकर
Please explain pic.twitter.com/KYhqIEiLx8

— राजनर्तकी (@Barbala_) June 9, 2022
Viral since 2020
The alleged news was also viral in 2020 after old, Islamophobic tweets by BJP MP Tejasvi Surya targetting Arab women resurfaced and subsequently received flak from prominent Arab influencers. The clipping was posted by Twitter handle @TheSquind and garnered more than 500 retweets. However, @TheSquind had tagged Princess Hend Al Qassimi, a member of the UAE royal family. This was when Qassimi had called out an Indian national working in Dubai for posting racist and discriminatory tweets against UAE.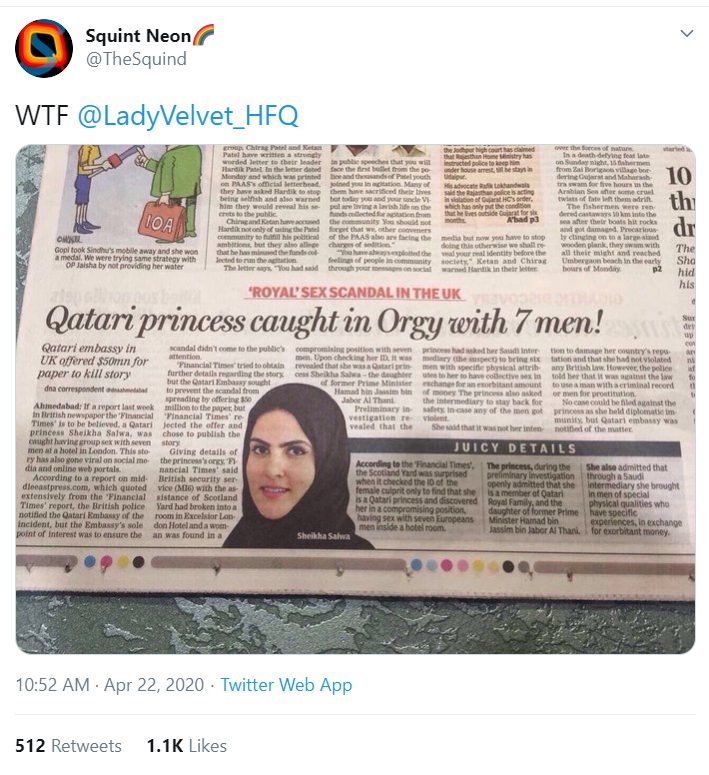 It was claimed in the report that when the Qatari Embassy in the UK was notified about the matter, they had offered the media outlet $50 million to kill the story. Twitter handle Kishore K Swamy too posted the clipping and said, "And she is the princess celebrated by Dmk it wing and single-source idiots. Bloody paid campaign rats."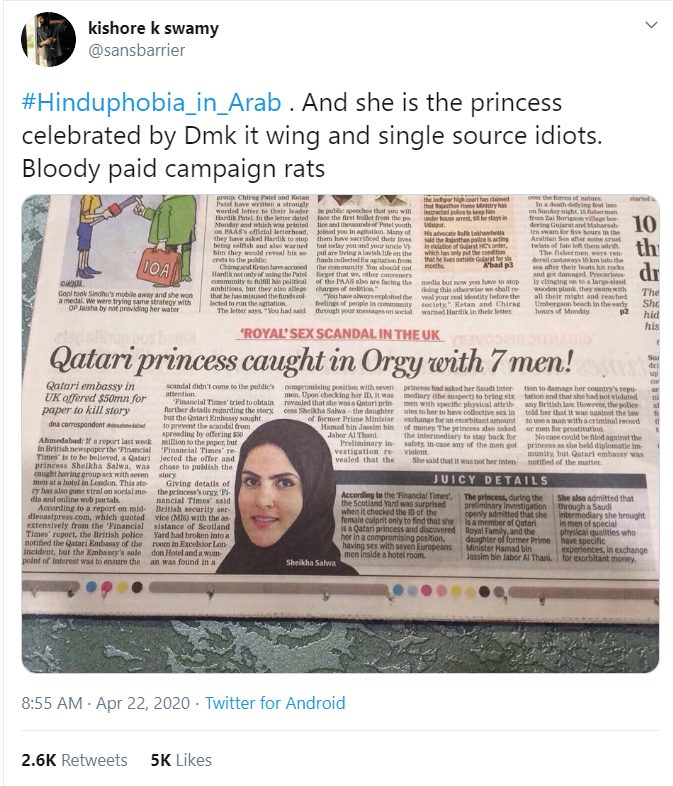 Social media influencer Payal Rohtagi, who on several occasions has been found spreading communally-charged misinformation, also tweeted the newspaper clipping with a message targeting journalist Nidhi Razdan.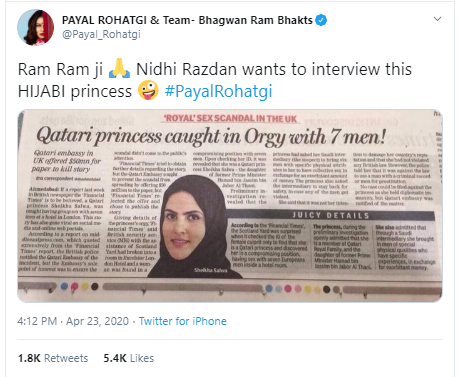 Fact-check
With a Google search, Alt News found several reports which stated that the story is "fake". A report published by Firstpost on August 24, 2016, said, "An alleged scandal about Qatari princess which Financial Times, a British publication reported has been termed 'fake'. At the time of writing, a variety of news reports have contradicted the Financial Times story — that has subsequently vanished as several Google searches revealed."
A Twitter search for the oldest article that had cited this alleged FT report revealed that a website named Oddcrimes.com was one of the earliest to cite it. The report published on this website doesn't exist anymore. This alleged report was cited by several other shady websites.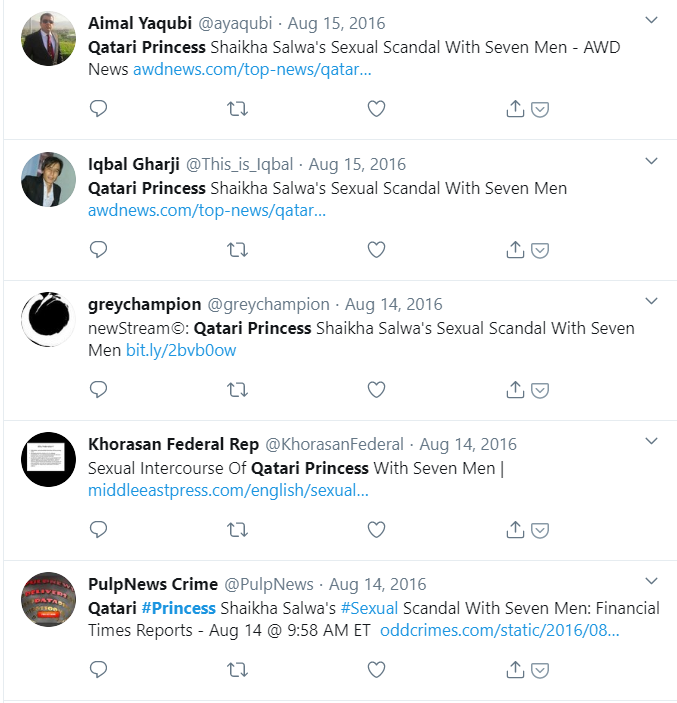 One such website is AWD News. It's a fake news website which had infamously published a piece of misinformation that led to Pakistan issuing a nuclear warning to Israel. Fact-checking outlet Snopes says the website "doesn't have more than a nodding acquaintance with facts, instead playing on nationalistic fantasy and conspiracy theory to create alarming (and thus clickable and shareable) stories". An archived version of the fake news story published by AWD News can be accessed here.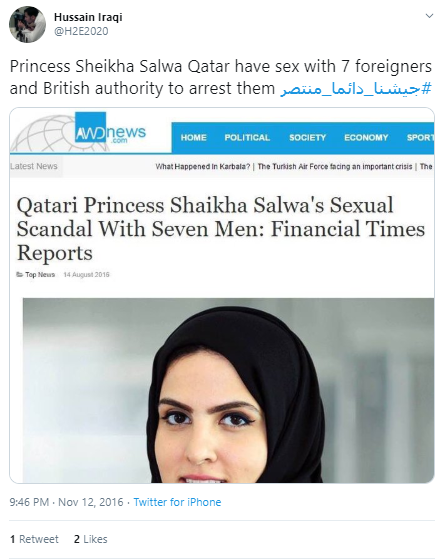 It may be noted that AWD News while quoting an alleged report by FT cited their source as another website called Middle East Press (archive).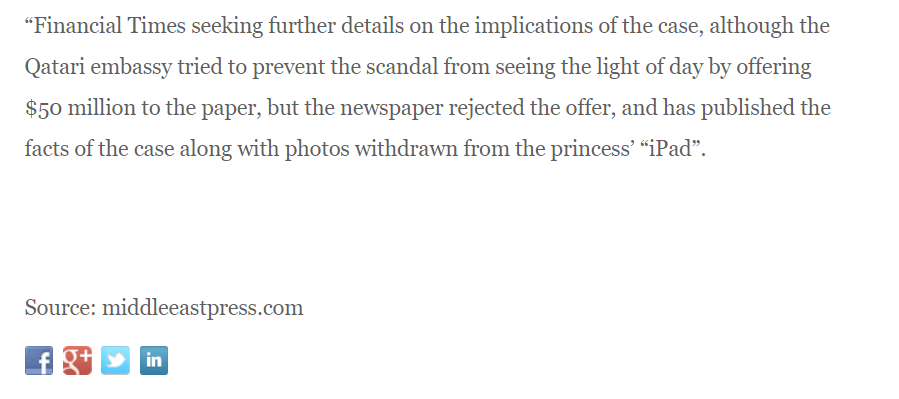 Interestingly, this article by middleeastpress.com has also been deleted. This article too cited an alleged report by Financial Times, however, it carries no hyperlink.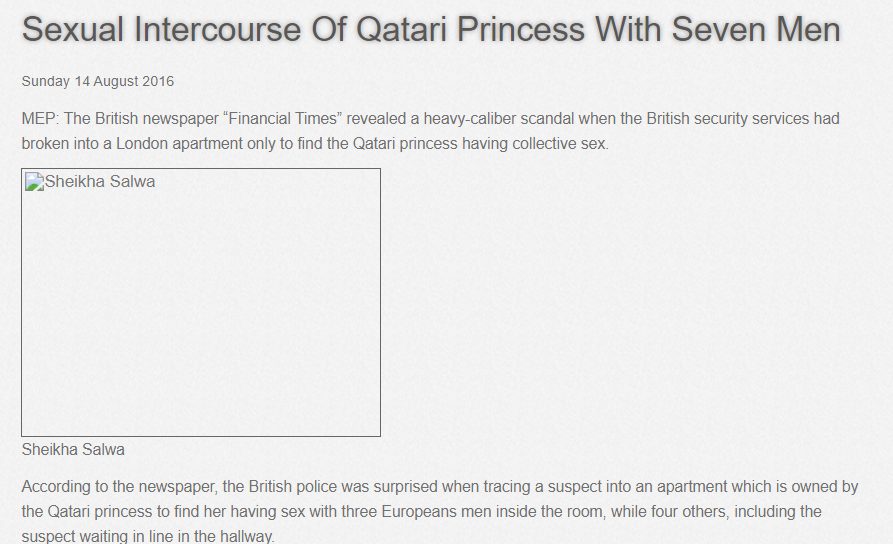 Thus, it can be said with certainty that there exists no report by FT which is claimed to have broken the story of a 'Qatari princess caught with seven men'. Moreover, one of the earliest websites that cited this alleged FT report has a history of publishing fake news stories.
In an email response to Mumbai-based English tabloid Afternoon Voice, then Editorial Assistant at FT's Newsroom Michael Lindsay had said, "We understand that the article mentioned by you was originally published on www.awdnews.com, which is not our website. The Financial Times is not responsible for false articles published by AWD. Further, it is not the case that the Financial Times has published any such news report, or been involved in any such events, as are mentioned in AWD's false article."
Unrelated photo of an Arab businesswoman
Moreover, the woman whose photo is being shared as Qatari Princess 'Sheikha Salwa' is actually the Chief Operating Officer of Dubai-based Mazrui Holdings Alia Al Mazrouei. You can watch a video interview of her with the Dubai-based news outlet Gulf News.
Moreover, you can also see a tweet by her account on Twitter.
I am looking forward to be part of the Jury for the MENA Effie Awards 2017.#menaeffie17 pic.twitter.com/KGHBOko3TA

— علياء المزروعي (@AliaAlMazrouei) September 13, 2017
In conclusion, an old fake news story was revived by social media to vilify Princess Hend Al Qassimi of UAE.
[Update: Amar Ujala's false report was added to this fact-check on April 25, 2020.]
Donate to Alt News!
Independent journalism that speaks truth to power and is free of corporate and political control is possible only when people start contributing towards the same. Please consider donating towards this endeavour to fight fake news and misinformation.